Quarryman Pro
Carlson Quarryman® Pro laser scanning for quarry surveying and stockpile monitoring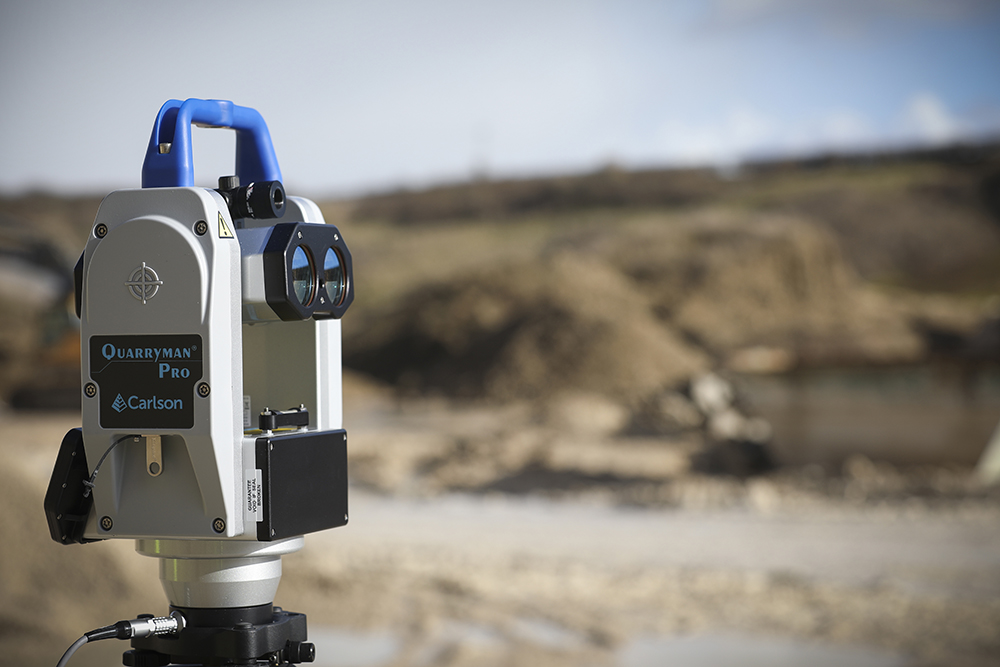 Using Carlson's Quarryman Pro rock-profiling and laser-scanning system not only improves site safety, it also gives you the data to make decisions that increase productivity.
The laser-scanning and measurement system of choice
Mines and quarries across the world have selected Carlson's Quarryman Pro laser-scanning and measurement system, whose features include:
easy one-man operation with minimal training
safe, long-range or short-range reflectorless surveying for blast planning, stockpile measurement and whole site mapping, providing an excellent return on investment
datasets compatible with industry-standard blast-design and mine-mapping software package
Carlson's new Quarryman Pro builds on over 20 years experience of delivering laser-scanning solutions to the quarrying industry worldwide. It's our most robust system yet and is designed to offer mine and quarry managers the following benefits:
Improved safety: Plan safer blasts based on accurate data to protect workers and the local environment, and keep you legally compliant.
Increased profitability: Blast planning using Quarryman Pro helps cut the cost of transport hire and fuel, explosives and secondary breakage.
Improved productivity: Calculate stockpile volume quickly to produce fast and accurate material stock valuations.
How it works
Coming in a single 'Peli' case, Quarryman Pro is lightweight and portable and can be transported easily between sites. It attaches quickly and securely to its tripod for rapid deployment and use.
Operators can choose between a manual point-and-shoot mode and an automatic laser-scanning mode (250 points per second). Entire rock faces can be scanned in minutes.
Quarryman Pro measures and records millions of data points directly to a USB drive and does not require external PDAs or computers in the field for data storage.
By using the separate Quarryman Viewer software on a laptop or PC, the collected data can then be reviewed as a detailed 3D model, which can be edited, analysed and exported to specialist packages (blast design or mine survey).
The rugged, portable and easy-to-use Quarryman Pro has been carefully designed and tested to ensure it is robust enough to operate in the toughest conditions. This versatile system offers several applications, representing a value-for-money investment that gives operators the ability to quickly and simply collect data to support all areas of operation.
Quarryman Pro provides greater benefits than ever before
Quarryman Pro has been the must-have on-site system for quarries for over two decades. The original Quarryman – and subsequent models – transformed on-site safety and enabled our customers to modify their processes simply and swiftly to improve post-blast workflow and minimise costs.
The new Quarryman Pro from Carlson offers the following new features:
The new larger sun-readable screen for better visibility is also now in full colour.
Data is saved to a USB, rather than a flashcard, for ease of data transfer, and to enable you to hold many more files.
A GPS mount is built into the handle so that the Quarryman Pro can be geopositioned quickly, and easily map point cloud data to other quarry surveys.
Fewer clicks for each operation greatly enhances the speed with which you can work.
Auto date and time stamping helps you to find files without needing to enter details.
The battery issues a warning when low, but shuts down automatically if not recharged,retaining your data for retrieval later.
The new Li-ion battery is not only lighter, but also provides a longer scan time.
Both the operating temperature and processing power of the system have been increased.
Next steps
For further information and the best possible application and performance support please contact Carlson at lasermeasurement@carlsonsw.com
Quarryman software and applications
Intuitive software
Quarryman Viewer software allows you to export data into CAD packages to plan for new extraction programmes or installations
Quarryman Pro applications
Use data from the portable robust Quarryman Pro laser scanning system to make your quarry operations more efficient
Downloads
Brochure: Quarryman® Pro

Carlson's latest Quarryman builds on 25 years' experience delivering laser-scanning solutions to the worldwide quarrying industry. The system offers: safe, long-range reflectorless surveying for blast planning stockpile measurement and whole site map

Click on image for brochure .pdf file or choose one of the following languages:

Data sheet: Quarryman® Pro

Detailed list of technical specifications and dimensions for Carlson's latest Quarryman Pro, the rock-profiling and laser-scanning system for quarry surveying and stockpile monitoring. This portable yet rugged 3D laser-scanning system requires very little training to operate. Quarryman now also comes with highly intuitive software that delivers fast, accurate data that can be exported in multiple formats to all major CAD and point cloud packages.

Click on image for brochure .pdf file or choose one of the following languages:

Manual: Quarryman Pro Short Range

Quarryman Pro is suitable for a large number of surveying and measuring functions, including face profiling, burden calculation, muck pile profiling, stockpile surveying, cast blasting, ground modeling, tunnel profiling and drilling control.
Manual: Quarryman Pro Long Range

This hardware manual describes the Quarryman Pro LR and all accessories supplied with a standard system. Section 8 gives a brief overview of a typical operation. Some troubleshooting tips are also offered in Section 9, which address some of the most common questions that arise from users of the Quarryman Pro LR.
Mining Hardware, Marine, and Modules Products