Carlson BRx6 GNSS Receiver
The BRx6, Carlson's all-new GNSS receiver with Athena

TM

RTK technology and integrated Atlas

TM

L-band Receiver
The BRx6 is Carlson's all-new multi-GNSS, multi-frequency smart antenna. The BRx6 provides robust performance and high precision in a compact and rugged package. With multiple wireless communications ports and an open GNSS interface, the BRx6 can be used as a precise base station or as a lightweight and easy-to-use rover.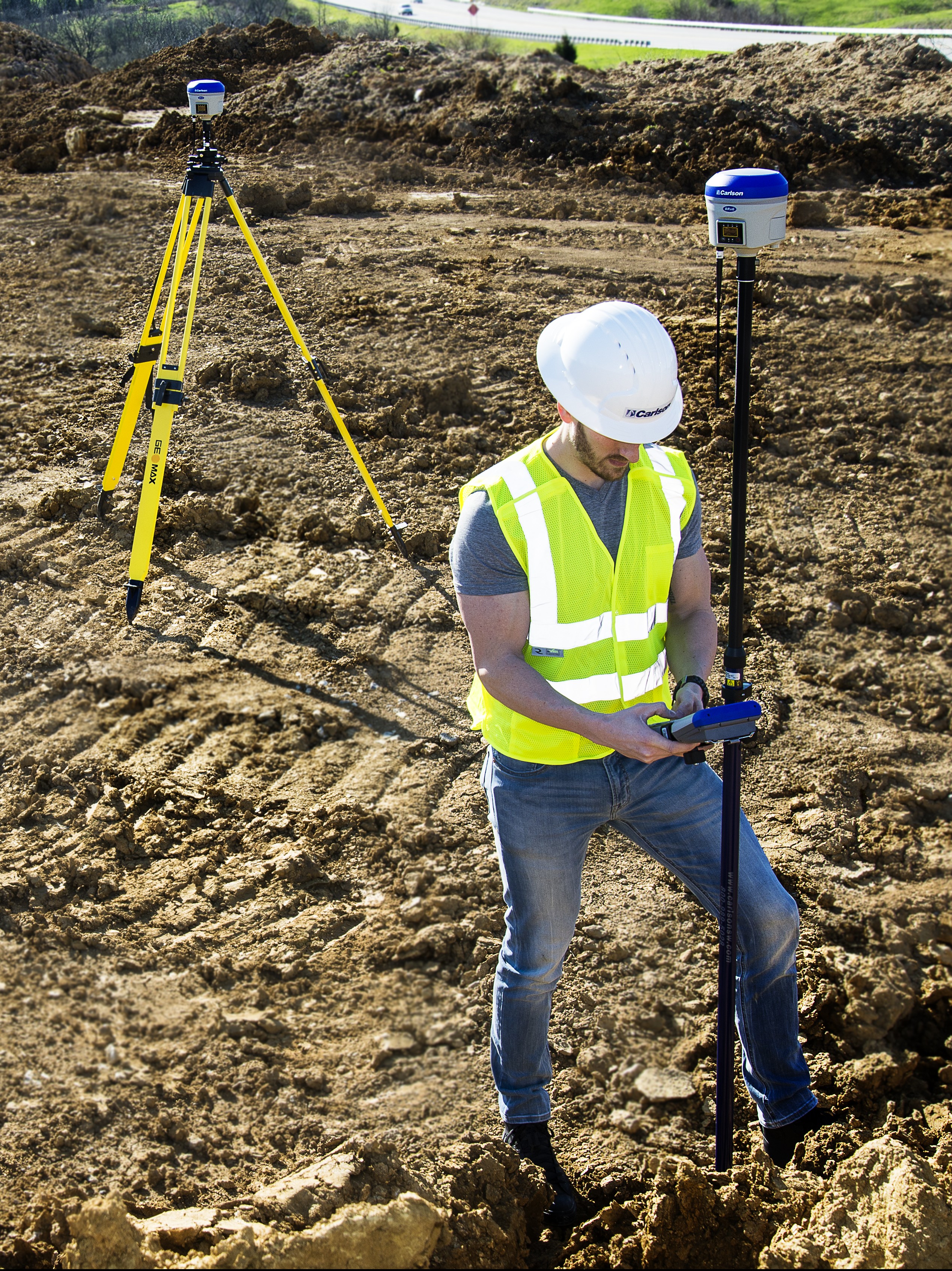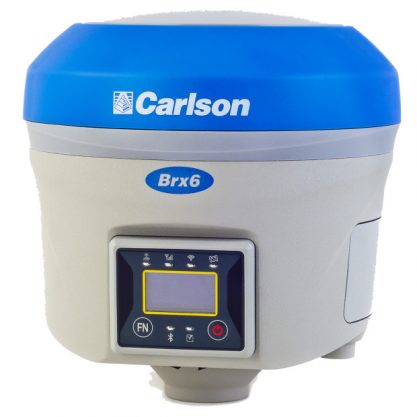 The Carlson BRx6 GNSS receiver is designed to work seamlessly with most data collectors including Carlson's rugged and popular data collectors: the Carlson Surveyor2, the Carlson MINI2, the FZ-M1 Tablet, and the Carlson RT3.
Designed for use by surveyors, contractors, builders, engineers and many others, the BRx6 can be purchased as either a Rover or as a Base/Rover package. The Base/Rover package includes two BRx6 GNSS receivers, two hard-sided carrying cases, four BRx6 batteries with two chargers, one GPS tribrach and one tribrach adapter, and two Carlson GPS receiver poles.
Specifications
GPS Receiver

Receiver Type:

Positioning Modes:


Channels:

RTK Formats:

Update Rate/Recording Interval:

Performance*

RTK:
Static Performance (long occupation):


Static Performance (long occupation):

L-band Performance 

SBAS (WAAS):

Autonomous, no SA:


Multi-Frequency GNSS

RTK, L-band DGNSS/HP/XP, SBAS, External RTCM, Autonomous


372


CMR, CMR+, RTCM3.0, RTCM3.1, ROX

Selectable from 1, 2 and 5 Hz
Horizontal

Horizontal                              Vertical
10 mm + 1 ppm                        20 mm + 1 ppm
3 mm + 0.1 ppm                      3.5 mm + 0.4 ppm   




3 mm + 0.5 ppm                     5 mm + 0.5 ppm
                            

0.08 m                                     0.16 m

0.3 m                                     0.6 m

1.2 m                                    2.4 m

Communication

Connectors I/O:

Radio:

Memory 

SIM card:

Memory:

SD card:

 

5-pin Lemo connector for external power supply and external radio devices

7-pin Lemo connector for USB OTG connection and serial port interface

1 TNC antenna connector for internal radio

1 TNC antenna connector for cell modem

Frequency Range: 410-470 MHz

Channel Spacing: 12.5 KHz / 25 KHz

Emitting Power: 0.5 / 1 W

User accessible SIM card slot

Internal 4GB, accessible through USB and Wi-Fi

External Micro SD card slot, supports up to 64GB

 
* Depends on multipath environment, number of satellites in view, satellite geometry, baseline length (for local services) and ionospheric activity
Mechanical

Dimensions:


Weight:

Mounting:

Environmental

Operating Temperature:  

Storage Temperature:

Humidity:

Enclosure:


Shock:

Battery

Battery:

Battery life:

Voltage:

Charge time: 


14.1 D x 14.0 H (cm),
5.5 D x 5.5 H (in), 

<1.38 kgs (3.05 lbs)

5/8″x11, 55 degree thread angle, stainless steel insert

-30°C to +60°C (-22°F to +140°F)

-40°C to +80°C (-40°F to +176°F)

Up to 100%

IP67, EP455, waterproof, dustproof

MIL-STD-810G, method 516.6

 




Rechargeable 11.1 V -37/74 Wh intelligent lithium battery

5+ hours with one battery and UHF radio in Rx mode

9 to 22V DC external power input with over-voltage protection

Typically 7 hours
For repairs for the Carlson BRx6 GNSS Receiver contact: Carlson Software 33 East Second Street Maysville, KY, USA, 41056; 1-606-564-5028.