Carlson Presents Webinar on New SurvCE Features
SurvCE 4.03 has included two new features that are improving the productivity in the field.
Both tools are fully based on Graphic Symbols in the map, and are taking the user experience into an intuitive and comfortable environment when performing the traditional stakeout and storing of survey points.
The first feature, is a new Graphical Guidance for Stakeout that splits the point-location procedure into two different stages for Navigation and Final Proximity. Symbols for directions and distances/offset values are visible in the Map screen while being referenced to the operator motion during his approach to the point.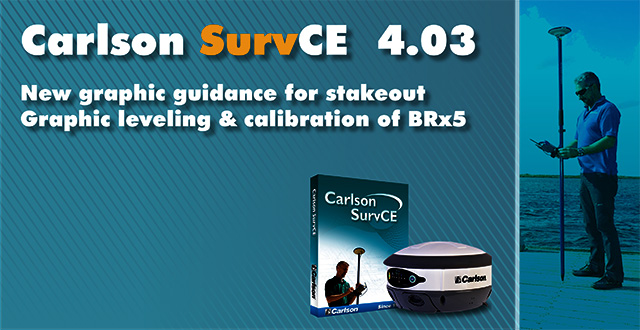 The second feature is LDL (Live Digital Leveling). This is the first SurvCE approach to the new generation of GNSS receivers integrating tilt sensors. It is progressing to support more complex sets of magnetic and inertial technologies combinations including compass and gyros to what will be SurvCE V5; having absolute control of the 3D position, heading and attitudes of the unit that will bring a great combination of new features like measuring on tilted poles.
Carlson Software will be hosting the webinar introducing these two features on April 2 at 11:00 a.m. CET.