Using Carlson Survey Software in U.K.
Why Carlson? 
---
To Keep Up with the Latest in Survey Technology in the U.K.
Over the last few years, Baypoint Surveys of Bournemouth, Dorset, England, has had some interesting jobs including doing three dimensional surveys of eight rail bridges and the corresponding roadways under the bridges all across London for a large civil engineering consulting firm.
Another had them working for a steel fabricator to set out the cladding steelwork  on the exterior of a large shopping mall in the Westfield White City Development.

Although they use Trimble products for the data collection portion of their work, they use Carlson Survey office software running in AutoCAD® for their deliverables.
"Carlson Survey works very well for us," says Baypoint founder Stewart Bazeley. "It's a very easy way to come back from a site, quickly process the data, and produce a drawing straight away. Because we can process entirely in AutoCAD and do not have to convert our data," he adds, "it speeds up the process."
For the Westfield job, Baypoint Surveys loaded the client's design drawings into Carlson Survey then calculated the points to be set out on the building.
"This same method is used at Baypoint to produce all setting out plans prior to commencing on site works," says Bazeley. "We can upload the setting out data to the loggers and can easily produce professional setting out d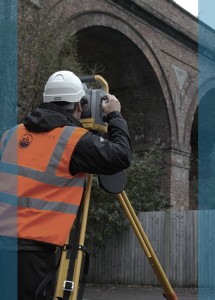 rawings for the client to use on site. Once the setting out has been completed we carry out quality checks back in the office, using Carlson Survey compare points routine."
On the homepage of Baypoint's website, http://www.baypoint.co.uk/, it says, "Baypoint Surveys prides itself on the ability to provide the highest quality surveys covering all aspects of the survey industry. By making continuing investment in the latest technologies we can remain competitive and efficient."
And part of the company's dedication to using "the latest technologies" is the use of Carlson Survey software, which Stewart re-invested in when he established the company in 2005. They use it for all their office survey processing needs.

"Carlson works because their developers come from a survey background," says Stewart. "I find it has the right kind of thought process – the way it leads you through [the survey process] is exactly the way a surveyor thinks."
Stewart and Baypoint are at the forefront of those in the U.K. discovering the accuracy and ease of utilizing Carlson Survey.  While it is among the most popular office surveying solutions in the United States, it is not as widely known or used in the U.K. Bazeley learned of it from former Carlson dealer Jim Loy and he has been using it for many years, even before he started Baypoint Surveys.
The software was the first program produced by Carlson Software, which was founded in 1983 by Bruce Carlson, a professional land surveyor and licensed civil engineer at the time. Carlson Software now serves the land surveying, civil engineering, construction, and mining industries worldwide, with its Carlson Survey software continuing to anchor its wide variety of product options.
"I think the only reason it hasn't taken off in the U.K. is because, until Dave [Loescher, new Carlson U.K. representative] came aboard, they didn't have a fulltime representative here," he adds.
Stewart moved over to Carlson Survey when he discovered that the software enabled him to configure things as: 1) what he was used to; and 2) how he wanted it to look. "Carlson allowed me to keep my own style," he says.
Since Baypoint Surveys works with a wide variety of clients — architects, civil engineering consultants, contractor, developers, local authorities, rail companies, structural engineers, and more — it's important that the drawings that they produce with Carlson are quickly and easily useable.
"For anyone using AutoCAD, it just goes seamlessly into their package," says Stewart, "and we've been able to adapt it relatively easily for architectural companies not working in CAD as well."
In fact, Stewart is helping to spread the word in the U.K. about Carlson Survey. He's recommended the software to architectural firms in addition to fellow surveyors. "When I show it to other surveyors on a site, they've always been very impressed," he notes. "I highly recommend it."