Up to Speed in Twenty-Nineteen
I was reading a recent edition of xyHt magazine and came across an article regarding changes to the 2019 Professional Surveyors exam by NCEES. In the "why" section of the article explaining the need for routine updates to the exam criteria, I read "…because of the rapid adoption of unmanned aerial systems, laser scanning, and other new technologies by the surveying community."
On a personal note, I have long been concerned about the survey communities getting left behind in the advancement of many technologies and methods. In my region, GPS-RTK receivers contributed to the rapid decline in layout work because contractors could now perform their own construction staking. Early during the advancements of GIS in state and municipal systems, surveyors were left out because the need for survey precision in GIS development seemed expensive and unnecessary. Now niche businesses are popping up everywhere that utilize drones and scanners to develop surveys along with, or instead of, traditional ground surveys. Once again, many surveyors are just now beginning to step into this new survey world.
So maybe this is the year to get up to speed…
GIS
Carlson has a GIS module that can be very beneficial from two different perspectives. One is to create features and attributes for use in field surveys and the other is to read in available data from clients or public sources.
Using GIS for a typical field survey allows the user to add an unlimited amount of information for points and polylines in cases where just location, elevation, and description are not enough.

It is very typical of utility companies to require such additional information. Utility poles with attributes such as material, number of wires, risers, transformers, age, pole number, etc. are all examples of additional information that could be required for the surveyor to obtain. A GIS file can be created in the office containing all of the required features and attributes, exported to a data collector with SurvCE/SurvPC and then processed back through Carlson's Field to Finish program to add any or all of that information to the survey plat as well as an external data base.
If using SurvPC, you can actually survey directly into an Esri® map environment which combines the information gathering needed in GIS applications with the precision desired by surveyors. I wish I had had this in the early part of this century.
Many surveyors discard using GIS because they do not have clients requesting that type of information. However, GIS can be used in everyday surveying even if it is just to add more flexibility in Field to Finish. You can set up your code file to place different symbols on specific layers and size based on attribute definitions.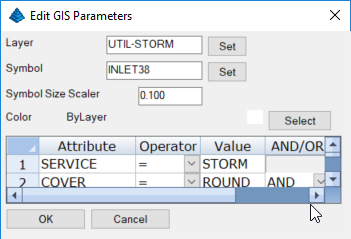 Using GIS to import shape files is a great way to drastically enhance your work flow especially at the beginning of a project.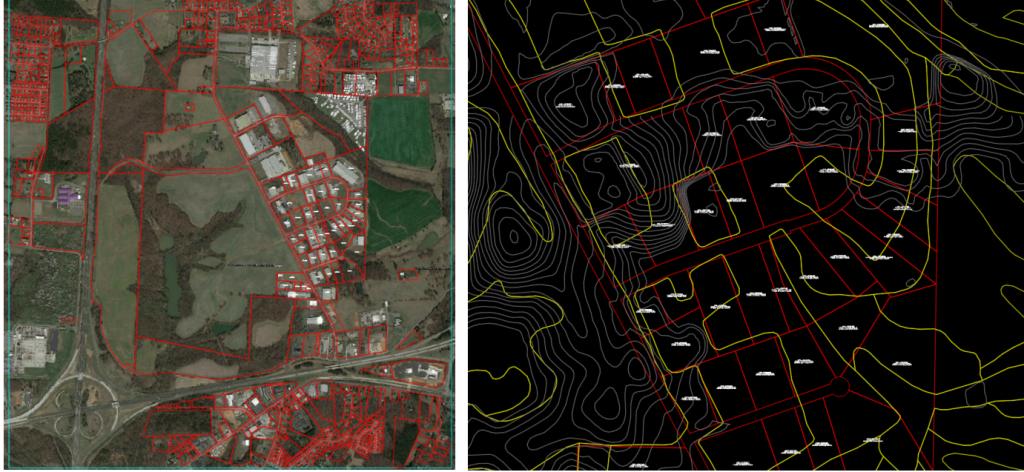 There is an incredible amount of information available online these days, much of which is available in the form of a shape file (SHP) that can be imported directly into your drawing using the GIS module. Parcel data, soils maps, contours, flood plains, and a whole host of other information is available and often for free. By using the features in GIS you can very quickly create a base map from which to begin a survey. Consider a new project that is in the due diligence stage and you are hired to create a schematic of a potential build out. Your client is most likely wanting to keep these upfront costs as low as possible and this available data will be a great help to you and your client.
Point Cloud
I recently wrote an article on a work flow method using Carlson's Point Cloud module. This program will read in a cloud in various formats, a common one being a .LAS file.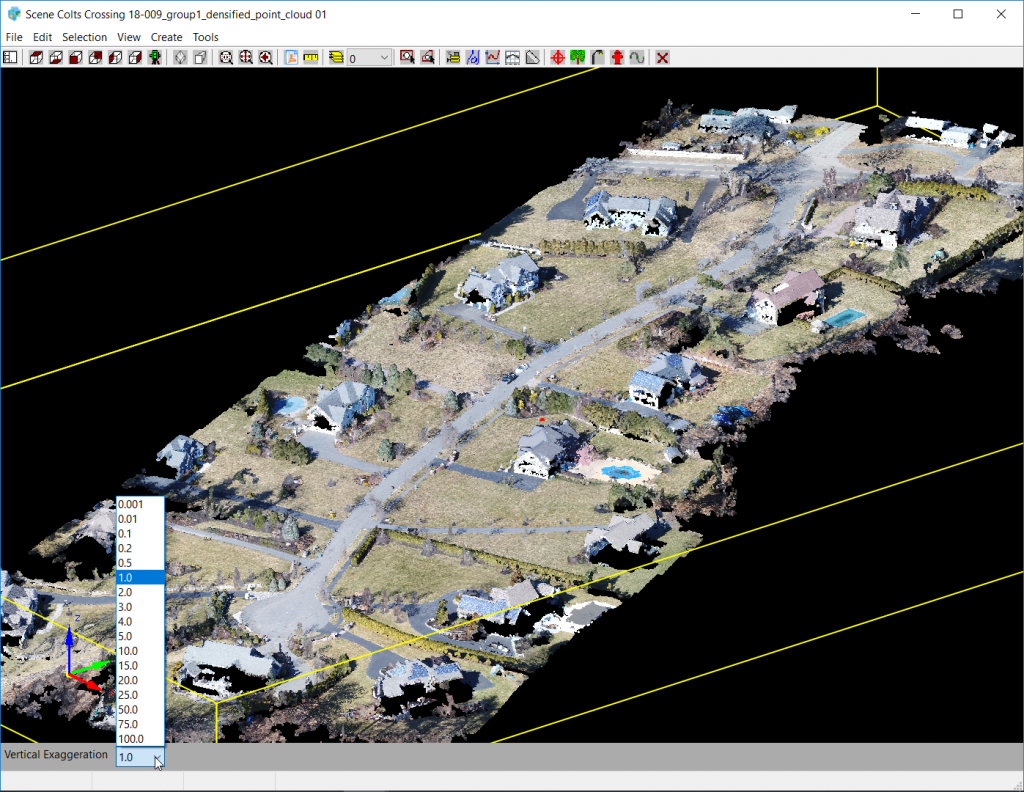 Once the cloud is loaded into the program, there are multiple tools to draw 3D polylines and set Carlson points right in the cloud.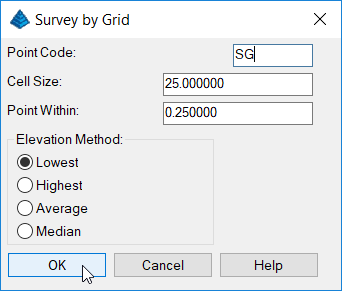 Those point and lines are processed directly through Field to Finish creating lines, symbols, and annotations as with any other survey using your same FLD file.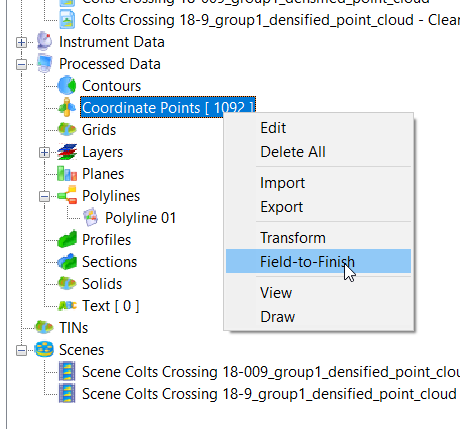 With release 2019, there is now Point Cloud Basic, which is a very affordable and easy-to-use program. It is a great option to get into the world of working with cloud data. It is very easy to learn and operates much like performing a traditional survey, but in a cloud.
You can read the entire article here
CADNET
PDF files are one of the most common file formats available. Just about everyone has some sort of reader that will handle a PDF file. Creating and submitting CAD drawings in PDF format is also a common practice. CADNET is a program that allows users to import and create CAD entities from non-CAD documents such as PDFs, raster images, and paper plans. Text can also be generated from raster images with built-in Optical Character Recognition (OCR). This program helps bridge the gap between clients, contractors, and engineers when files are distributed in these non-CAD formats. It is important to remain consistent with other disciplines and firms to improve communication. I imagine we are all aware of what happens when we are working on a project without the latest information. If clients and colleagues are going to be sending us files in various formats, we need to be able to read them.
Field to Finish
Field to Finish is part of the Survey module and is one of the greatest tools available for increasing productivity and profit for a surveyor. It is not new technology per se, but rather an enhanced way of getting your survey data into plan form. The Field to Finish program takes raw field data, and through the use of the code definitions, will draft symbols, points, line work, and annotations automatically.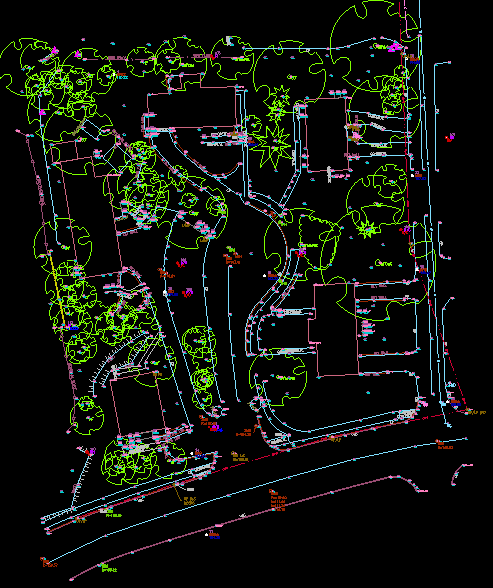 It does take some time to create and practice with your unique code list, but once you have done so, you will see a remarkable increase in efficiency. It is not at all an exaggeration to expect a plan to be over 90% drafted directly from the raw field data. One owner relayed to me that after one year of using Field to Finish, the survey departments profit margin increased by 50%. I can't promise that to everyone, but that is a significant endorsement for a program.
If you would like help getting started with Carlson's Field to Finish program, download my "Easy Start Guide" here
New Purchases and Upgrades
For an easy way to get up to speed with some of the current software options, Carlson just announced a "Select Suite" where you can pick up to six Carlson modules for a single reduced price. Included in those module choices are the ones I just mentioned as well as Carlson Civil and Carlson Hydrology. See this press release or call your local dealer or your nearest Carlson representative and get the details.
Along with the idea of purchasing new modules, there is just simply staying up to date with your software. It is often an overlooked part of a business plan but software upgrades should be included. Don't wait until that old computer that is still running Windows-XP finally conks out and you are forced to upgrade under duress. With the release of Carlson 2019, all software now runs on the latest 2018 DWG file format, including IntelliCAD. That means that you do not have to make that call asking for them to please "downgrade that file" so you are able to read it. It all runs on Windows 10 at 64 bit so you will not have those types of compatibility problems as well. If you are a current Carlson user, you are likely eligible for an upgrade and will not be required to purchase anew.
So think about getting your firm "up to speed in twenty-nineteen" and come visit us in Maysville this year for our User Conference. I will be teaching some classes on these very topics.
Doug
Let's Grow Together.
Douglas L. Aaberg, PLS
Survey Product Manager
P)617-393-2300×419
daaberg@carlsonsw.com