Too Busy to Learn?
It's July, which means companies are, hopefully, head down working on deadlines with little time to think about much of anything else, especially learning something new.
I know for myself that even profits were not something I could really spend much time thinking about when everyone was working countless hours and there was a mad rush to the Fed-Ex drop box to get a set of plans out almost daily. So thinking about learning anything new was not in the cards and the idea of training me or my employees was put off until winter. A perfectly logical statement therefore is "We're too busy to learn."
I spent a great deal of time last winter training firms and individuals on various Carlson programs. To me, that means folks are using the software and are looking to become more efficient, which is great news. By May and certainly June, the rate of training dropped off markedly, which is common. I would expect the same pattern to repeat over the next year. So, even if you're too busy to get some training now, it might be wise to start thinking ahead toward the coming months and next winter.
In the meantime, I have a few suggestions to consider as you plan your next training events and here are some resources available that will help you now.
Books
There are two training books available from the Carlson website and many of the Carlson vendors carry them as well that can provide solutions to problems you are facing now and let you know what you might need more training on this winter. These books follow the same format and are taught through the use of tutorials. They contain sample data sets so you can just follow along and do a pretty good job of documenting every mouse click. They are published by the company CADapult software solutions.
The Practical Guide to Carlson Software Fundamentals Book is designed to cover the common functions available in most Carlson modules. It takes you from an overview of menus, ribbons, and toolbars to using points and creating and editing a surface model. Some basic drafting exercises and import/export commands are included as well.
https://www.cadapult-software.com/product/a-practical-guide-to-carlson-software-fundamentals-2018/
The Practical Guide to Carlson Survey book follows through with more survey specific commands. It even contains an exercise with straight forward hand entering a traverse. It then moves on to performing a compass rule adjustment. There is an introduction to SurvNET, Carlson's least squares adjustment program as well as creating subdivision lots, deed correlation, and a considerable amount of instruction for Field-to-Finish.
https://www.cadapult-software.com/product/a-practical-guide-to-carlson-survey-2018/
If you have a new hire or you are just learning Carlson, these are both good books to have around.
Knowledge Base
Carlson support is free. That still amazes me but it is true. Sometimes, however, you need to look up information on your own. Try the Knowledge Base section on the Carlson Support page.
http://www.carlsonsw.com/support/knowledge-base/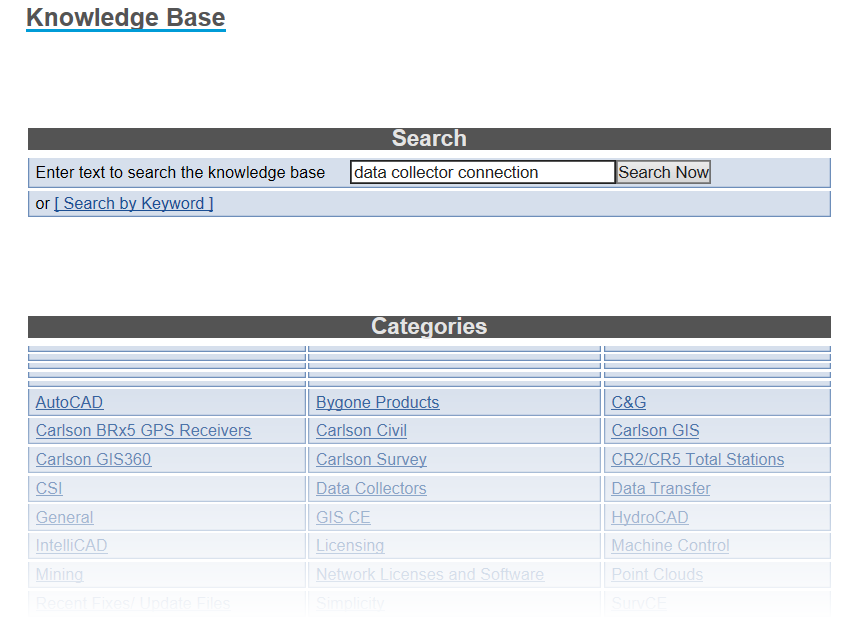 There is a search function that supports key words to help you find a topic or category for help.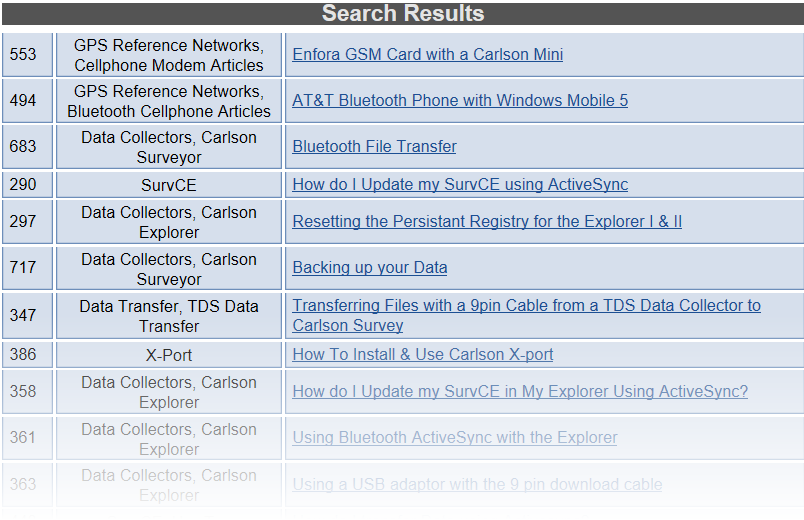 These topics all came from users so often have a very familiar tone to them. I just discovered that a consistent crash problem I was having was due to an outdated display driver and a particular audio program that was preinstalled on the computer. Who knew? But it was right there in the knowledge base. There is a lot of information in this data base so give it a try.
Carlson Community
Carlson Community is not a training or support function but it does contain a lot of useful data that is free and available. There are drawing files, symbols, FLD files, and a host of other downloadable materials.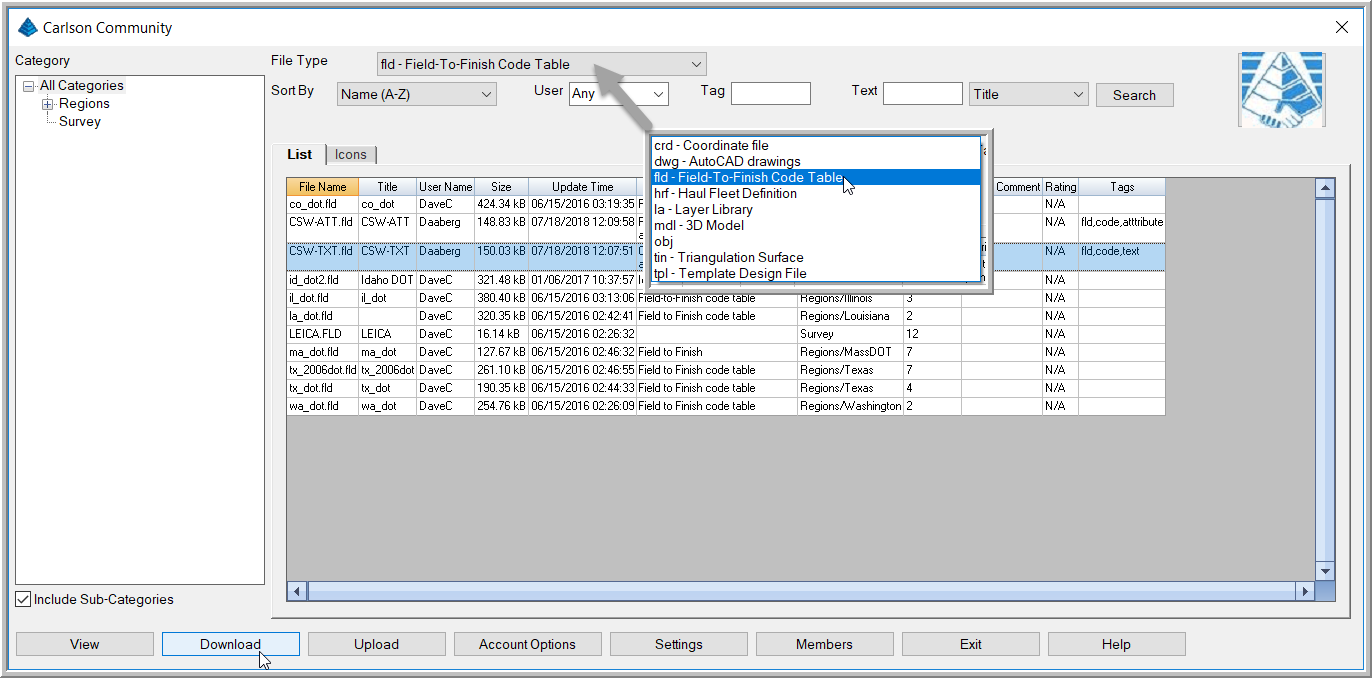 All you have to do is create a Carlson account with a username and password and login. That username and password is used for other Carlson shared material so you only need the one. Other programs like Coordinate Cloud, and Carlson Cloud already use this same login ID and I expect to see more cloud type offerings in the future.
Carlson Certified Training Partners
Carlson has a network of partners that offer training in a variety of ways. One-on-one training is certainly a great way to go because you get direct attention and it can often be designed just for you or your firm. However, class room style training is also quite effective. Attending a class in an offsite facility allows you to put work aside and just concentrate on learning. One of the more difficult aspects of training someone at their office is the constant interruptions from clients, staff, emails etc.
Classes for some of some of these partners are listed on the Carlson Training Calendar.
http://www.carlsonsw.com/about/carlson-college-calendar/
Not all training partners post on the calendar and not all offer classroom style training so check out the a list of training partners available on the Carlson website and contact your nearest trainer.
http://www.carlsonsw.com/support/training/partners/
Train with Your Own Project
One of the options I always offer anyone who needs training is to learn on one of their own projects. This is only likely to occur in a one-on-one type training but consider that the cost of training can at least partially be offset by the fact work is actually getting done. I also find it advantageous to be using familiar data when you are being trained. There are always going to be example projects to work through during a training session but it just seems more effective when you understand that data in real life.
I will say that I have only had a few clients take me up on that offer, usually because any existing projects are well under way before the training gets started, but consider that idea as you plan your future training needs.
Ask a Sales Person
Carlson staff, as well as most all of the vendors I have met thus far, have an impressive knowledge of the Carlson products they are selling. They can all help when it comes to setting up training for you or your firm. Carlson has about 60 products that they handle so no one is going to be an expert on all of them, but, in many cases, the basic knowledge is all you need to get started. Once you get that under your belt, you can always reach out to that one particular expert for additional help. In the 25 years of using Carlson, one thing I have always been impressed with is how accessible they are as a company.
2019 User Conference
Learn from staff and industry expects from around the country in one location. Save the dates May 7-9th, 2019 to attend the Carlson User Conference in its hometown of Maysville, Kentucky. You can then choose from a wide variety of classes taught by Carlson's best instructors.



Check back here when registration opens August 1st:
http://www.carlsonsw.com/community/uc19/
A New Learning Management System
As a bit of a tease, I will tell you that we are actively working on a comprehensive online learning system that we hope to launch this fall. For many years there has been video content available from our Movies section of the Carlson website. Most of these videos are also available on YouTube. This new LMS will have more information organized by topics and categories. Most will be shorter and directed to specific tasks while some will stay more comprehensive covering a complete project. I am personally very excited about this new system and expect it to benefit our users greatly.
Easy Start Guide
This has been posted in practically every blog I have written thus far but I still receive daily notices that it is being used. For any of you who would like a hand in getting up and running with Field-to-Finish or who are interested in seeing perhaps a different way of configuring an FLD file, feel free to download this guide and give it a try.
http://info.carlsonsw.com/f2f-guide
Doug
Let's Grow Together.
Douglas L. Aaberg, PLS
Survey Product Manager
P)617-393-2300×419
daaberg@carlsonsw.com