Staying competitive in a tight market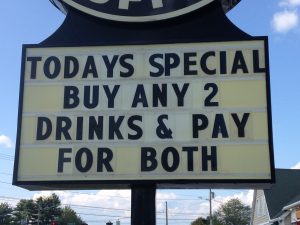 I saw this sign in Maine on the way back from a recent Carlson workshop. It seemed apropos because the workshop was on Carlson's Field to Finish and its inherent time and cost saving benefits. A large part of my messaging since arriving here at Carlson is about ways to help surveyors become more profitable.
Everyone is concerned about the bottom line at least to an extent. We make decisions almost daily by weighing cost, quality and needs. We don't need a Cadillac just to pick up the groceries. However, when clients are looking to award a survey contract and they use that kind of logic, it often leads to complications. Many clients tend to think a "survey is a survey" but we know it's not and surveyors can't afford to cut quality in exchange for price. It is not easy to be both competitive and profitable in this business.
So how do you compete? How do you set yourself apart from the competition? Perhaps to answer those questions you may need to ask, "What are you selling?"
Some surveyors have set themselves apart with high tech applications and high profile type jobs. Last spring I had lunch with a gentleman that traveled all the way to Antarctica and located the exact South Pole. That is simply an amazing survey opportunity and will look great on his resume. I wish I could have gone. For most of us, however, our survey jobs are somewhat less spectacular and much more production oriented and we have to try to sell our product based on fairly common scopes of services. That gives us less opportunity to be unique.
Consider the elements of a typical survey. It may be a plan or a CAD file with important information like boundary lines, easements, topography and utility information. The survey needs to be accurate, precise, complete, and done to the client's specifications on time and on budget. As surveyors, we hold things like accuracy, precision and completeness of primary importance. Most clients however, just expect that their survey is going to be accurate and complete and they're not sure what precision really means. It's difficult to compete strictly on cost and remain profitable. For instance large firms have a tough time competing with "mom and pop" companies on small jobs like staking a property line for installing a fence or a small topo for a new swimming pool. As surveyors, we know what it takes to do a survey properly and our costs usually reflect that effort.
That leaves time and specifications as selling points. If you accept the fact that clients just assume that you are going to deliver a survey that is both accurate and complete (Carlson has a great line of hardware products that will address your precision needs) and you don't want to focus primarily on price, consider the pitch: "We can get that survey done quicker than our competition and it will be delivered exactly the way you want it." In a single word your selling point is: "Efficiency."
The good news is that Carlson can help you with all of the above.
Faster Turnaround Time
Most users will admit that they are only using about 20% of their software's capability. I just completed two workshops and a webinar on Carlson's Field to Finish and was amazed that most of the participants weren't using it at all. My online survey from last spring shows that 60% of users feel they need to do a lot more to fully get up to speed. Field to Finish is a program that is designed for efficiency, with the idea of drafting your plan straight from the field. If you are doing a lot of existing conditions plans, it is your best friend. It will draft not only all of your line work and symbols, but will label both with text or attributes, process GIS data and even create 3D objects. It is fast, efficient and will save you tons of time.
If you have never used Field to Finish before, I urge you to download my Easy Start Guide, go through the sample data set and get a real sense of how much time you can save when it comes to preparing a plan. If you have been using F2F in the past but would like to get more out of it, download my Advanced Field to Finish guide which contains much of the information in the Easy Start Guide plus more discussion on some advanced features like multiple coding,  custom attributes, adding notes, fixed parameters, using templates etc. Both guides utilize the same sample data set so make sure to download those as well.
I have yet to find any firm that, once they got used to utilizing Field to Finish, were not completely thrilled with the results. It is a Carlson signature program that continues to progress every year with input from users who want to push their productivity as far as they can. Time to get on board.
Specifications (Make it easy for your clients to use you)
There is an office supply company that I used to use and their slogan was "we will deliver a pencil." And they would. It was so easy to use them that the fact that I could save a couple bucks here and there by going to one of the bigger chains was irrelevant. You can do that for your clients. One of the great advantages of Carlson Survey is the way you can customize it. Engineering clients as well as DOTs and Towns may all have different standards when it comes to their deliverables. Layers, text styles, symbols and linetypes are just some examples of required client standards.  Carlson will allow you to create and save all of those standards in a variety of ways.
For example, you may create multiple FLD files each containing your client's standards and then simply switch to whichever one is needed when processing your field work. The field crews need not do anything different from one survey to the next, which helps eliminate confusion and learning curves. Likewise annotation defaults contours and TIN creation, and plan and profile sheets can all be saved in individual files and recalled when needed. You can even combine all of your defaults and configuration settings into a single .CFG file or template drawing that can be loaded  at the very beginning of a new project. Furthermore, since Carlson ultimately creates simple CAD entities and not proprietary objects and will save back to very early releases, you do not have to worry about your clients not being able to read the DWG when you deliver it. Carlson also exports points, TINS and centerlines into multiple formats. It is very compatible.
So work with your Carlson software and let us assist you in establishing procedures, standards and practices to make you the most efficient you can be. If you can build a reputation on being a highly efficient and easy to work with firm, the price you charge will become less of an importance to your clients and less of a headache to you. Then you can offer them "two surveys for the price of two."
Doug
Let us help you get "up and running" and make your company more profitable.

Douglas L. Aaberg, PLS
Survey Product Manager
P)617-393-2300×419
daaberg@carlsonsw.com
Thanks to Phillip S. who found quite a funny typo of mine in the easy start guide. "…a symbol's rotation can be set in the field by using specific codes and settings but often, it is more procticle to make these changes in the office….
I'd like to say that I put mistakes in there on purpose to see if anyone could find them, kind of like "Where's Waldo" but……the guide has now been corrected to say practical.