Smart Title Blocks
Carlson software contains a lot of tools to help you get your survey and/or engineering work done quicker and more efficiently. Programs like Field to Finish, Road Network and SiteNET are just a few of the examples of programs that drastically speed up the time it takes to complete a project from processing raw field work all the way to the final design. At some point along the way, however, just straight-forward drafting is necessary to get that final drawing out the door. Creating title blocks and adding all the cosmetic touches, sometimes takes longer than the survey or design process itself. The good news is, there is help for that as well. This blog will focus on creating standard title blocks.
Standardizing the Method
Many users create a title block by simply opening an old drawing of a similar project and copying and pasting that title block into the drawing and then making the appropriate changes. Sometimes an embarrassing situation occurs when something simple like the name of the town is missed and drawings go out with an erroneous location for the project. It is very difficult to explain that the content of the project is accurate when it is located in the wrong town.
A preferred method is to standardize a routine from which to start each project that assists in assuring simple things like a title block will not go un-touched. Creating a template or DWT file is a very common way of accomplishing this. Each new project is started by selecting a standard template which contains layers, text styles and a title block that can be modified for a specific job. Carlson also has a simple routine for creating a title block that eliminates the need for having one created in a template. This block routine can actually be combined with a standard template to give maximum flexibility in creating a title block.
Title Block Command
One method to easily create a title block is to use the Carlson Title Block command.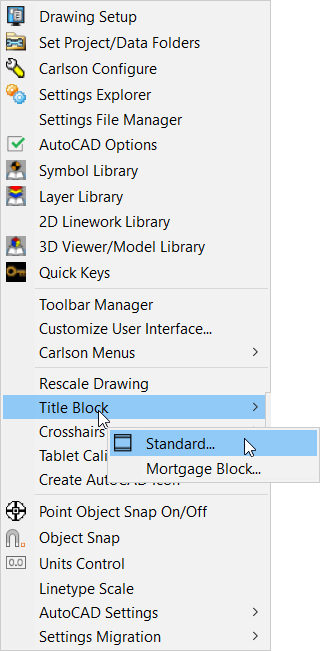 1. From the Settings Menu, select Title Block -> Standard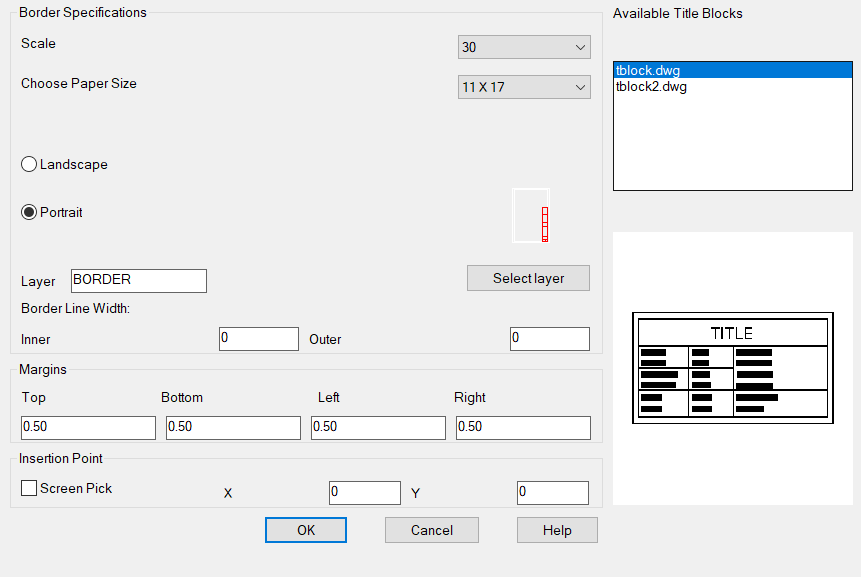 Carlson gives you two different examples of title blocks to start with. It is expected that each user will modify or create their own title blocks with personal logos, notes and certifications included, but let's first take a look at the sample: tblock.dwg.
2. Set the desired drawing Scale and Paper Size. If you are inserting the title block in paper space, use the scale 1
3. Set the orientation to either Landscape or Portrait
4. Select or enter a Layer for the title block and border to be inserted.
5. Set the paper Margins as desired.
6. Set the Insertion Point to either pick from the screen (best used in model space) or to a set location such as 0,0 (appropriate for paper space).
7. Click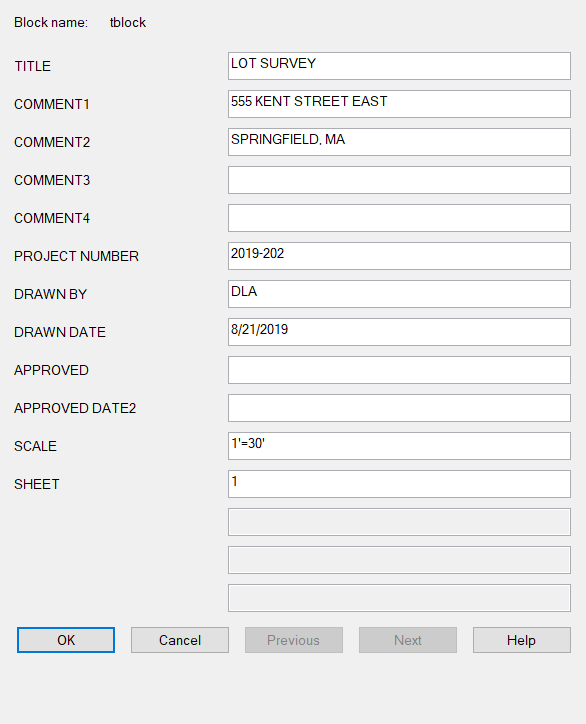 A dialog appears containing fields that can be filled out with the relative information.
8. Once all fields desired are entered, click .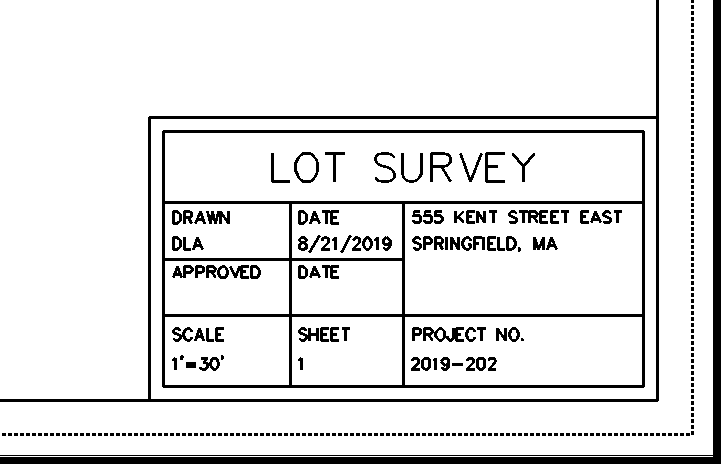 A completed title block is inserted into the drawing.
The above method produces a title block with attributes for each field. If a modification is desired, simply double click on the title block.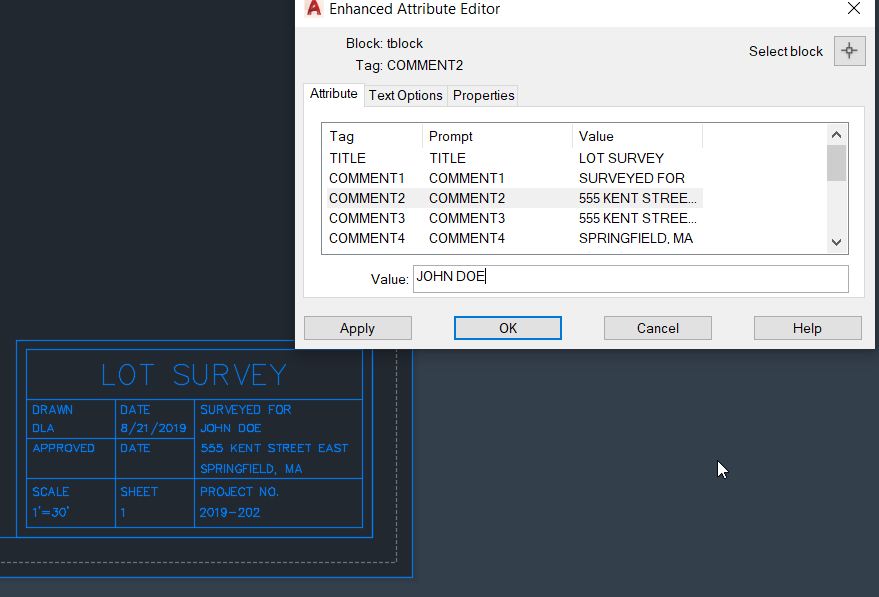 A Similar dialog box appears where changes can be simply made by selecting the appropriate field and entering a new value.
The above method is very simple and requires virtually no effort to set up. However, for many users this sample title block may be too simple. Users may desire a different format with specific fonts, text size orientation and more information.
Customizing the Title Block
To create your own title block and use this same command, you just create a new drawing with the characters tblock for the beginning of the drawing name, for example: TBLOCK – 11×17.DWG
The location of this drawing is important; it must be located in the folder where the two sample title blocks are located. By default, this location is C:\Users\username\AppData\Roaming\Carlson Software\Carlson2020\R23.0_X64\SUP

A simple way to create a custom title block is to copy one of the existing ones, rename it and then modify it. Within the drawing tblock.dwg you will see that each field is created with an attribute. You can move the existing attributes around as you desire and by double-clicking on each one, modify the Tag and Prompt.

Keep the default blank.
This allows you to set each attribute as something more intuitive for your use. You can also add plain text and graphics that will be consistent with every project and by modifying properties, change the font and size as desired.
If you prefer to create new attributes from scratch, use the Define Attributes command located in the Draw pulldown menu.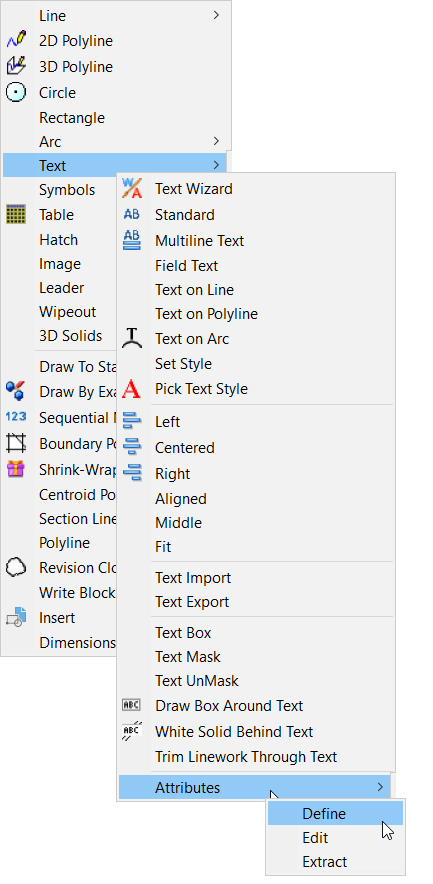 Once all fields are created, save the drawing and re-execute the Title Block command.
You should now see the new title block in the list: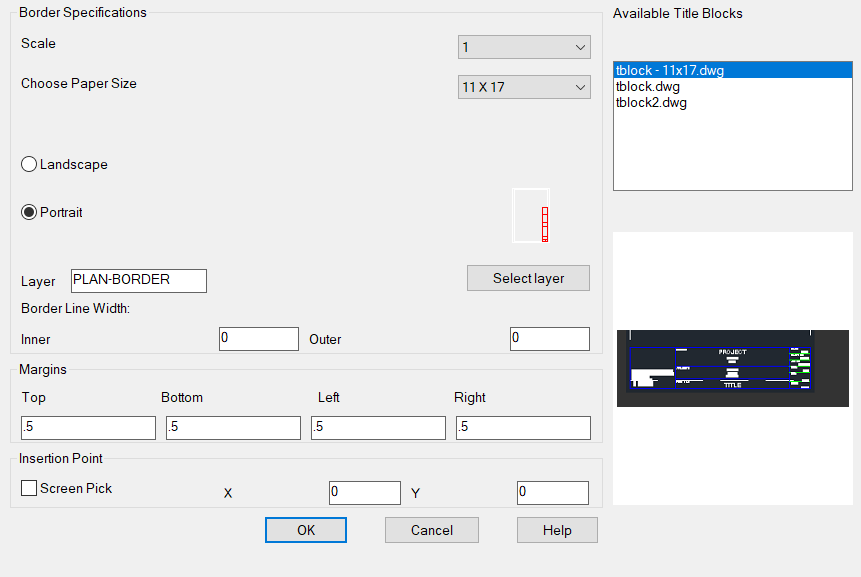 When you select this title block, you will see new fields and prompts.

Completed new title block.
Note: when creating attributes in the title block, be sure to create them in the order that you would like them prompted for ease of use.
Using Text Fields
A way of enhancing and automating title blocks even more is found through the use of Fields. Fields are attributes contained in the drawing that can be included as parts of a title block that are then updated automatically for each drawing. There are an abundance of fields contained in both AutoCAD and IntelliCAD drawings. Using these fields can help automate your drawings as well as dictate a specific work flow.
The following is an example of using fields in a title block, but first let's look at fields in general.
Drawing Fields
Each drawing has open fields as well as those set by variables and system parameters.
IntelliCAD and AutoCAD both can access these fields though the drawing properties dialog box found by clicking on the program icon at the upper left corner of the drawing editor.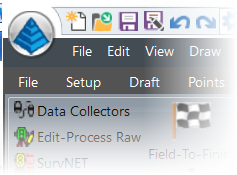 Click on Drawing Properties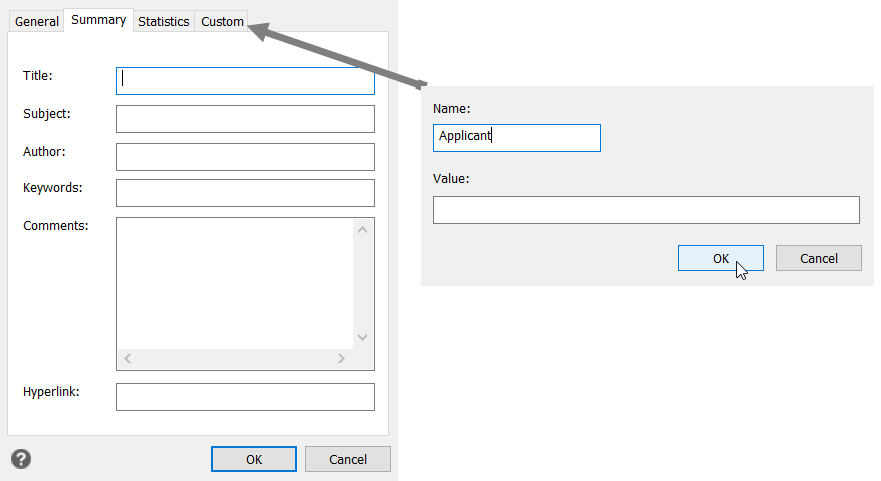 You will see several fields in the Summary tab and the ability to create user-defined fields in the Custom tab.
Carlson Fields
Carlson also provides a method to add fields in the drawing setup routine.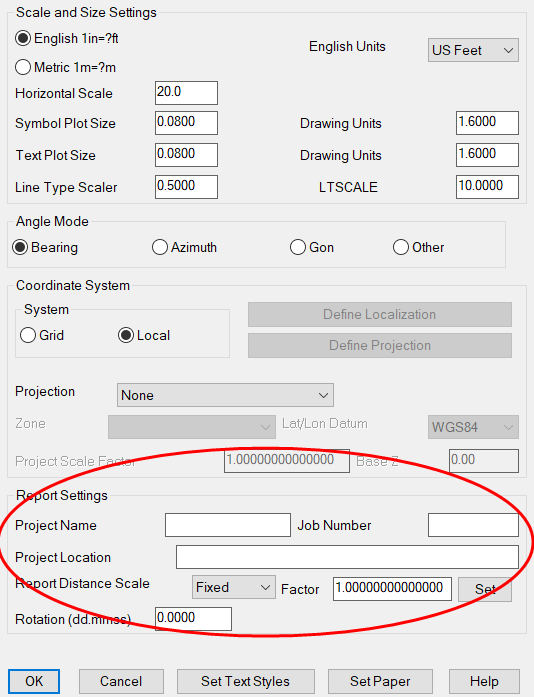 The process then is to create the title block out of fields instead of just text or attributes.
Using Drawing Fields:
Execute the standard text or Mtext command and instead of entering in text, right click your mouse and select Insert Field.
AutoCAD supports this function in defining attributes as well.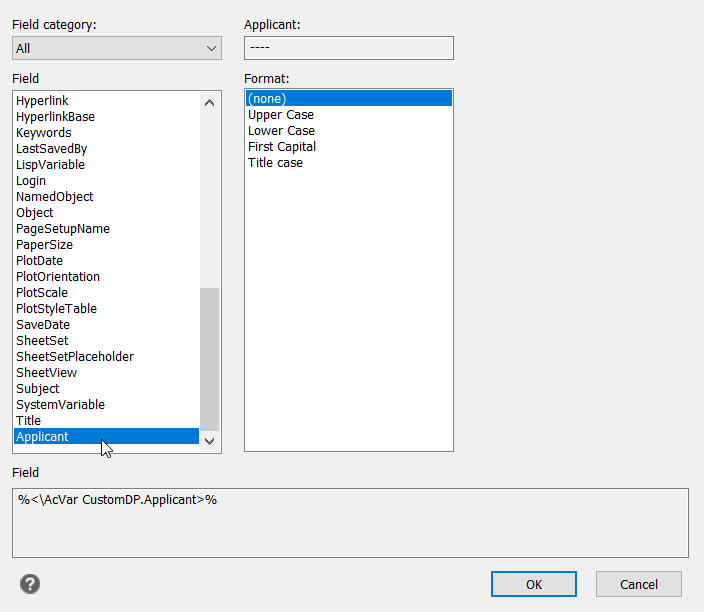 You can scroll through the many available fields including custom ones you have created.
AutoCAD and IntelliCAD do have some different fields available but many are the same. One handy field is the ctab variable found in the "other" category.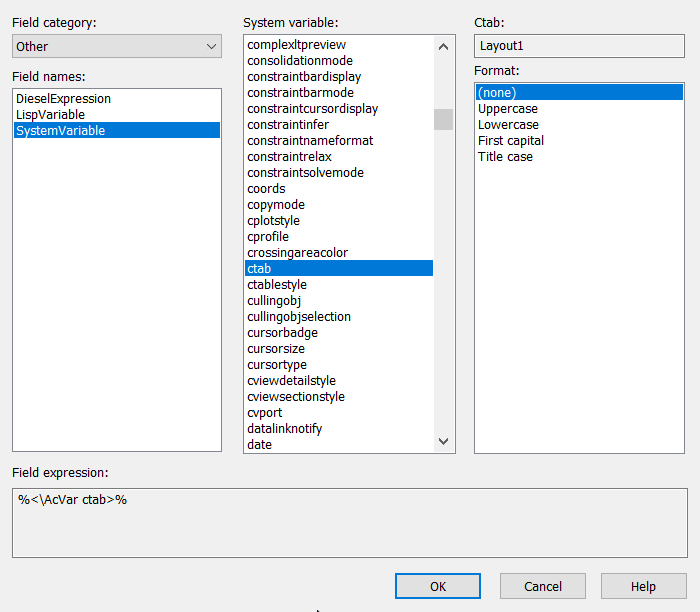 This variable recalls the value of the current layout tab. An effective way of using this is to name the layout tab to one of the drawing titles.
Using Carlson Fields
To use the available Carlson Fields, under the Draw pulldown menu, select Text->Field Text.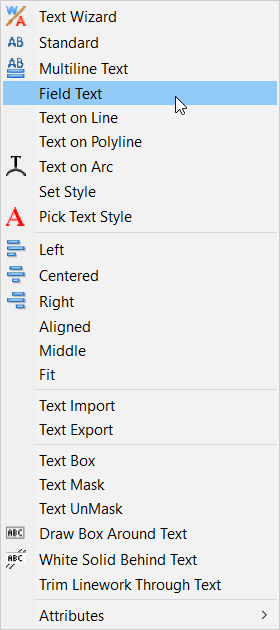 The draw field dialog box appears containing all available fields.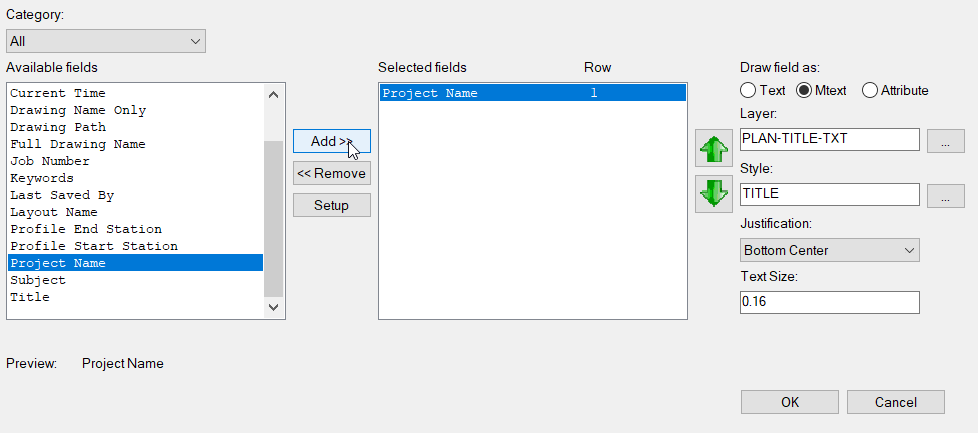 Select a field from the left column and click to move it to the Selected Fields on the right.
Set the text parameters such as height and layer and click
You can set as many fields available as part of your title block as you like. Dates, document names, sheet sets and entity information are all examples of fields that can be utilized.
Putting it all together
When using fields as part of your title block, it is best to include them all in your startup drawing template (DWT) file.
When you create a new drawing select the custom drawing template.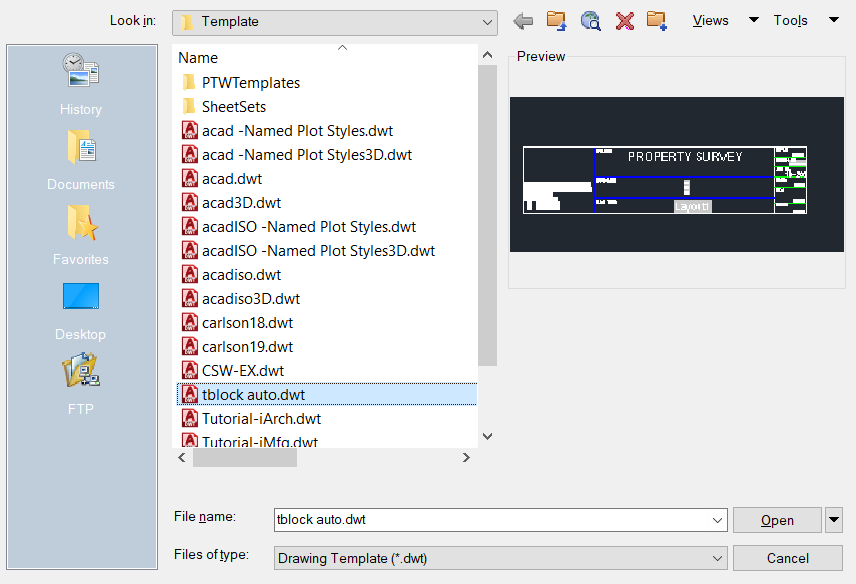 You will see that the title block contains the generic values of the template to start with. Open the drawing properties dialog box as shown above and/or the Carlson drawing setup dialog box and enter the appropriate information.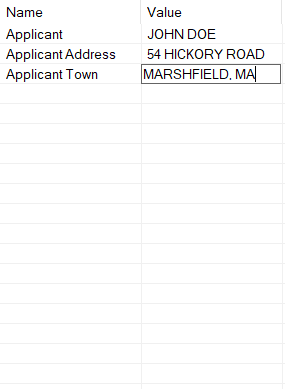 Right-click on the current layout tab and rename the tab.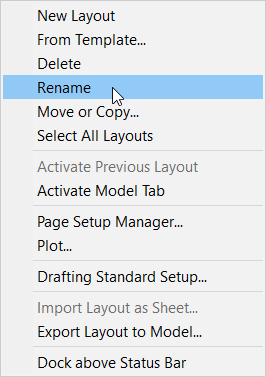 The title block updates upon a Regen and/or drawing save with the new field information.

Notice that the drawing fields are displayed with a gray rectangular box around them. This lets you know which parts are fields and which are just text. The Carlson fields do not show the bounding gray box.
Benefits of Using Fields
Albeit, this method requires more initial setup and planning and certainly more communication throughout the company to properly implement, the benefit is that each layout tab using the title block will automatically be populated with the correct information. If a change is needed, such as a new owner, revision date or drawing scale, the title block in all layouts will update. It takes learning a different approach but I have found many users see the benefits of using "Smart Title Blocks" in their daily work.
Doug
Let's Grow Together.
Douglas L. Aaberg, PLS
Survey Product Manager
P)617-393-2300×419
daaberg@carlsonsw.com