More 3D in Mining 2015
Carlson Mining 2015 Just Released with Increased Emphasis on 3D, Plus Real-Time Mine Reserves Updates, Ability to Meet Production Targets Using Many Variables, and More
MAYSVILLE, Kentucky, U.S.A. (July 2014)—  Just released, Carlson Mining 2015 gives users enhanced commands to make and view a solid from a point cloud scan, such as from a cavity, added 3D drawing methods for geologic columns, and increased read/write speed  for surface equipment timing and grid files.
Increased 3D options in Mining 2015 include the ability to draw a 3D mine model from coal sections and pillar/perimeter polylines and view the surface history playback of a mine in 3D as TIN files.
Carlson Mining 2015 provides support for AutoCAD® 2015 and also works on AutoCAD versions 2007 and up. All Carlson 2015 office software comes with IntelliCAD® 8.0 built-in, which offers a CAD platform for no extra expense.
"More improvements have been added for databases, faults and geo-statistics," says Grant Wenker, co-director of Carlson's Mining Division. "The variogram generator has been overhauled, and many new 3D viewing aspects have been improved for textures, equipment and transparency. Underground Mine Timing graphics now offer many hatch options including hatching just the entries, leaving the pillars in place," he adds.
With Surface Mine Reserves, improvements in 2015 allow users to make adjustments to the boundary and get quick feedback on new quantities. The Surface Equipment Timing updates provide the ability to put in production targets and Carlson Mining will adjust equipment usage to meet the target.
More top new improvements in Carlson Mining 2015 include:
Drawing of 3D geologic column cylinders colored and sized by grade parameters
Ability to import and draw E-Logs and automatically creates the drillhole based on the "picks"
Improvements to Dozer Push and Dragline Range Diagrams
Underground Mine Timing now has transparent hatch, buffer hatch, and entry-only hatch—now it will leave the pillars to show a more accurate map of the mine advance.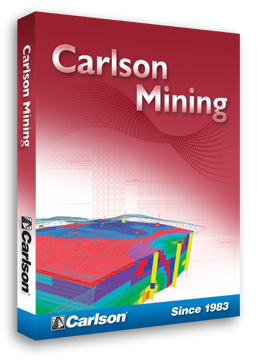 Used throughout the world, Carlson Mining provides legendary ease-of-use, combined with powerful features and AutoCAD DWG©-based graphics. Available in targeted modules – Geology, Surface, Underground and Basic Mining – Carlson Mining provides the tools needed for planning, engineering or automating a mine.
Also available for mining operations is Carlson Natural Regrade, which is recommended by the U. S. Department of the Interior's Office of Surface Mining (OSM) for mine reclamation.  Natural Regrade helps mine operations meet and often exceed environmental standards and provides maintenance-free stability that translates to true sustainability.
The 2015 versions of Carlson Survey, Carlson Civil, Carlson Hydrology, Carlson GIS, Carlson Field, Carlson Point Cloud, Carlson Construction, Carlson CADnet, Carlson GeoTech, and Carlson Trench (these last four make up the Carlson Takeoff Suite), each featuring its own industry-specific improvements, are also just released.
For more information about Carlson Mining 2015, visit Carlson 2015, email Carlson's mining experts at mining@carlsonsw.com, or call Carlson at 800-989-5028 or 606-564-5028. Carlson has been meeting mine operators' software needs since 1983.