Meet Doug Aaberg—Carlson Software's new Survey Product Manager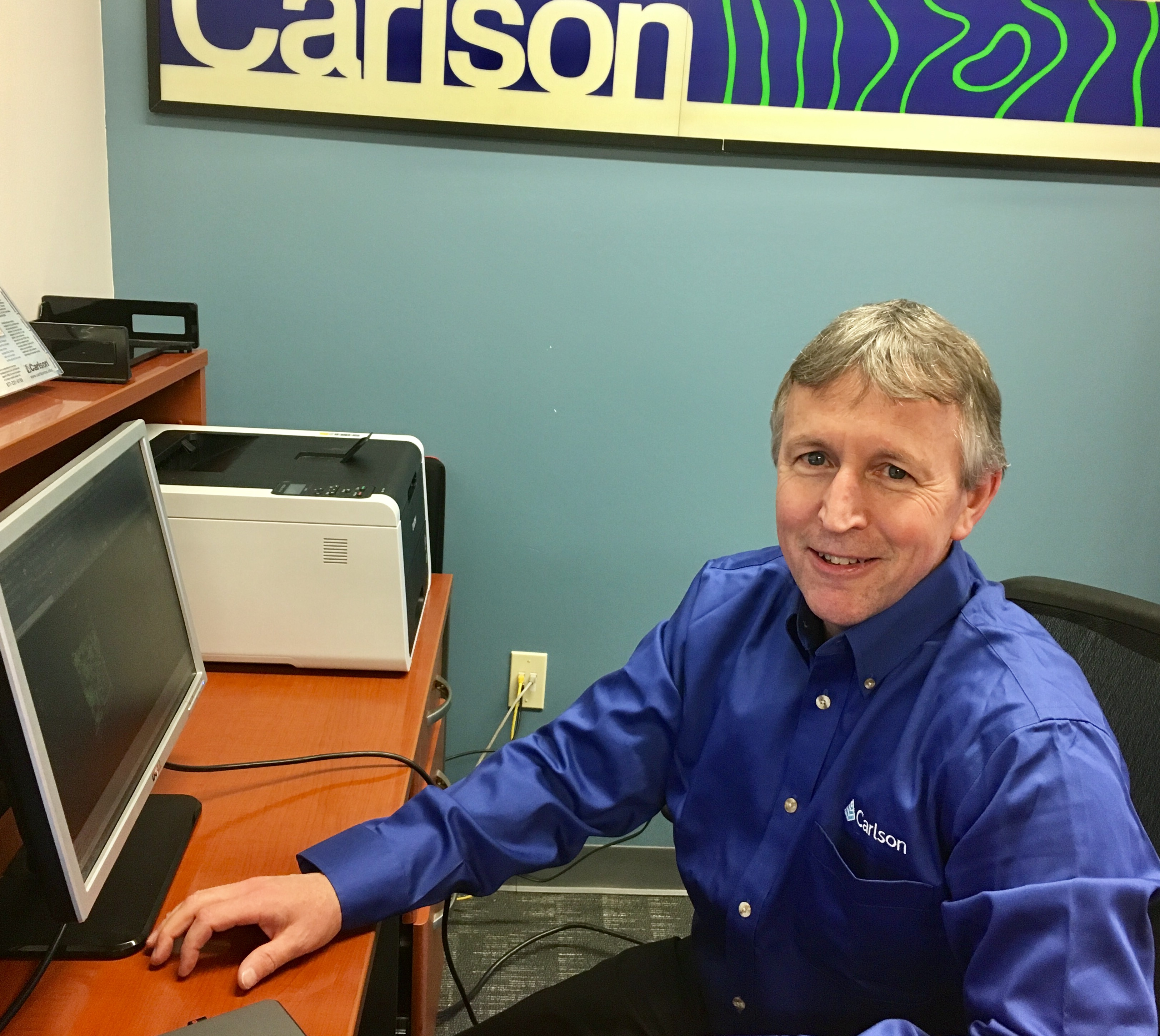 The heritage of Carlson Survey being "made for surveyors by surveyors" is now enhanced with the recent addition of Doug Aaberg as Carlson Software's new Survey Product Manager.
Yes, in 1983 Carlson Survey was the first software program of the company. That was when Carlson Software was founded by Bruce Carlson, a licensed surveyor and civil engineer at the time, and the first product he developed was essentially Carlson Survey – then called Surveyor I.
While Aaberg, who started surveying at age 19 and is currently a registered land surveyor in the states of Massachusetts and Colorado, didn't start using Carlson products that far back, he has been in the profession for 40 years and is a big fan of Carlson
"I've used Carlson for more than 20 years and I really like it," says Aaberg. "It operates much more like a surveyor thinks."
And Aaberg should know. For the 15 years that he had his own surveying/engineering firm, it grew to be a 15-person firm with four surveying crews.
"Eventually I had them all using Carlson products so that there was no transfer protocol – everything was seamless," Aaberg explains. "It was worth the investment. We set up a workflow that worked for everyone and I could cross-use the people. It was just so much more efficient for me and my company."
And that's what Aaberg is looking to do in his new position. "My focus now is to make all surveyors more efficient," he says.
"Doug has the ability to work closely with customers to answer their needs, get great ideas for new features, and to write these up clearly," says Dave Carlson, V.P. of Development for Carlson. "For the last few years, he's been training people to use Carlson and also co-wrote the Carlson Fundamentals book with Rick Ellis and is the main author of Ellis' 'A Practical Guide to Carlson Survey 2017' book."
"I really want to pay attention to the experience of the user," says Aaberg. "What it really comes down to for users is: 'How will it affect me and help my business?'; 'How will it make me more profitable?'; 'How does it make my life easier?'"
He explains how he learned while doing and that much of what he learned was "the right way to do things" has stuck with him despite the increase in technology since his early years. "I think I know what looks good on a plan and I'm very opinionated and that's how I still see it," he says. "I think that tends to be the personality of surveyors – there are certain things they really want."
And one of these things is a program they can actually draft with, according to Aaberg, who says that Carlson is just that. He notes that many firms require that the same software be used by all, engineers and surveyors alike, but that it is often not the most efficient way. "I plan to demonstrate how you can successfully use Carlson Survey with other software packages and that it will be easier to use and also less expensive," he says. "One of the things surveyors really like is just the simplicity of it."
Aaberg commends Carlson on its renowned support for its customers. "Carlson responds to what clients need and that eventually makes the product better," he notes. "I hope to increase communication and dialog even more as we focus on addressing the needs of the survey community at large."
He also thinks there is a lot of opportunity for young people to come into the profession and that Carlson Survey is ideal for them. And, Aaberg is also reaching out to current customers to learn more about their needs, wish lists, and problems as he moves forward.
"I want to make sure Carlson is synonymous with survey so that when you think of land surveying, you're going to think of Carlson Software because it works that well and it is that good for surveyors to use," he says. "My focus now is to help all surveyors be more efficient as Carlson did for me."
---
Doug wants to hear your ideas about Carlson Survey. Let him know by filling out Doug's Survey of Survey.