Head in the Clouds
It is not news to anyone that the face of surveying has been changing rapidly over the last couple of decades. When I first started in this business I was one member of a four-man crew learning to read the numbers on a transit and pulling a steel tape down the road.
Now, one person with a robotic total station is likely what you'll see performing that same task. With a GPS unit, you can perform an RTK survey via connecting to a network, which in some areas is public. And now, with the use of laser scanners and drones, large parcels of land can be mapped in an incredibly short amount of time.
The question for me has always been: "How can I make use of new technologies in my own work environment and how do I ensure that the data I'm producing with them is any good?" I have to assume that there are a lot of like-minded surveyors out there that feel the same way and are therefore hesitant to jump right into any new or unproven technology. Having said that, we also need to be careful to not let innovations just pass us by. Let's take point cloud data for example.
We are all aware of the rapidly expanding industry of capturing data through the use of scanners and drones. I am seeing new upstart niche businesses that provide cloud data as their sole deliverable. They will fly or scan a project, register it to ground control points, then process the data into a point cloud and be done. Some will produce a plan or CAD file for an additional cost similar to a more conventional aerial survey.
The difficulty with point cloud data is that our deliverable is still usually a plan. A two-dimensional product that our client can look at and municipal agencies can understand. Someday, I suspect that we will be able to deliver a virtual product, but that day is still well into the future. So even though it is possible to fly a drone or scan an area at great speed and cost efficiency, we still have to sort through that data and somehow produce a drawing. Accordingly, this blog is about understanding and dealing with point cloud data.
This small site just over three acres in size was captured via drone and contains more than 28 million points of data. If we simply try to convert those into CAD points or directly create a surface model, we are not going to have a happy computer. It's just too much data to handle in a CAD environment. Furthermore, we must ensure that the data is accurate and we must relate it to our on-the-ground survey.
Understand the Limitations
The use of scanners and drones does not replace an on-the-ground survey. However, they do produce a product that is very usable and provide a great tool to have at your disposal once you understand their limitations and uses.
Drones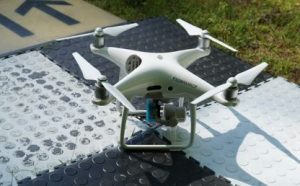 The above image was produced from JPG files from a drone and converted into a point cloud via Carlson's newest program called Carlson PhotoCapture. (I have provided a link with the files for you to give this a try.)
Even though the drone maps from directly above, a reasonable amount of vertical data such as building faces is still obtained.
Mapping via a drone is most likely going to be the least expensive option. It can cover a large area very rapidly and drones are not insurmountably expensive. The quality of the camera does make a difference. The resolution of the camera and the altitude of the drone both influence the quality of the final product. The right equipment will produce incredibly clear photos because the drone can fly 100' – 300' above the ground. I have had images so sharp that I have been able to locate a water valve.
When you capture these images, you capture everything. Unfortunately roofs, tree tops, and cars are not useful if you are trying to create a surface model. Also, when you are obtaining elevations, you need to be aware that some of the pixels in the cloud represent the top of the vegetation so tall grass and bushes need to be filtered out for ground elevations. Fortunately, Carlson has products, Carlson Point Cloud and Carlson Precision 3D that provide filters for those exact issues. Tools like Bare Earth that remove trees and cars, Clean and Resample that filter out rouge pixels, Cloud Snap filters that operate similarly to Osnap filters in CAD, Profile and Cross section extractions, and Grid Creation are all examples of such tools.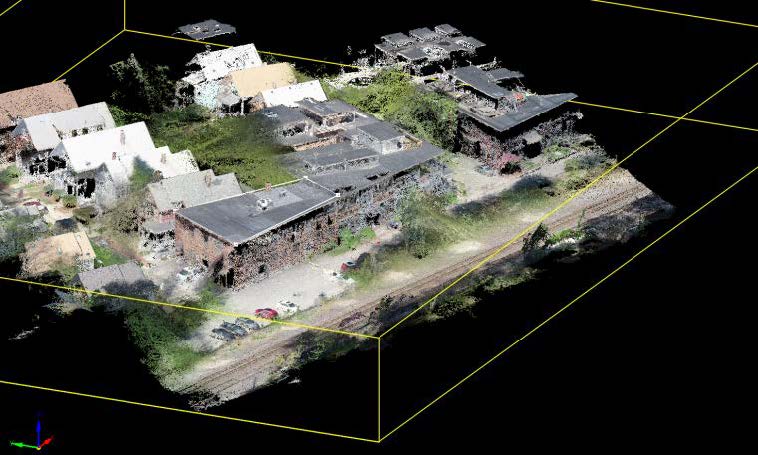 I think the best way to describe the use and limitation of a drone-mapped survey is to describe a project I did a few years ago and exactly how I used it. The project was to perform an as-built survey of a subdivision containing about 45 lots for final acceptance from the town. Most of the lots were already developed and occupied completely with fenced-in backyards.
We had to determine that the entire subdivision was built in accordance with the design plans including topography to show surface water runoff compliance. We performed an on-the-ground survey of the streets from gutter to gutter to ensure the best precision for the sewer lines and curb elevations. We used the point cloud to determine lot elevations eliminating the need to access people's backyards. Any building offsets needed were located on the ground. I used Carlson Point Cloud to extract the needed elevations and the Survey module to combine it all into a final surface model with contours. I estimated that this process saved about two weeks of crew time alone. The great benefit to that process was the fact that all of that data was available at my fingertips and could be revisited as often as needed.
Mobile Lidar/Scanners
A mobile Lidar unit or a Laser Scanner can capture much more detailed information at the ground level. They are limited by the distance away from the unit and usually produce a much denser cloud.
The example above was acquired via a mobile Lidar unit mounted on a vehicle, which produced very identifiable curb lines. This project was an as-built of a newly constructed roadway and topography was limited to 20 feet outside of the right of way. I used Carlson Point Cloud to set Carlson points directly in the cloud that were then processed through field-to-finish into an open CAD drawing.
I then created a surface model of the roadway.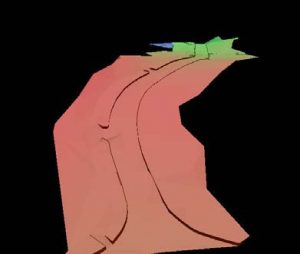 There were plenty of elevation checks such as manhole covers and curb inlets along the way so I felt very comfortable with the results.
Products Directly Available from the Cloud
You can produce contours, TINs, Solids, a Mesh, and/or Grid directly from the point cloud without manipulation. However, in some instances, contour lines produced directly from the point cloud appear choppy and not necessarily pleasing to the eye because they are following so many pixels. To handle such dense data like this, there are tools to thin and clean the cloud, perform manual edits and certainly smooth or eliminate extra vertexes from the contour lines. Depending on what your final product is will dictate how much editing needs to be done. For example, if you are working on a preliminary design, you may be satisfied with just exporting a TIN as is, knowing that you will revisit the project at a later date. With a little experience, you will develop a workflow that you feel comfortable with.
Control the Data
Something about the DNA of a land surveyor or civil engineer means they have a healthy amount of skepticism. Therefore, most of us prefer to handle as much of the data processing as possible ourselves. Carlson has been in the point cloud processing business for a while now with both Carlson Point Cloud and Carlson Precision 3D. Until recently though, to use those products you would need to be supplied a point cloud in one of several formats: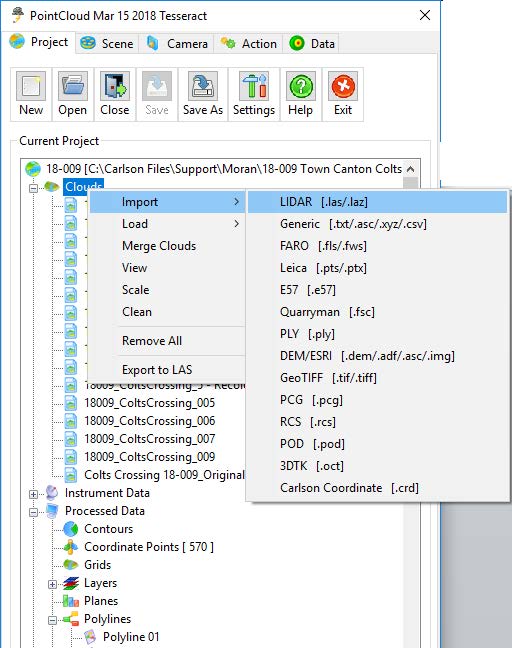 However, with the recent release of Carlson PhotoCapture, you can now control the data from beginning to end.
Carlson PhotoCapture is a web-based program that allows you to simply drag and drop JPG files and ground control points into a single dialog box.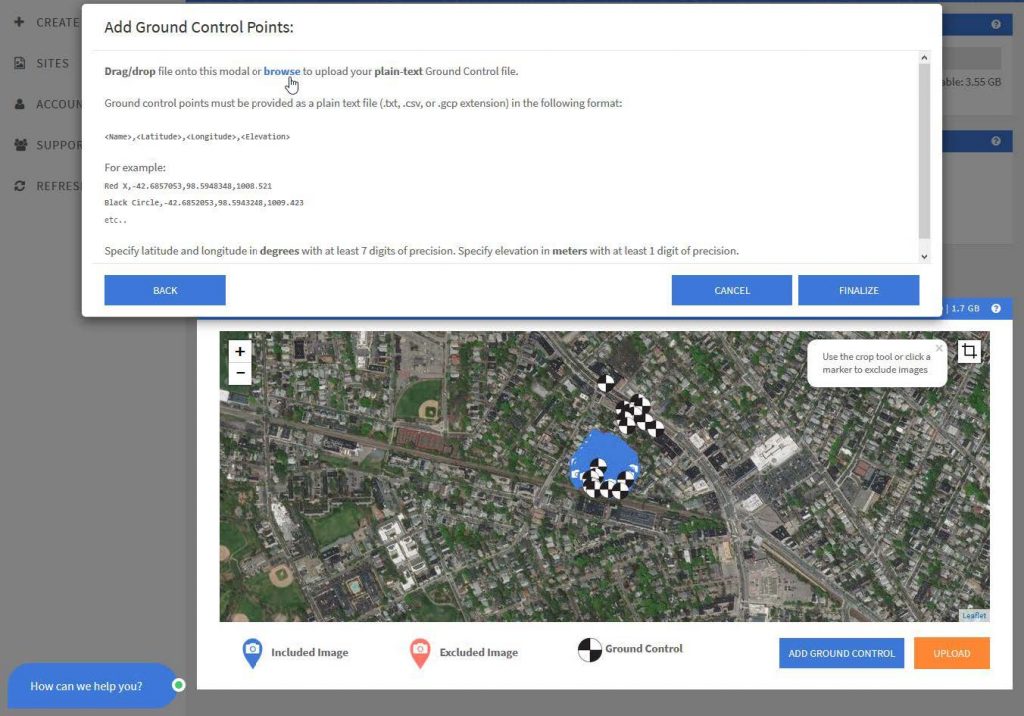 It then processes the data in the cloud, which frees up your computer for other things. You do not need to buy a supercomputer to use this.
It then creates several usable products, one being a dense point cloud. This program allows you to view, query, and download the products for use in the office. You can also share the project with clients or colleagues.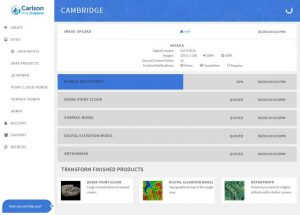 You can then bring the cloud into one of Carlson's programs to filter and edit the data as well as create points, polylines and extract contours, profiles or sections.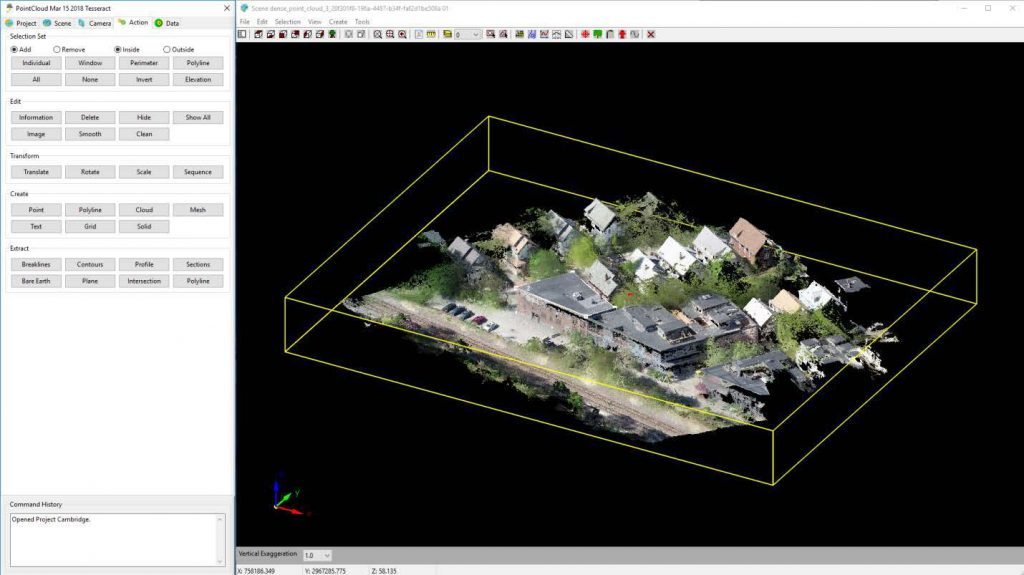 Build in Quality Control Checks
It is very easy to build in QA/QC when working with a point cloud. When performing the initial control survey make sure that the control points are spaced out properly and coincide with the photo overlap. This is not at all unlike setting control points for a typical aerial survey. If you load all of your control points to one side of the project, you are potentially adding distortion to the other. Also, take plenty of check shots on visible structures or even spot elevations. You will tend to be most concerned with elevation accuracy so once you have finalized the cloud; you can create a TIN and check every field-located point with it. In the example above, the surveyor took offset shots to some of the building corners so there would be horizontal checks after the planimetrics were drawn. I have found that elevations from the cloud, if prepared properly, are within 0.10' of their respective ground shots which I consider very reasonable.
Give it a Try
I would encourage you to give this process a try even if just to satisfy your own curiosity. Click the following link to download a set of photos along with control points and a tutorial to create the above point cloud using Carlson PhotoCapture. It is a very intuitive and easy program to follow.
Afterward, download a 30-day trial version of Carlson Point Cloud or Precision 3D and see what can be done with the data. If you would like to get a general idea of these products, there are several videos available on YouTube or contact your local Carlson representative.
Another download available is the Easy Start Field to Finish Guide:
A special thanks to Steve Moran of Moran Surveying, Inc. of Pembroke, MA for supplying data for the examples shown in this blog as well as the data contained in the attached demonstration project.
Doug
Let's Grow Together.
Douglas L. Aaberg, PLS
Survey Product Manager
P)617-393-2300×419
daaberg@carlsonsw.com