Carlson SurvPC & SurvCE help with disaster clean-up & rebuilding
As the destruction from Harvey continues along the Gulf Coast, those at Carlson Software watch with empathy for the staggering loss and suffering and hope for relief for all the residents in the near future.
While clean-up and rebuilding may be in the future, here is some information on how Asbell Excavating in Joplin, Missouri, which was hit by a EF5-rated multiple-vortex tornado on May 22, 2011, utilized Carlson products to speed their location and subsequent clean-up of downed transformers. Here is a brief excerpt from the article "Technology helps in disaster clean-up" by Brad Ezell of Asbell:
"Amid all this destruction, close to 2000 electric power transformers were down, many of them leaking oil,  which was their coolant, into the environment.  This was when the local electrical utility contacted us at Asbell Excavating.

With downed transformers all over the city, we didn't know how we were going to locate all of them in the first place and then be able to quickly and efficiently go back to clean them up.

Initially, we sent out several crews with inexpensive handheld GPS units to gather up all of the locations of the downed spills.  We had to work fast to limit the amount of contamination.

All of the gathered points were put into an Excel spread sheet; then I put them into Carlson Takeoff, the estimating and modeling software from Carlson that we already had at Asbell. I use Takeoff a lot in our regular work and find it gives me a lot of options.

I loaded the Takeoff file into a CRD file and put it on the Supervisor and off we went to take care of the spills. Due to the format in which they were recorded, I ended up having to convert the points to the Missouri State Plane Coordinate System, but it all worked smoothly.

The Carlson Supervisor* was perfect. It gave us the ability, with integrated GPS, to go back and locate the spills. We could just throw it in the truck and easily bring it along with us as we went from spill to spill."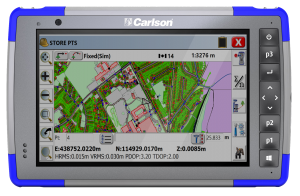 *Note that while the Supervisor was used for this project in 2011, Carlson now recommends the Carlson RT3 ruggedizd handheld computer. All of the cities or communities impacted by Harvey can now locate all of their transformers (and much more) and "put them on the map" utilizing the RT3 or a ruggedized handheld of their choice and Carlson SurvPC data collection software that works natively with Esri®. This can be done, as Asbell Excavating did, following a disaster, or map them all out ahead of time to make clean-up much more efficient if a disaster should strike.
Prepare for the future
More storms are anticipated this hurricane season — the National Oceanic and Atmospheric Administration is predicting an "extremely active season" for tropical storms and hurricanes in the tropical Atlantic Ocean and the Caribbean Sea for 2017 — so being prepared is more important than ever.
Here is a video showing how Clay White of Berea, Kentucky, utilizes Carlson SurvCE and the Carlson MINI2 along with Esri to monitor and map all of his community's telephone poles to have the information at the ready in case of an emergency.
Again, Carlson Software is hoping that Harvey moves on soon and the people of the Gulf Coast can get back to living their lives and rebuilding their communities. If there is anything you would like to know about how Carlson Software might help your community with the clean-up or rebuilding, please contact us at 606-564-5028 or via this form: