Carlson Software Spotlight: Patrick O'Connor
Patrick O'Connor, who lives with his wife Cheryl Rohlf in Brisbane, Australia, is the director of Australia-Pacific Sales for Carlson Software. He's been covering the extensive territory that goes from Pakistan and India to the international dateline and from Korea south–noting that he's traveled more than 100,000 kilometers this year already.
What was your first job in this industry?
I worked for a private survey firm in New South Wales with a chain and theodolite — that was pre-total station. I've carried out GPS surveys in multiple countries, and I've worked in the marine survey and aerial imagery industries, as well as been a representative of survey equipment manufacturers, and for dealers.
What led you to your current role at Carlson?
I developed a passion for Carlson Software while working for a couple of dealers. I taught myself how to use C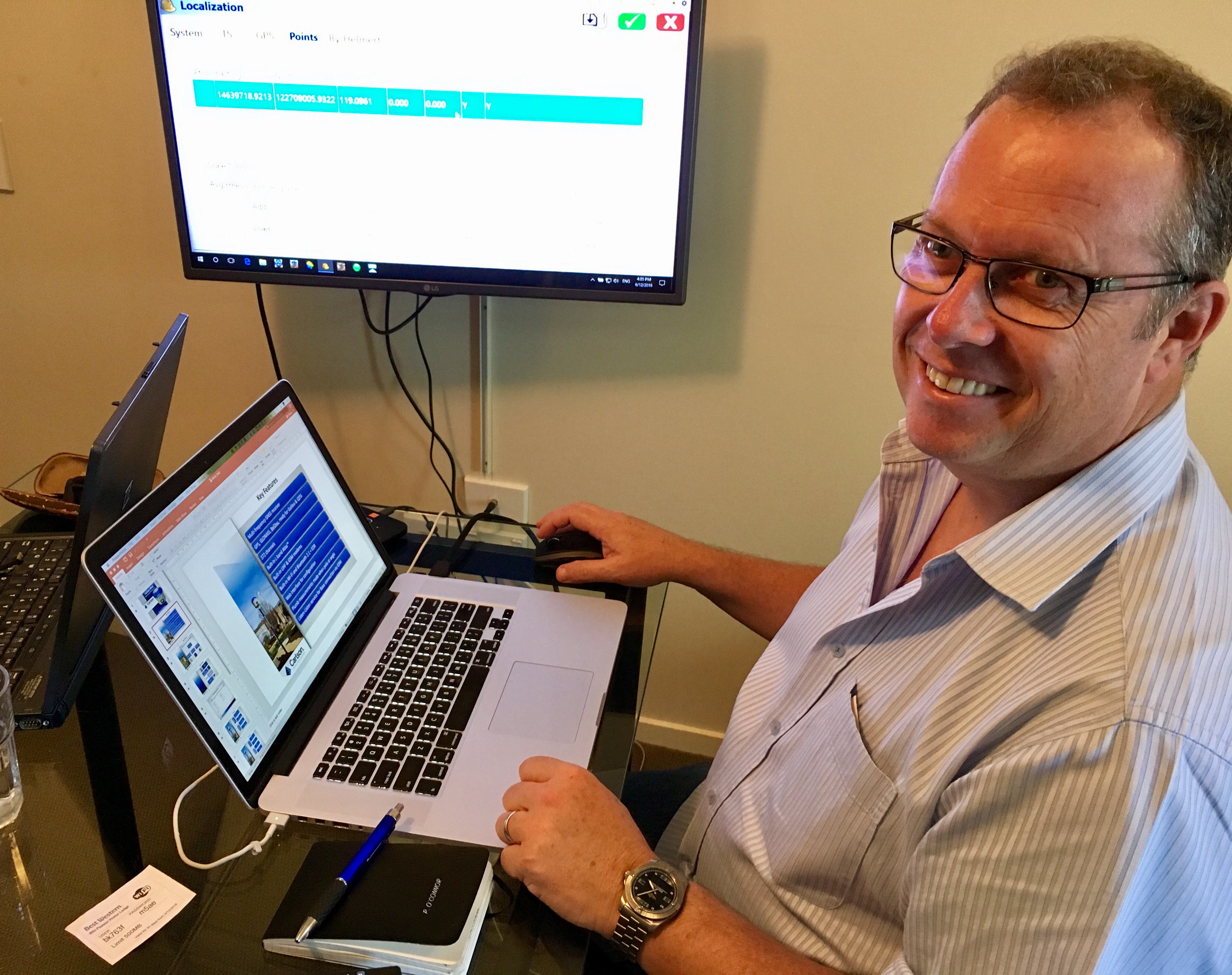 arlson SurvCE from 2004 to 2008, when I went to the U.S. and got some advanced training from Bruce Carlson. I then purchased my own personal copy of Carlson Civil Suite at the end of 2009. The following year there was an opening at Carlson Software in Australia and here I am.
What is your favorite aspect of being a sales person?
It's the variety — the variety of people I meet, the variety of equipment and software I get to work with, the variety of skills I need to learn. You have to be a voracious learner to be a salesperson for Carlson.
What about working at Carlson, in terms of the work environment or your day-to-day experience, do you appreciate the most?
The independence of my work environment, and the transparency and democratic nature of the way Carlson Software operates from day to day.
What would you say are the best new products at Carlson?
Carlson RT3 tablet is my current tech love interest. It's powerful and flexible and provides very good field capabilities for surveyors when combined with SurvPC software. I use it a lot on planes due to its convenient size and extended battery life. My second favorite is Precision 3D because it gives the next generation a tool set that will take professionals through to virtual and augmented reality. It's a generational change in itself as it's based on gaming technology so you can work purely in 3D. As we get new younger dealers, it will become more popular. That's why my next purchase is a gaming laptop.
How do you stay entertained on your own time?
All the usual things of today: going to the movies, watching sports on TV, keeping abreast of what's happening in computing and things like that I enjoy.
What might surprise people about you?
I am a Pittsburgh Steelers fan — American football. I grew up in Newcastle in the Hunter Valley of Australia that was called the Steel City so have liked and followed the Steelers since their games were televised in Australian TV.
Do you have any advice for how people in the industries Carlson serves should approach evaluating products?
You are purchasing products to solve a problem — don't make the purchasing of the product become the problem in the longer term. Each product is an island — it is not necessarily global in its solution. Make hard choices on software before choosing hardware. Purchase a product that is flexible enough to work with other tools over the longer term.