Carlson Natural Regrade Presented at 30th Annual ISMR Technology Transfer Seminar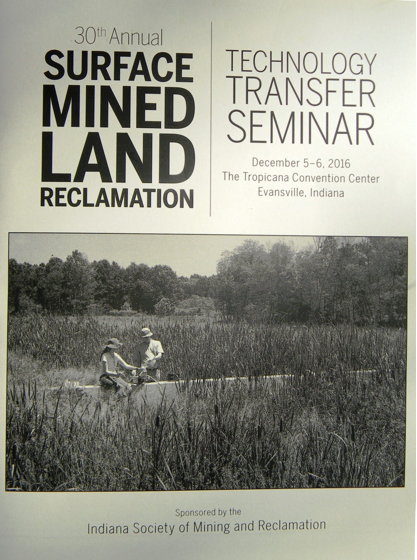 Carlson Software's GeoFluv Technical Director, Nicholas Bugosh, participated in the Computer Software Workshop on December 5, 2016 at the Indiana Society of Mining and Reclamation (ISMR) Technology Transfer Seminar in Evansville, Indiana.
Bugosh's section, Using the GeoFluv™ Design Method in Carlson Natural Regrade to Solve Disturbed Land Reclamation Problems, explained why the GeoFluv fluvial geomorphic landform design method in Carlson Natural Regrade works, how it uses the method to make stable land reclamation designs, and showed examples of how Natural Regrade users in Australia, Colombia, Spain, and the United States have solved various challenging reclamation design problems. These problems included overcoming public objection to Traditional reclamation landform disruption of the hydrologic system and local viewshed, stabilizing highly erodible sands, lowering reclamation construction costs, making disturbed-land sediment yields comparable to background values, and provided post-reclamation habitat suitable for the Spanish Imperial Eagle–Spain's threatened and endangered national bird.
Bugosh showed how Natural Regrade's user-friendly dialog guides the user to make a draft GeoFluv landform for a reclamation project and how the user can harness the speed of the computer to quickly edit the draft design's material balance and minimize its material handling to achieve an optimal reclamation design that has stability against erosion like stable natural lands, that blends with the surrounding un-disturbed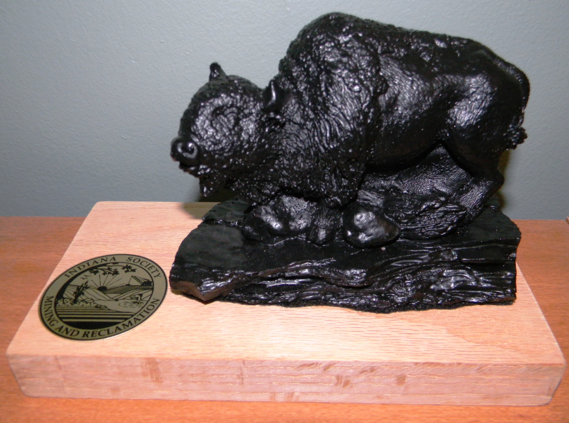 lands, and has the lowest material handling cost for construction.
The conference showed appreciation for Bugosh's contributions to the ISMR Technology Transfer Seminar by awarding a plaque which features a Bison fittingly carved out of coal as ISMR provides the opportunity for education and communication of technical advances in mining and reclamation.
"I would like to thank, on behalf of Carlson Software, the organizers and ISMR for their efforts in organizing and conducting this Technology Transfer Seminar that provided a timely update of the state of a vital U.S.A. industry and the opportunity to share new technology that can help the industry move forward," said Bugosh.
About Carlson Natural Regrade: Carlson Natural Regrade gives all faced with disturbed lands an affordable and natural way to achieve sustainability. The innovative GeoFluv™ fluvial geomorphic landform design method brings back the natural beauty of the reclaimed land while stability against erosion is established and the water quality remains comparable or better than surrounding undisturbed lands.