Carlson Mining 2016 Highlights: Improvements for Haul Cycle Analysis, Added Support for Multi-Level Underground Mining, and More
MAYSVILLE, Kentucky, U.S.A. (July 31, 2015)— The release of Carlson Mining 2016 boasts a long list of improvements with added support for AutoCAD® 2016 and the all-new IntelliCAD®8.1. These improvements span the four mining modules: Basic Mining, Geology, Surface Mining, and Underground Mining.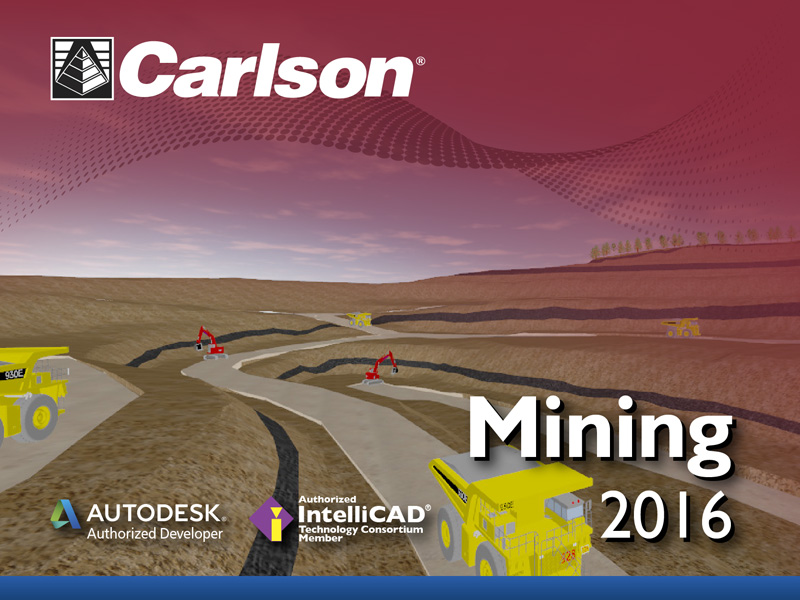 Perhaps one of the most significant improvements to Carlson Mining is the upgrade to the Haul Truck Cycle Analysis command, which now accounts for mixed fleets, delay points, and 3D playback of trucks along the haul route. With an in-depth explanation of the command logic, mine operators can be confident in the decision to purchase that extra haul truck.
In the Underground Mining module, support has been added for multi-level mining with the addition of level labels, allowing the processing of overlapping mine panels with ease. Common to all mining modules is added support for Gantt charts, enabling users to stay on track and export their mine schedule directly to Microsoft Project.
Other new features for Carlson Mining 2016 include:
Creation and editing of solid models by various methods;
New methods to import and edit fault lines; and
Analysis of eLog files to create and draw drillholes.
Used throughout the world, Carlson Mining provides legendary ease-of-use, combined with powerful features and AutoCAD DWG©-based graphics. In addition to its support for AutoCAD 2016, Carlson Mining works on AutoCAD versions 2010 and up. All Carlson 2016 office software comes with the improved IntelliCAD 8.1 built-in, which offers a CAD platform for no extra expense.
IntelliCAD 8.1 represents major improvements in its CAD engine technology, now including support for Microsoft Windows 10 along with multi-core processing when opening and regenerating files, which provides a 1.5 to 3 times performance improvement on multi-core computers.
Also available for mining operations is Carlson Natural Regrade, which is recommended by the U. S. Department of the Interior's Office of Surface Mining (OSM) for mine reclamation. Natural Regrade helps mine operations meet and often exceed environmental standards and provides maintenance-free stability that translates to true sustainability.
For more information about Carlson Mining 2016, visit www.carlsonsw.com/solutions/mining-solutions, email Carlson's mining experts at mining@carlsonsw.com, or call Carlson at 800-989-5028 or 606-564-5028. Carlson has been meeting mine operators' software needs since 1983.