Carlson Certified Training
---
Get personal one-on-one attention at your own workstation — a hands-on learning experience.
For Land Development Professionals, Carlson Certified Training is the way to go. You and/or your employees will understand how the software works, how to use the software in imaginative ways and how to check your work using the software's QA/QC tools. This yields:
Less training time, more production time
No trial-and-error learning
Increased industry expertise
Optimum ROI and Return on Time
Get Training Direct from Carlson Software or through Carlson Certified Training Partners, that include certified training companies exclusively for SurvCE training. Also, check out training materials for a wide variety of Carlson Software products from the Carlson Software User Conferences.

---
Carlson Software offers professional training at our facilities in Maysville, Kentucky, and Boston, Massachusetts. In addition, Carlson Software offers regional training throughout the U.S. as well as on-site custom consulting.Also Carlson has expert training facilities through approved Certified Training Partners. Each member has met Carlson Software's standards for training excellence and each individual trainer is an expert on Carlson Software's products.
Classes are kept small and all books and training materials are yours to keep afterwards along with a certificate of completion.
Contact your Carlson Sales Representative for information about upcoming classes or visit the Carlson Training Calendar.

---
Cadapult Press
The Practical Guide books have been formatted to maximize learning by starting all lessons with an explanation of the concepts and processes that will be covered; followed by real world examples in step-by-step exercises that you can perform yourself with the included dataset.
Features and Benefits of all Cadapult books:
Lessons build upon one another using a contiguous dataset, providing consistency through the entire book
Skills learned through easy-to-follow, step-by-step procedures
Sequential exercises that follow one logical, real-world example project
Flexible datasets allow you to "skip ahead" to a relevant lesson, or use as an on-demand reference guide
Detailed explanations and chapter summaries facilitate learning and retention
Written by instructors with decades of industry and teaching experience
Tested and refined in classrooms with a broad cross-section of students
---

That CAD Girl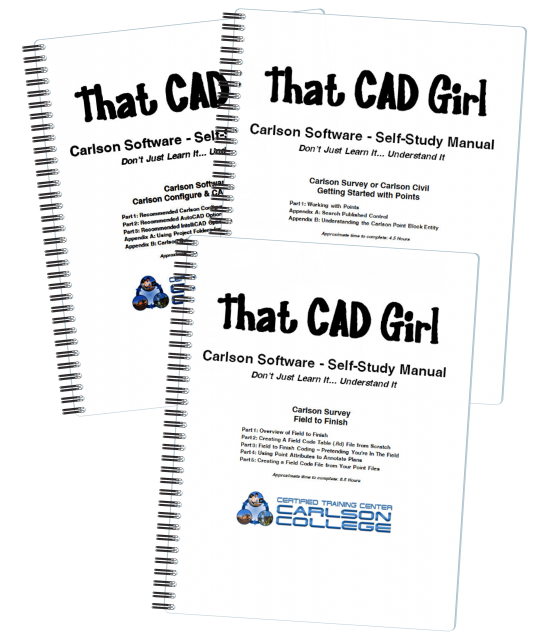 That CAD Girl Self Study Manuals are the perfect complement to your purchase of Carlson Software. The books were written when 2013 software was current but still work well with more current versions of the software.
More than just tutorials, these training books cover particular topics in Carlson Software in great detail – so much so that prior knowledge of AutoCAD or IntelliCAD is not required. This is the next best thing to customized Carlson Software training and you can work at your own pace.
There are 3 lessons in two books and can be purchased together, as a bundle, or separately: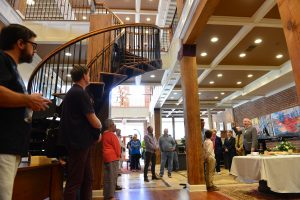 If you're looking for intense training mixed with fun and entertainment, Carlson hosts a U.S. based user conference every year with multiple days of Carlson classes. You can attend a Carlson UC on even numbered years, (2018, 2020) at a rotating city in the Western half of the U.S., and on odd numbered years, (2017, 2019) at Carlson headquarters in Maysville, Kentucky. Carlson also hosts Carlson Mining Conferences along with European based EMEA User Conferences.
Of course no matter where you are located, Carlson invites you to attend any conference that fits you and your company's needs. More information about the next upcoming conference can be found here.