Carlson SurvNET: True Network Least Squares
This pro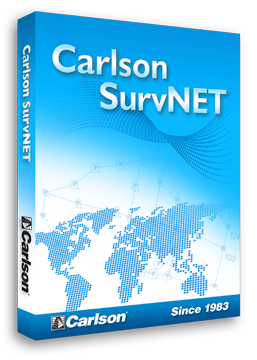 gram, unlike other Network Least Squares program, automatically means all horizontal and vertical angles including slope distances. No need to manually mean and input all multiple direct or reverse or closed horizon pairs of angles and distances; SurvNET does this automatically.
SurvNET also automatically weights redundant angle and distances, it applies and reports these new standard errors after adjusting. SurvNET Network Least Squares reports include mean angle and distance splits prior to adjustment, error ellipse reports, and positional tolerance inversing for Alta Survey compliance.
Ask a Question – Free Trial – BuyNow – Find a Dealer
Specifications
Downloads data collectors' raw and coordinate data
Reviews and allows editing the field data
Raw field data is adjusted automatically
I received a copy of SurvNET … and put it to the test. Without reading any directions, I was able to import raw traverse data, make modifications to the traverse station names and perform the adjustments in one third of the time it would have taken in my existing network least squares software. I found SurvNET to be very simple and straightforward to use.Overall, I think it is a very good program and I look forward to putting it to full use.
Todd M. Babcock, Professional Land Surveyor
I used your SurvNET demo on a real job and was impressed" "You indeed do some things better than SiteNet and the cost is less. I will recommend your software to anyone who has a similar need as me.
Richard Gardell, Gardell Associates