Carlson Scan Software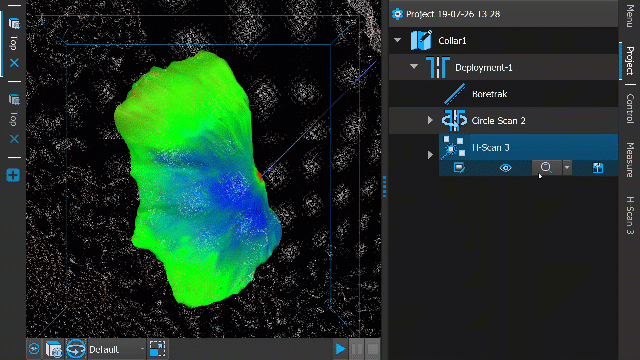 Carlson Scan software for the C-ALS, C-ALS Gyro, Void Scanner and VS+ provides a user-friendly interface to control the scanner, to analyze collected data and to produce industry-standard deliverables.
Carlson Scan 1.0 is available free of charge for any owners of the Carlson C-ALS or Void Scanner line of systems. Key features include:

• Quick navigation and intuitive design for both new and experienced operators

• Smooth and efficient animation and point cloud rendering

• Optimized for ruggedized, touchscreen tablets for easy in-field use

• Desktop mode for reviewing and editing data in the office

• See the live heading, inclination and activity of the animated probe at all times

• Real-time surfacing and volume calculation from raw scan data for the production of closed 3D models and volumes

• Import existing point clouds and surfaces to see real-time comparisons with design data or previous surveys

• Quickstart mode with single-click project setup up and instrument auto-detection

• Save live footage from the C-ALS camera

• A wide variety of import and export formats allows easy integration with other Carlson software and related third-party packages
Carlson Scan is recommended on a ruggedized tablet, such as the Panasonic Toughpad FZ-G1, available through your LMD Representative
Processor/Video Card
Minimum:
At minimum, Carlson Scan requires a processor that supports the Vulkan Graphics framework:
https://en.wikipedia.org/wiki/Vulkan_(API)#Compatibility

Alternatively, a dedicated video card will almost certainly support the framework.

Note: Intel core processors made after the 6000 series are sufficient. If you have a dedicated video card, you can use the 4000 series or up. For AMD Radeon 7xxx series and up or use the compatibility check.

Recommended:
It is recommended to have either a dedicated video card (Any model made in the last 6 years), or an Intel i5 processor or above.

Operating System
For operating system, Carlson Scan requires 64 bit Windows 7 SP1 or higher. It is also recommended that the latest CPU/GPU drivers are installed on the PC.

Disk
Install size is approximately 500MB but it is recommended to have at least 2GB of available hard drive space for projects.

Memory
Carlson Scan is not a memory intensive program, but it does require 50-500MB of RAM depending on the workload. To ensure this much RAM is available while running Windows, a computer should overall have a 2 GB minimum, with 4GB+ recommended.

Connectivity
To connect to the C-ALS, an Ethernet port and/or a Wi-Fi card is required in the tablet/PC.

To connect to the Void Scanner directly, a serial port, or a USB port together with a serial-USB adapter (included with the product) is required.

To connect using to the Void Scanner using a Void Scanner Wi-Fi box, a Wi-Fi card in the tablet/PC is required.

Both the C-ALS surface unit and Void Scanner Wi-Fi box communicate wirelessly via a 2.4 GHz connection. Later models also offer a 5 GHz link. If your tablet/PC hardware supports 5Ghz Wi-Fi, you may use this frequency to counter any interference or connectivity issues you may experience.