Class Track: Survey
LAND SURVEYING    —     Register Now    —    Return to User Conference Home Page
Monday, April 8
SurvNET: 9-10:30AM
This session will explain fundamental concepts associated with the adjustment of surveying measurements using least squares techniques, and the associated capabilities of Carlson SurvNet.
Field-to-Finish for Survey and GIS Collection from a GIS Dummy: 10:45AM-12:15PM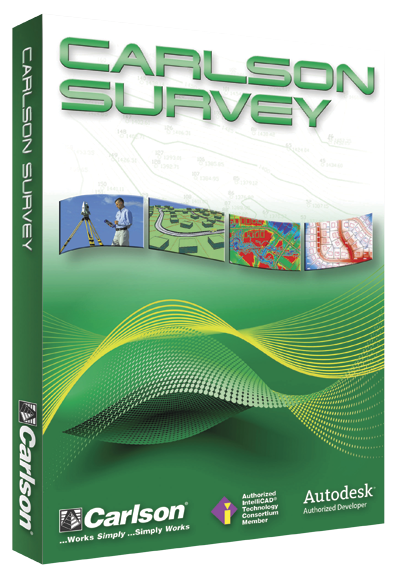 This class will cover Field-to-Finish from start to finish. For those who have considered Field-to-Finish too intimidating, we will show you how to spend about 15 minutes in order to save hours of time when processing survey data. We will also get creative with field coding so that you can keep the data collector entry to a minimum yet still be able to automate the drafting as much as possible.
Survey Commands that you did not know about like 'Search Publish Control': 1:30-3PM
See Carlson Survey commands that have existed for years and do exactly what you need them to do, but you may not have known about them. We will also be illustrating the usefulness of several new commands.
Staking for Parking Lots, Buildings, and Roads in Survey: 3:15-4:45PM
This class will cover stakeout routines inside of Carlson Survey.
Tuesday, April 9
Carlson X-Port vs. Raw Data Editor in Carlson Survey: 8:30-10AM
In this session students will see the small yet important differences between Carlson X-Port 'Raw Data Editor' that you get when you purchase a copy of SurvCE and the 'Raw Data Editor' in Carlson Survey. We will review the many features and options with both, making the comparisons for both SurvCE and Carlson Survey users. Instuctor: Mike Hyman, Carlson Software
Tips and Tricks for Points: 10:30AM-12PM
Examine the concepts behind the Carlson COGO point system common to all of the Carlson modules. Demonstrations will include the numerous options and editing capabilities available for point display as well as the various methods of importing points and converting points from other software.
Survey Legal Description, Deed Reader, Enter Deed and New Cut Sheets: 1:15-2:45PM
This class will show you how the New Cut Sheets work along with other useful tools like Legal Description and Deed Reader in Carlson Survey.
The Good, The Bad, The Ugly of Field-to-Finish: 3:15-4:45PM
Want to get Field-to-Finish to work for you? Then, this is where to start.
Wednesday, April 10
Attribute Data from SurvCE to Survey using F2F: 8:30-10AM
This class will show you various features of Carlson SurvCE and Carlson Survey that can be used in the field and office when collecting, processing, and analyzing GIS data.  In addition, we will cover some of the "best practices" that can be implemented by your field crew to improve the speed and accuracy of your data collection.
Surface, Profiles & Volumes: 10:30AM-12PM
This class will show you basic volumes in SurvCE and the various methods that Carlson Survey offers for volume calculation. Creating and plotting profiles from volumes will also be explained, as well as contours. Volume examples will include laserscanning data, which is handled differently compared to Total Station or GNSS data.
From Field-to-Finish to Design-to-Field: 1:15-2:45PM
Experience the integration between Carlson SurvCE, Survey and Civil. In this session, we will discuss/show the collection of survey data with an "Iowa Counties" field code list that has been based upon the Iowa DOT. Get the power of Carlson Field-to-Finish with codes conformed to National CAD Standards. Carlson Survey will be used to process data from SurvCE and routines in Civil to create a simple road network with the resulting .dwg and stake-out file uploaded back into SurvCE for field staking: the true and seamless field-to-finish for which Carlson Software is known. Share the same coordinate data, raw data, field codes, centerline data with no conversions, nothing lost in translation between field and office.
Survey LotNET & Annotation Features: 3:15-4:45PM
This class will show you how a Surveyor would use LotNETwork and also cover Annotation of linework and curves.