Class Track: Mining
MINING – CLASS TRACK I     —      Register Now    —    Return to User Conference Home Page
Monday, April 8
Dragline Range Diagrams: 9-10:30AM
Step through the commands from Place dragline to Cut-and-Place to Process Dragline Sequence to design in cross section and convert to 3D surfaces. See the new Range Diagram command updates for interactive section analysis to calculate parameters such as reach and pit width.
Drillholes – Importing, Editing and Reporting: 10:45AM-12:15PM
Learn the details of importing, editing, reporting and drawing drillhole data. This class goes through the process of bringing in the holes and then making sure they are correct with queries and correlation checks. Geologic columns are drawn in 2D and 3D, drillhole reports check names and utilities fix any problems with the data.
Geologic Modeling Stratified Grids: 1:30-3PM
This will cover creating the geologic model with strata/bed name correlation, isopach maps, fence diagrams. This introduces the basics needed to start the modeling process. Modeling methods are compared. The data must be clean for correct models. PreCalculated grid files are created, isopachs and outcrops are drawn and fence diagram/geological cross sections check the model with the drilling.
Grid File Utilities: 3:15-4:45PM
Modify grids by arithmetic equations. Record and store macros to repeat the same calculations on multiple grid files at once. Learn how to use Min/Max and IF statements
Tuesday, April 9
Faults and Strata Polylines: 8:30-10AM
Create fault lines in plan view to be used for updating the surface models. Angled offsets and displacements will appear in the grids and ultimately in the cross section fence diagrams of the geology.
Pit Layout: 10:30AM-12PM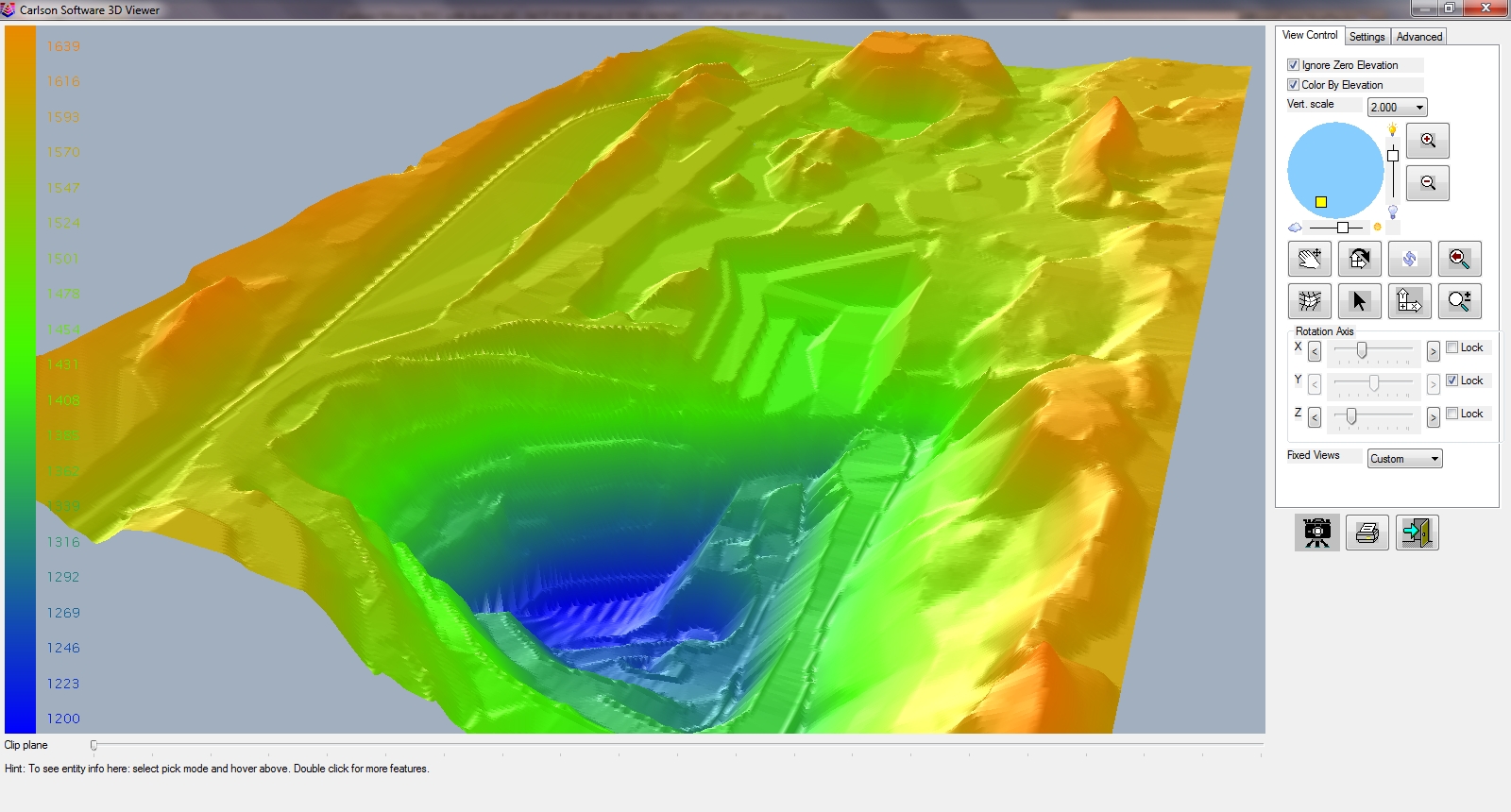 Layout the mining pit perimeters and blocks using all the commands ranging from Pit Layout by Advance to Pit Matrix Layout. Label, Assign Directions, and Store quantities for timing.
Surface Mine Reserves: 1:15-2:45PM
Follow along building precalculated mining models and calculating quantities and qualities. Both grids and TINs will be used. The 3D surface history is used to calculate multi-bench, offset volumes.
Surface Timing Advanced: 3:15-4:45PM
Learn the details of the Timing Project Manager. Define Equipment and Calendars. Create output period grids to play back as a movie in 3D the mining sequence.
Wednesday, April 10
Mine Road and Ramp Design: 8:30-10AM
Layout haul road and ramp centerlines in 3D. Create a typical ramp template with berms and ditches. Cut in the ramps with Design Pad Template and RoadNETwork.
3D Pit & Fill Design: 10:30AM-12PM
See the Design Bench Pit commands to create the pit shell. Apply this template to multiple prenamed pit blocks. Create the Surface History file to playback the mining sequence in a movie file. Create the benched fill piles with the opposite command, Design Fill Surface.
Spoil and Backfill Timing: 1:15-2:45PM
See how to layout the spoil and backfill boundaries. Create the surfaces of the finished fills. Then schedule the dump sequence to design when and where to backfill. Combine this with the Surface History to play the movie of the mine advance, and the backfill to follow.
Block Modeling: 3:15-4:45PM
This class takes a set of drillholes and creates the block model from scratch. Blocks are drawn and viewed in 3D for analysis. Cross sections are cut and volumes by grade are calculated with reserves.
———–
MINING – CLASS TRACK II     —      Register Now    —    Return to User Conference Home Page
Monday, April 8
Geology Basics and Setup: 9-10:30AM
This class will provide an introduction and overview to the Geology module.  Initial project settings for geologic projects will also be discussed.
3D Modeling of Open-Pit Mining-Affected Area in Czech Republic: 10:45AM-12:15PM
Marcel Brejcha will share how they are using Carlson Software in the Czech Republic to reconstruct areas that have undergone intense open-pit mining – they will cover 3D modeling of original landscape based on historical maps (including pre-war aerial photography), data creation and 3D simulation of future site design, and quantity takeoff analysis and visualization of geological conditions within the site, showing many of the advantages of Carlson GIS functionality.
Underground Mapping & Quantities: 1:30-3PM
We will review the automatic layout options face updating procedure, end-of-month take-up procedures, and the procedure for creating and inserting mining symbols.
Underground Timing Basics (Equipment, Calendar, Etc.): 3:15-4:45PM
Timing of longwall and room-and-pillar panel examples will be covered. Some elements of underground timing have been relocated and we will cover the process with the "new" options.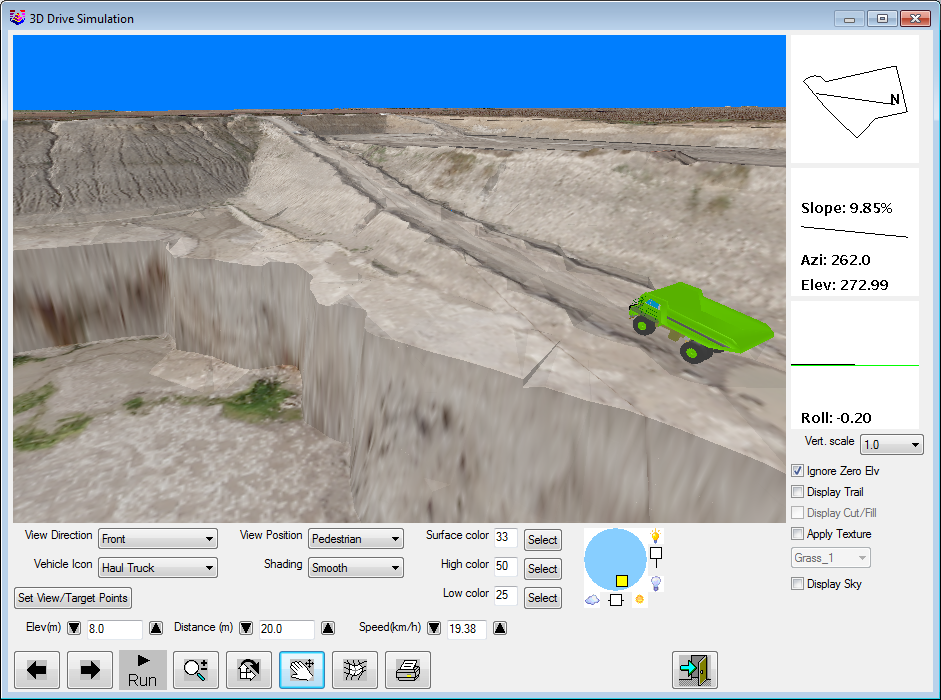 Tuesday, April 9
Underground Timing Advanced: 8:30-10AM
This class covers the scheduling and timing of longwall and room-and-pillar panel underground mines. The process from defining the equipment rates or advance, preparing the calendar for delays and events, and creating the reports in various formats is detailed. Options for hatching and drawing the period blocks will all be shown, with all of the new features described.
Haul Truck Cycle Analysis: 10:30AM-12PM
Peter Nahan from Goldcorp will present a explanation of how to use the haul cycle analysis tool.  This tool is used for providing a quick estimate of the cycle times.
Surface Timing Basics: 1:15-2:45PM
The Carlson Surface Mining Module contains the necessary tools for complex surface mine design, mineable reserve calculations and scheduling with equipment timing. The typical progression of the steps would be to create and layout pits, calculate reserves, then schedule the mine. This session will cover creating and laying out pits, assign mining directions, calculating pit reserves, assigning quantities and qualities and production timing.
Natural Regrade: 3:15-4:45PM
This session will provide an overview presentation showing how the GeoFluv design approach satisfies the goals of sustainability when traditional methods do not and how the Natural Regrade module makes it easy for users to make GeoFluv designs. The users will learn to use Natural Regrade to make a basic draft design for a stable landform. The draft design will then be edited to address 'frequently asked questions.' An example of an actual project designed will be presented and the process that led to making the draft design alternative for a 10-acre site in one hour will be explained.
Wednesday, April 10
Advanced Stratified Geologic Modeling (Splits and Limit Lines Etc.): 8:30-10AM
This class will cover Fence Diagrams, Strata Limit Lines, and mixed hole type issues.
Reserve Classification: 10:30AM-12PM
This session covers the use of the Reserve Classification procedure for creating the Measured, Indicated, and Inferred reports used in preparation of the SEC 10K reports, and financial support documents often required by banks during acquisition due diligence.
Using Dynamic Blocks: 1:15-2:45PM
Darrell Trent, formerly of Peabody and Patriot Coal, will provide a presentation on mining-related productivity tips using Dynamic Blocks.
Linking to External Databases: 3:15-4:45PM
Your mine plan can be exported to external data files, linked, and queried to provide various reporting options.