Class Track: Elective
ELECTIVES CLASS TRACKS      —      Register Now    —    Return to User Conference Home Page
Monday, April 8
We. Will. Standardize… Even if it kills us!: 9-10:30AM
This class is for anyone planning (or struggling) to implement & standardize Carlson's desktop software programs. We will cover defaults and settings for Carlson Software programs, and will also discuss options in AutoCAD and IntelliCAD. Recommendations for configuring Carlson for a single workstation and also for helping replicate the settings to other computers or other users will be offered. Topics include Carlson Configuration & Settings, Project Folder & Files, AutoCAD/IntelliCAD Options, standardizing symbol libraries, layers, linetypes & annotation.
IntelliCAD Questions and Suggestions: 10:45AM-12:15PM

Here's your opportunity to speak with members of the Carlson staff who work with the IntelliCAD Technology Consortium (ITC).  They will be ready to take both questions and suggestions from clients.
The IN's and OUT's of Carlson and Google Earth: 1:30-3PM
In this course we will look at the IN's: importing Google Earth images and surfaces into Carlson Software; and the OUT's: exporting lines, polylines, contours, points, etc. to Google Earth. We will discuss the limitations of imported Google Earth images and surfaces and the types of entities that are not exported from Carlson Software and workarounds for these type of entities. We will discuss the different types of Google Earth files and how to use these files to create a project database or GIS for your company and cover some of the basics of Google Earth such as hyperlinking to project files, historic imagery, fly through, etc., and how to use to keep track of your projects, control points, BIM's, etc.
Carlson Point Cloud Feature Extraction: 3:15-4:45PM
The class will cover how Field to Finish in Point Cloud is drawn back into CAD. We will also show how 3D linework is drawn and illustrate Feature Extractions for Trees, Poles and Fire Hydrant back into CAD.
Tuesday, April 9
Bridging the Gaps, Generational and Technical, for Instruction of Basic Construction Surveying: :30-10AM
The class will encompass a presentation on accomplishing the stated objectives that involve the training of beginners and intermediate personnel. The objectives will involve the targeted areas of instruction, the variables to be presented with the associated practical exercises and the metrics to be used for assessing the value of the learning process to the trainee.
From Bad Drawings to the Field: 10:30AM-12PM
It is easy when you get a good drawing to transfer to field data. Most of the time that is not the case, whether it is design build or just bad drawings from the engineer. Some of the issues include just bad drawings, incorrect elevations, poor match lines, segmented lines and many others. During data prep, it is your responsibility to catch as many of these mistakes as possible to make good, clean lines and surface to send out to the field  to limit the number of "go backs" and down time from these mistakes. Using Carlson Takeoff, we can go through many methods of catching these errors and create good data and check it before it gets sent to the client or out in the field.
Mentoring and Training New Employees: 1:15-2:45PM
This class will talk about training new employees and offer ways to mentor them to become the employee you want them to be.
Using Carlson for Web-based Mapping: 3:15-4:45PM
As the world becomes increasingly digital and more mobile, explore how a variety of Carlson Software tools permit data extraction and creation of digital maps from and to on-line sources. Learn how to leverage various technology tools to share your site plans across the web and permit the collaboration of data-viewing outside of the CAD environment.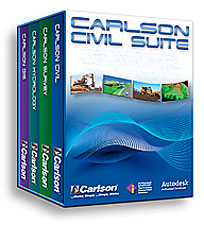 Wednesday, April 10
Moving Seamlessly Between Carlson Software and Civil 3D: 8:30-10AM
Do you have clients that need to use the data you collected in Carlson in Civil 3D? Do you ever receive Civil 3D drawings and need to use them in Carlson? As technology gets more sophisticated, it seems moving your data between programs gets more complex. It used to be that a drawing was a drawing and that was relatively easy to share, but not anymore. This class will help you gain an understanding of how your project data is formatted and stored in both Carlson and Civil 3D. It will also show you step-by-step procedures and best practices for moving data between those two programs including working with LandXML data, the Export to AutoCAD command and much more.
AgStar – Design Field: 10:30AM-12PM
This class will show you an overview of AgStar land leveling tools for farming.
Point Cloud Overview: 1:15-2:45PM
This class will show an overview of all the tools Carlson Point Cloud provides to do a project.
Carlson NEW 3D Rendering: 3:15-4:45PM
This class will show the NEW Carlson rendering in 3D for proposals and finish design!