The cost to attend is $750 per person. Conference attendance is limited to 300 attendees. Register early to ensure a seat at the user conference.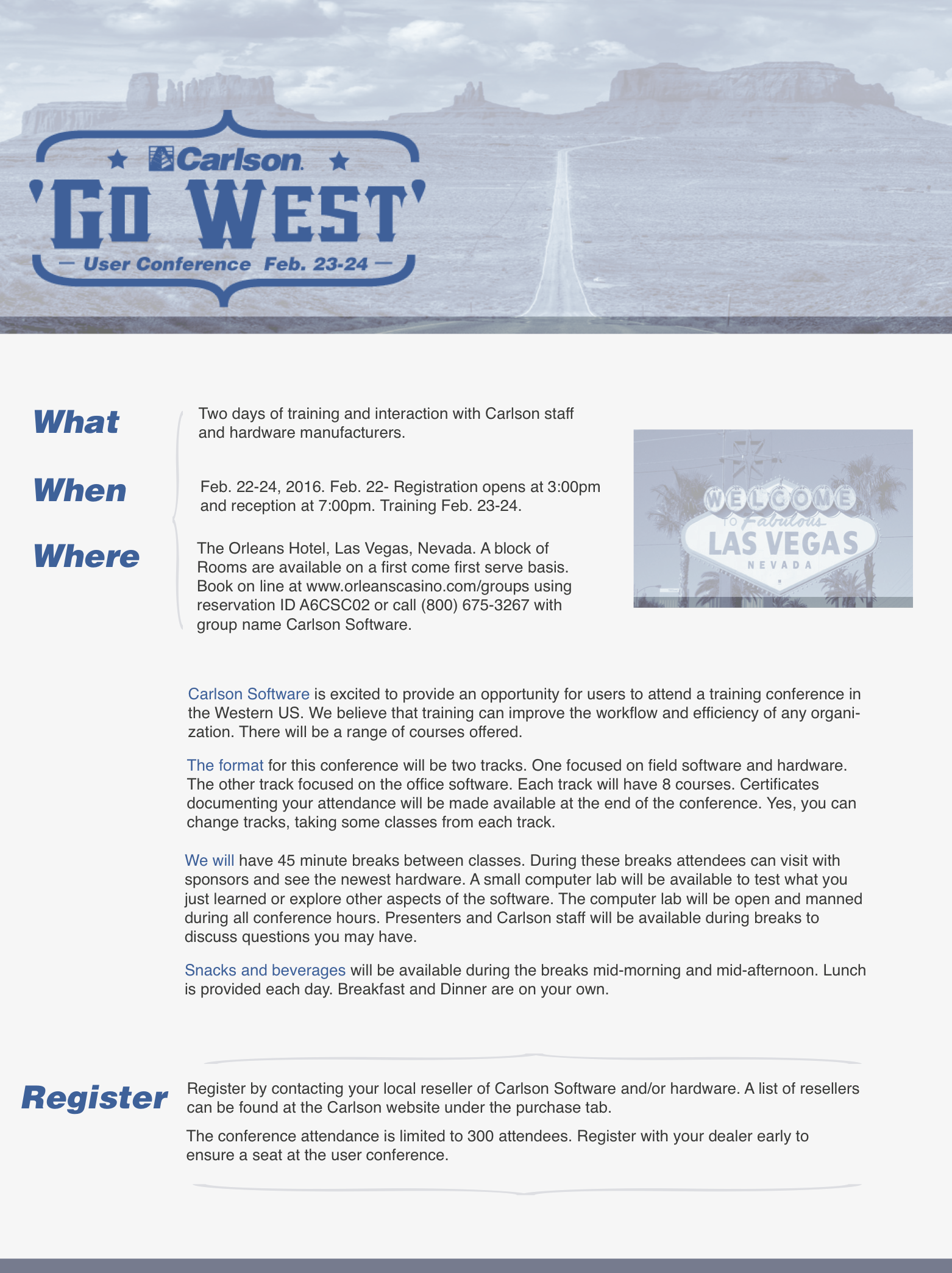 The Orleans Hotel, Las Vegas, Nevada. A block of Rooms are available on a first-come, first-served basis.
Book on line at www.orleanscasino.com/groups using reservation ID A6CSC02  or call (800) 675-3267 with group name Carlson Software.
There are a limited number of Non-smoking rooms. The Orleans and Carlson cannot guarantee an attendees preference.
When attendees book their room their credit card will be charged immediately for their fist night Deposit (room and tax).
Las Vegas Airport: McCarran International Airport
Las Vegas Shuttle Services:
Bell Trans
Operates 4:00 a.m. – 2:00 a.m.
To Strip hotels – $4.75
Downtown hotels – $6.00
Off-Strip hotels – $6.00
McCarran Airport – $8.00 per person (each way)
(702) 739-7990
CLS Transportation
Operates 24 hours
To Strip hotels – $4.75 – $9.00
Downtown hotels – $6.50 – $12.00
McCarran Airport – $9.00 per person (each way)
(702) 740-4050
Grayline/Coach USA/Express Shuttle
Operates 7:00 a.m. – 1:30 a.m.
To Strip hotels – $4.75
Downtown hotels – $6.50
Off-Strip hotels – $9.00 – $12.00
McCarran Airport – $6.50 one way, $12.00 round trip
(702) 739-5700
Las Vegas Limousine
(702) 736-1419
Citizens Area Transit
(702) 228-7433
To register for this event, contact your local Carlson Reseller. The registration fee is $750 per attendee. Refer to the map below for assistance locating your dealer.
The registration fee is $750 per attendee and includes the following events Monday afternoon, February 22, through Wednesday, February 24, 2015.
Monday Schedule
3:00 pm: Registration Opens
7:00 pm: Reception
Tuesday/Wednesday Daily Schedule
7:00 am-8:00 am: Breakfast on your own
8:00-9:30: Session 1
9:30-10:15: Breakout session
10:15-11:45: Session 2
11:45-1:15: Lunch Provided
1:15 pm-2:45 pm: Session 3
2:45-3:30: Breakout session
3:30-5:00: Session 4
5:00-on: Dinner on your own
 At GeoMax we provide a comprehensive portfolio of integrated solutions by developing, manufacturing and distributing quality construction and surveying instruments and software. We address professional as well as occasional users with our easy-to-use, yet highly productive total stations, GPS/GNSS instruments, software, lasers, optical and digital levels and accessories. More information is available at www.geomax-positioning.com
Hemisphere GNSS designs and manufactures innovative, cost-effective GNSS and complimentary products for positioning, heading, machine control, and navigation applications for use in construction, marine, survey, OEM, and other markets. The Company holds numerous patents and other intellectual property and sells globally with several leading product brands, including Crescent®, Eclipse™, and Vector™, for precise GNSS applications. Hemisphere GNSS is headquartered in Scottsdale, Arizona, USA with a product development, marketing, and sales facility in Calgary, Alberta, Canada.
Juniper Systems

 A proud partner of Carlson Software, Juniper Systems is a world-class manufacturer of rugged handheld computers in Survey and GIS markets, helping professionals increase productivity and reduce costs. With a reputation for quality and reliability, Juniper Systems' rugged handhelds are designed to run smoothly in even the most rugged environments.