Carlson Go West 2020 User Conference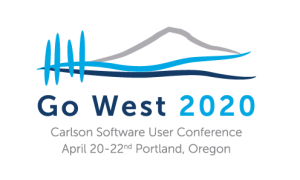 Save the date for the Carlson Go West 2020 User Conference held in Portland Oregon on April 20-22, 2020! Develop your skills through product and application specific training sessions. This is a perfect opportunity for you and your team to learn how to work more efficiently and effectively in the software and hardware solutions that you work with every day.
Certificates will be provided for CEU and PDH credits (qualifications vary by state).
---
Registration will open soon!
Fill out the form below and we'll contact you as soon as registration opens:




Sheraton Portland Airport Hotel
Situated on airport grounds with 24-hour complimentary shuttle service to Portland International Airport (PDX), our hotel is the ideal destination for both business and leisure travelers. Our location is convenient to both the Portland city center and the Vancouver, Washington business sectors. Many local attractions, including the majestic Mount Hood, offer a variety of leisure activities. All 215 smoke-free guest rooms have been designed with stylish furnishings and a soothing contemporary palette. Enjoy 42" LCD flat screen TVs, ergonomic workstations, wireless High-Speed Internet Access and much more.
Book your stay by clicking here
or over the phone:
+1 503-281-2500
Central Reservations Are Open 24 Hours A Day, 7 Days A Week.