First Ever Carlson Mining Workshop Hosted by Urangani Mining SA, March 27
Sandton, SOUTH AFRICA — Please join Urangani Mining SA and Carlson Software representatives at the 2015 Carlson Software Workshop on March 27 at the Hilton Sandton in Sandton, South Africa.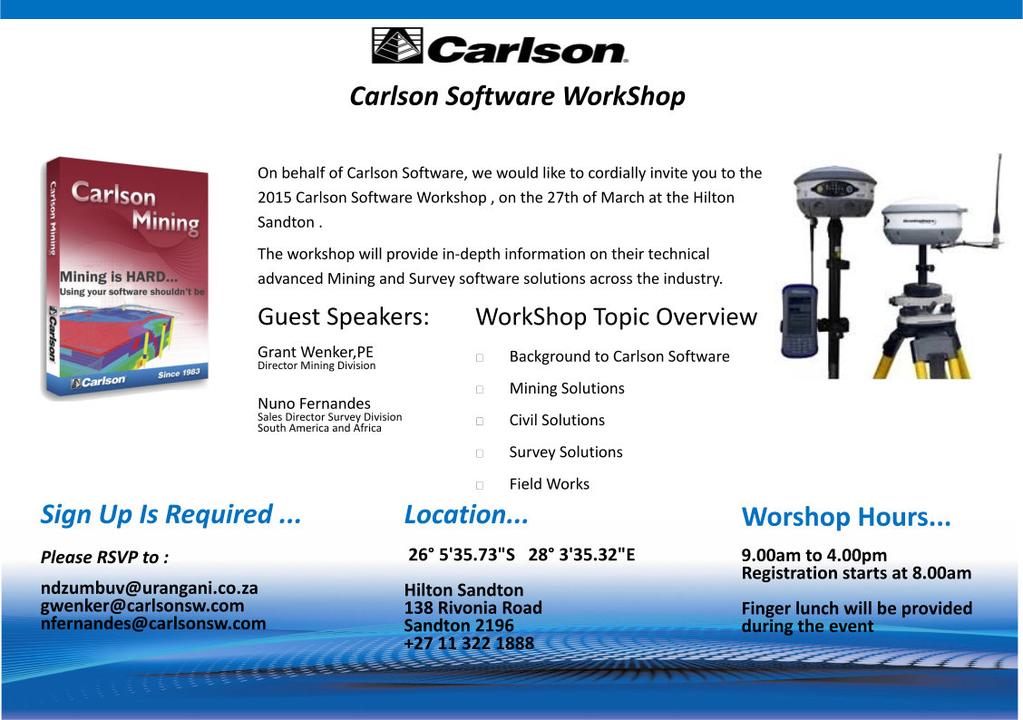 This inaugural workshop will provide in-depth information on Carlson's technically advanced mining, civil engineering, and land surveying software, which provide planning and design solutions across the industry.
Carlson representative speakers include Mining Division Director, Grant Wenker, PE and Survey Division Sales Director of South America and Africa, Nuno Fernandes. Workshop topics include:
Carlson Software Background
Mining Software Solutions
Civil Software Solutions
Survey Software Solutions
Field Works
Driven by mining companies' needs, Carlson Mining software is easy-to-learn, affordable, and features fast-paced technological development. Whether for permitting, geologic mapping, underground mining, surface mining, reserves studies, reclamation or machine control, Carlson Mining software provides
powerful automation combined with remarkable ease-of-use.
The workshop will be held from 9 a.m. to 4 p.m. with registration starting at 8 a.m. Lunch will be provided during the event. Registration is required. Please RSVP to ndzumbuv@urangani.co.za, gwenker@carlsonsw.com, or nfernandes@carlsonsw.com.