One Track of Classes to be Presented in Spanish at Carlson User Conference
A First at Carlson Software's 30th Anniversary User Conference, April 7-10
Entire Three-Day Track of Classes to be Presented in Spanish
Por favor, ver más abajo en español
 MAYSVILLE, Kentucky, U.S.A. — Carlson Software has added a total of 12 classes to be conducted in Spanish to its comprehensive line-up of training classes slated to be held during the Carlson 30th Anniversary User Conference. The three-day conference will be held April 7 through 10 at the Cincinnati Netherland Hilton Plaza Hotel in Cincinnati, Ohio.
"All of our office and data collection software is available in Spanish and we are seeing an increasing number of users in Spain and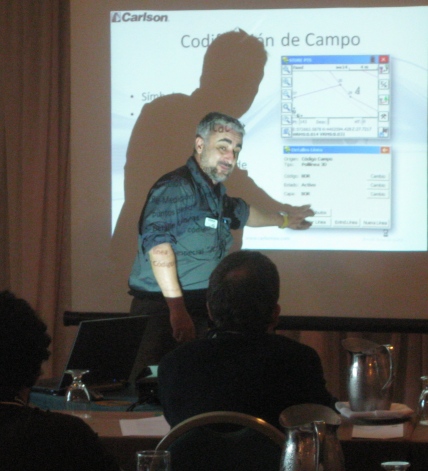 Central and South America," says Bruce Carlson, president and founder of Carlson Software. "And now with several employees with Spanish as their first language, we are excited to be able to offer these classes to our growing Spanish-speaking clientele."
Class subjects include the following: SurvCE and SurvPC Basics, SurvCE and Survey Field-to-Finish, Using the Carlson Civil Suite, the New Carlson GIS360, Road Design, and the New SurvPC R3 Ability to Work Natively with the Esri-OEM, .dwg and DGN to name some of them.
Those interested in reading more about the classes in Spanish are encouraged to visit the Carlson User Conference Spanish Track Classes Page.
The Carlson 30th Anniversary User Conference will celebrate Carlson's 30 years of providing cutting edge software to the land development and mining industries. The event will include three days of comprehensive training on Carlson's newest software, a chance to discuss the software with the programmers, exciting industry speakers, guest presenters, a celebration banquet, demos of Carlson's newest hardware offerings and much more, all designed to improve participant's productivity and efficiency.
The cost to attend the conference is $975, with a reduced rate of $875 offered until March 1, 2013. The "Best Savings" package for $1195 includes three nights lodging at the host hotel and offers a total savings of more than $300. In addition to the three days of training by Carlson's expert staff and select guest presenters, the event registration includes three breakfasts, three lunches, two snack breaks daily, a Sunday night welcoming reception with hors d'oeuvres, and a Monday night banquet dinner/celebration. For more information, visit the Carlson 30th Anniversary User Conference home page or call Carlson Software at 606-564-5028.
——
Cuarta Conferencia de Usuarios y Celebración del Trigésimo Aniversario de Carlson Software, del 7 al 10 Abril 2013
iTres días de entrenamiento en español!
 MAYSVILLE, Kentucky, Estados Unidos — Carlson Software ha añadido un total de 12 clases para llevar a cabo en español su línea completa de clases de entrenamiento, programadas para celebrarse durante la Conferencia de Usuarios del Trigésimo Aniversario de Carlson Software. La Conferencia de tres días se celebrará del 7 al 10 de abril de 2013 en el Cincinnati Netherland Hilton Plaza Hotel en Cincinnati, Ohio.
"Todo nuestro software de colección de datos y de diseño en oficina está disponible en español y estamos viendo un creciente número de usuarios en España, Centro y Suramérica," dice Bruce Carlson, Presidente y fundador de Carlson Software. "Y ahora con varios de nuestros empleados, tienen el español como primera lengua, estamos muy contentos de poder ofrecer estas clases a nuestra creciente clientela hispana".
Algunos de los temas de las clases a impartir son los siguientes: Conceptos básicos de SurvCE y SurvPC, Field-to-Finish con SurvCE y Carlson Survey, Introducción del Carlson Civil, el Nuevo Carlson GIS360, Diseño de Carreteras y la Nueva capacidad de SurvPC R3 de trabajar nativamente con la plataforma Esri-OEM, y archivos DWG y DGN por nombrar a algunos de ellos.
Los interesados en leer más acerca de las clases en español pueden visitarhttp://www.carlsonsw.com/Community/User-Conference/spanish-language-Classes/ .
La Conferencia de Usuarios de Carlson celebrará 30 años de proporcionar software de vanguardia para el desarrollo territorial y la industria minera. El evento contará con tres días de formación integral en el software más reciente de Carlson, una oportunidad para discutir el software con los programadores, escuchar a reconocidos oradores de la industria y presentadores invitados, incluye además un banquete de celebración, demostraciones de las opciones de hardware más recientes de Carlson y mucho más, todo diseñado para mejorar la productividad y la eficiencia del participante.
El costo de asistir a la Conferencia es de $975 USD. Ofrecemos una tarifa reducida de $875 USD para quienes se registren antes del 01 de marzo de 2013. El paquete de "Mejor Ahorro" de $1195 USD incluye tres noches de alojamiento en el hotel sede y ofrece un ahorro total de más de $300 USD. Además de los tres días de entrenamiento por personal experto y selectos presentadores invitados, el registro del evento incluye tres desayunos, tres almuerzos, dos refrigerios de snack todos los días, una cocktail de bienvenida el domingo por la noche y una cena/celebración el día lunes por la noche. Para obtener más información, visite www.carlsonsw.como llame a Carlson Software al +1 (606) 564-5028 en los Estados Unidos.