Thanks for successful UC2017
"Thank you very much to all who attended and a special thanks to the entire team that planned and executed this conference. Thanks also goes to all the Carlson trainers as our 6th Users Conference was a success. The attendees had a high competence level, which challenged us, and we had good reports on how the training went."

– Bruce Carlson, Founder and President of Carlson Software
Carlson's 6th successful User Conference was held May 3-5 in historic Maysville, Kentucky, where it welcomed attendees from Canada, Iceland, Norway, Australia, Ghana, and Costa Rica, as well as the United States. Instructed by industry leading experts and Carlson staff, the courses, which included direct software and hardware usage, covered Civil, Mining, Field, GIS, Survey, Data Prep, Construction, Takeoff and, new this year, Photogrammetry and LiDAR.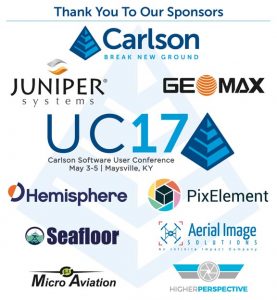 One of the attendees, James Cook of BRW Contracting in Tampa, Florida, said, "It's an honor and a pleasure to be part of the Carlson family. Your staff and community together made for a very enjoyable experience and I look forward to next time."
The biannual conference featured the theme of "From Field to the Finish Line," previewing the Kentucky Derby held that weekend. Early bird registrants were given tickets to the world famous derby. All conference attendees were invited to a meet and greet reception held at the main Carlson office, Wednesday evening. Both, guests and Carlson staff networked then commuted to the nearby Washington Opera House to enjoy a concert performed by Grammy Award winning bluegrass Del McCoury Band.
Following the day of classes on Thursday, participants were treated to a banquet and cruise on the Ohio River aboard the Bell of Cincinnati. Seafloor Systems, hydrographic survey experts, presented and performed a live demo of their remote controlled survey boat, the HyDrone.
Greg Milner, author of the book Pinpoint, gave a keynote speech describing what GPS really is as well as an insightful overview of its application on earth, including the importance of survey industry to the non-military use of GPS. Milner said, "The town is beautiful, and I can pretty much guarantee I'll never again speak in a venue as awesome as a riverboat on the Ohio River." Conference attendees were given a complimentary copy of Pinpoint among other gifts when they received their welcome bags.
Grant Wenker, Carlson Vice President and Mining Director, noted that he heard great feedback on the conference and the courses. "The customers were happily impressed to see many of the new features and improvements in the software based on user input and requests," he said. I also had comments made about how this year offered some of the best entertainment and events that we have ever had. The Carlson Mining division has held an annual users training event since 1998, so that is quite a compliment." Grant instructed Intro to Carlson eXtract, Intro to P3D Drill and Blast, Digitize Sections to Geologic Model, and Backfill Spoil Timing.
Sarah Winter, Director of SurvCE Programming Division, said, "As a programmer, the opportunity to meet with our users face to face is invaluable. SurvCE is and has always been shaped by customer feedback, and we were just inundated with ideas through the entire conference. I was scribbling notes during meals, on the riverboat, and through virtually every conversation. We are so excited to implement some of this great feedback in our next version."
Courses continued throughout Friday with the 2017 Carlson User Conference concluding with the announcement of the Carlson "Go West" User Conference, scheduled to be held in San Diego, California, April 9-11, 2018. The "Go West" conference promises comprehensive training, hands-on hardware demos, an introduction to new products, networking opportunities, and entertainment. We look forward to seeing everything there!