Renew Maintenance Today and Save on Carlson Software
MAYSVILLE, Kentucky, U.S.A. (March 2019) — Now is the time for Carlson Software users to renew and save. Applicable for those who never signed up for maintenance or have let their maintenance lapse, Carlson Software office software customers will save when updating their software and sign up for maintenance by September 1st of this year.
"Updating now will turn into substantial savings – as much as 40 percent for those who are still using Carlson 2016 for example," says Scott Griffin, director of Sales for Carlson Software. "Plus, those who update will have the benefit of the annual improvements, which are often inspired by requests from our customers, that Carlson provides with its yearly releases."
Those current on their maintenance will not be affected when expired-maintenance pricing also becomes 10 percent of the list price per year on September 1st, 2019. This charge for maintenance will be added each year it is not renewed, capping after five years at 50 percent. A sample breakdown for Carlson Civil Suite owners that let their maintenance lapse would be:

Those who need to work with the latest version of AutoCAD® will be able to do so with the Carlson 2019 update. They will also receive any new updates and improvements of their software that are released throughout the year. And, to further improve their understanding and use of the software, those current on their maintenance will get access to Carlson Academy (http://learn.carlsonsw.com), Carlson Software's new online learning platform.
To learn more about the benefits of remaining current on maintenance, visit the Carlson 2019 page on www.carlsonsw.com or to check your maintenance status, go to carlsonsw.com/maintenance.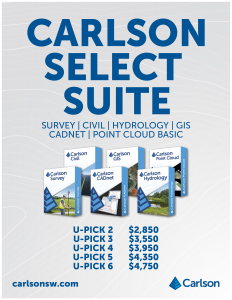 CUSTOMIZE YOUR SOLUTION WITH CARLSON SELECT SUITE
More details here