Quinn-essential tool tips
As I write this blog, the Northeast, where I live, is being clobbered by another winter storm. This one named Quinn (above pun well intended).
This year I have seen an increase in people and firms looking for training. That is a good sign to me. It means people are using the software and are looking for ways to become more productive and more profitable. During my time spent training with these firms, I have come to notice that most have a similar difficulty in their production flow; "getting the plan drafted and out the door."
Most of us in both the land surveying and civil engineering field are drawn to the aspects of the field that we enjoy the most; design work, property determinations, being outside etc. But sitting down and drafting a plan, albeit essential, is sometimes not our favorite part of the project. That is where Carlson software needs to become your friend. Carlson is known for a lot of powerful engineering design and surveying programs but there are also a myriad of drafting tools contained in the software. Some of these tools perform a single purpose but all of them are designed to speed up the drafting process. As a matter of fact I think this is one area that sets Carlson apart from the rest. It still helps you with your day to day efforts to "get that plan out the door."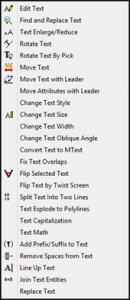 One easy way to increase your productivity is to customize your workspace. Toolbars for example can be created or edited to contain your favorite or most used commands making them one a "one click" effort thereby shortening the time to access them. A customized toolbar can then be located in a convenient spot in your drawing editor which will eliminate the need to "hunt and pick."
The first step is to find drafting tools and decide which ones you like and which ones will help your work flow the best. Spend a little time going through the abundant features in both the Draw and Edit menus and you will see what how extensive the collection really is. Just the Text Editing tools alone have 25 features.
I will not be spending this entire blog going over all of the drafting and editing tools contained in the software. Instead, I am going to focus on Customizing Your Toolbars once you have decided which ones to use.
Carlson supports AutoCAD, IntelliCAD and the AutoCAD OEM version. AutoCAD and the OEM version both use the same CUI but IntelliCAD, version 8.3 or earlier, has a different menu structure. Therefore the instructions below are separated by the two different platforms.
Creating Toolbars in AutoCAD
To create a toolbar in AutoCAD you first access the menu through the Custom User Interface or CUI.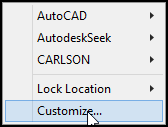 Move your cursor over any existing toolbar or space within a toolbar and Right Click your mouse.
Alternatively from the Workspace settings dropdown menu in the lower right position of the general screen editor, select: Customize.
This opens the CUI dialog box. Within this interface, you can create, modify and save toolbars, ribbons and menus.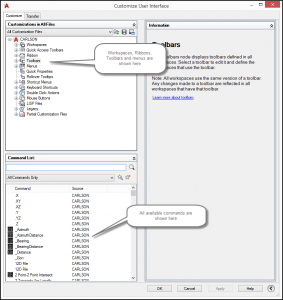 The CUI is organized with the available Ribbons Toolbars and Menus in the top screen and the available commands below. The drop down menu bar in the command list defaults to All Commands Only but can be altered to display only AutoCAD commands or Carlson Commands etc. This will aide in finding the command you desire.
Hint: It is a good idea to execute a command first and jot down the name displayed in the command line before beginning this procedure.

2. Highlight the Toolbar category and Right Click your mouse.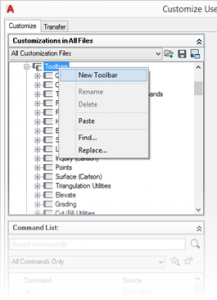 3. Select New Toolbar

A new toolbar is created with the default name Toolbar1
4. Highlight Toolbar1, Right Click and select Rename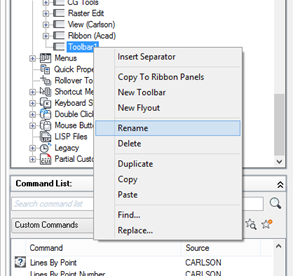 5. Rename the new toolbar to whatever you like.
Once you've created your toolbar, you simply select a command from the bottom screen then "drag and drop" it into your toolbar.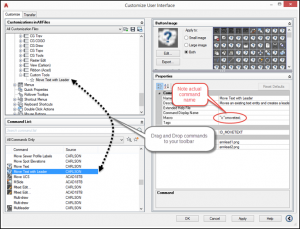 NOTE: One of my most used commands is Move Text with Leader. This command will take any piece of Text or Mtext, move it to a specified location and add a leader to it. If the Text or Mtext is associated to a point via Draw Field to Finish, the leader will automatically point to that location. If not, the command will simply prompt you for a beginning position of the leader.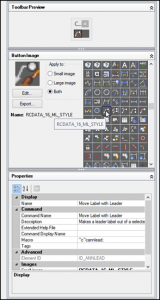 If the command already has an Icon associated with it, the Icon will appear. If not, simply scroll through the list of available Icons and select one that makes sense to you.
If you are feeling very creative, you can create your own Icon image and save it as a BMP file that can be shared or re-imported at a later date.
6. Once you have added all of the commands you would like into your Toolbar, click Apply and then OK.

The program will compile the toolbar into the menu structure and you should see your new toolbar in the drawing editor.
7. To save your new Toolbar to share or reload upon upgrades etc., select the Transfer Tab.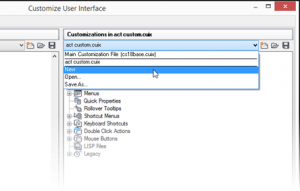 8. From the pulldown menu bar select New and create a custom menu name.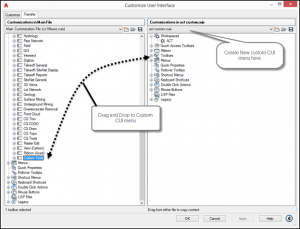 9. Drag and Drop your new Toolbar to the Toolbar category in the New CUI.
10. From the Menu pulldown bar select Save As, browse to a desired location and save your file as a .CUIX.
After this process has been completed, you will have access to your new toolbar through this same CUI by opening it and then reverse the "drag and drop" procedure back into your active CUI.
Creating Toolbars in IntelliCAD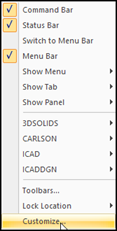 Similar to above, hold your cursor over an existing toolbar and Right Click your mouse
Alternatively, from the Settings Pulldown menu select: Toolbar Setup → Customize.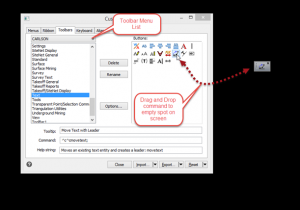 This opens the Customize dialog box
2. Select the Toolbars Tab
Hint: You can control the display of toolbars by selecting the menu group in the drop down menu bar above.
3. Select the existing toolbar that contains the command you are looking for.
The existing commands currently on the selected toolbar are displayed on the right hand side window.
4. Drag and Drop the desired command onto an empty spot in your drawing editor screen.
A new toolbar is created in you drawing screen and is given the default name Toolbar1.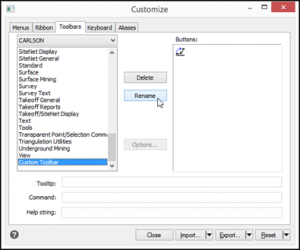 5. Locate Toolbar1, highlight it and select Rename
6. Rename your new toolbar as desired
You will notice the first command listed in the right hand portion of the dialog box.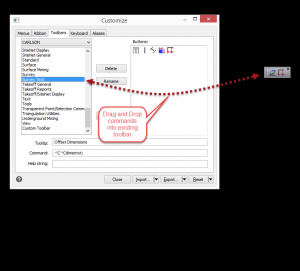 7. Continue locating desired commands and drag and drop them into your newly created toolbar.
8. When completed, click Close
9. To save the new toolbar to share or reload at a future date, click Export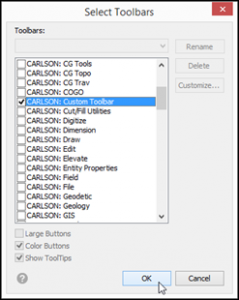 All available toolbars are displayed and are selected by default.
10. Hold down your shift key and select all toolbars and Uncheck the toolbars
11. Scroll through the toolbars and find the new toolbar you just created.
Click OK, the browse and save a new .CUI file in a desired location.
12. To reload this toolbar, select Import.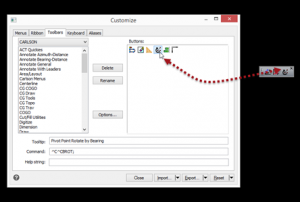 If a desired command is not contained in an existing toolbar, you can still add that command by following the below procedure.
13. Find an existing command that has an existing Icon that you would like to use
       Note: in IntelliCAD vs 8.3 or earlier, you cannot create custom icons
14. Drag and Drop that command into your new toolbar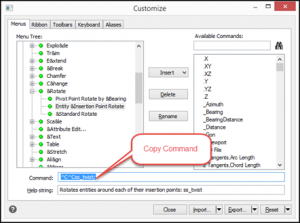 Select the menu Tab and locate the desired command
Highlight and copy that command
Reselect the Toolbars tab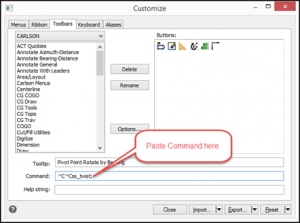 4. Paste the desired command in the command field
This procedure simply overwrites the command for the new toolbar only. It does NOT alter the command itself at the program level
5. Click close
You should now have access to all commands in your new toolbar which can be relocated to any convenient location in the drawing editor.
Once you have created your toolbar, you can add, delete or modify any commands as you see fit. You will quickly find these invaluable as a great time saver when drafting a plan or designing a project.
Creating Ribbons follows a very similar pattern as does pulldown menus. The value of toolbars is that they are always accessible without the need to change ribbon tabs or access a pulldown menu.
For those of you who follow this blog on a regular basis, you are aware of how much I value Carlson's Field to Finish program and how much I believe it can save you time and increase your profitability. For those of you who are unaware or have yet to try it out, please check out my Easy Start Field to Finish guide.
And please consider coming to this year's Carlson user's conference which will be held in San Diego.
http://www.carlsonsw.com/community/user-conference/
Doug
Let's Grow Together.
Douglas L. Aaberg, PLS
Survey Product Manager
P)617-393-2300×419
daaberg@carlsonsw.com