Own Your Own Software Again with Carlson's Trade-In Special
Attention AutoCAD® users: Trade in your existing AutoCAD® LDT® or Civil 3D® software for a perpetual license of Carlson Software's Civil Suite and one year of maintenance for a special list price of $1,995. Current pricing of individual modules totals $5,845, but upgrade your software with this trade-in special and see a tremendous savings of $3,850. Additionally, trading-in doesn't mean losing your data, with Carlson Software,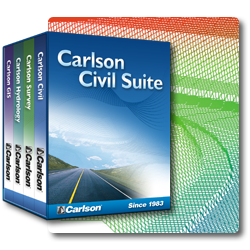 Civil Suite comes with IntelliCAD® built-in* plus ability to run inside any AutoCAD 2010-2016
Convert Civil 3D® points into Carlson points
Convert Civil 3D® surfaces to Carlson surfaces
Utilize the LandXML data exchange format
Carlson's Civil Suite is our premium survey and civil design software package and includes Carlson Civil, Survey, Hydrology, and GIS The Civil Suite is designed especially for civil engineers and CAD technicians who need power and flexibility to make "short work" of even the most challenging design projects.
At its foundation, Carlson Civil contains sophisticated and integrated command sets that are easy to learn and even fun to use. The Carlson Civil Suite provides powerful, dynamic networking features–RoadNETwork, LotNET, SiteNET, UtilityNET, SewerNet – that ease and speed design work AND it works with standard CAD objects without any custom objects, which facilitates sharing of files even when not on the same version.
If you are you among the civil engineering or surveying firms, designers, or CAD managers still hanging on to your Land Desktop (LDT) 2009 or even 2007 or 2004 software, now is the time to switch to a Carlson perpetual license and own your software again. The benefits of Carlson and a free, downloadable guide outlining the move from LDT to Carlson can be found here.
"The workflow is similar enough to Land Desktop or Eagle Point that folks who have worked with those programs tend to pick it up quickly," wrote That CAD Girl, Jennifer DiBona in "Software Review: My Evolution from Land Desktop to Carlson Software," in Professional Surveyor (now xyHt), May 2013.
Use the chart below to see what you could save with Carlson's trade-in special with just one seat of Carlson Civil Suite.
| | | | |
| --- | --- | --- | --- |
| | | Carlson Civil Suite | Civil 3D® Subscription* |
| | | Monthly | Annually |
| Initial Purchase** | $1,995 | $3,180 | $2,100 |
| Year 1 | $0 | $3,180 | $2,520 |
| Year 2 | $375 | $3,180 | $2,520 |
| Year 3 | $375 | $3,180 | $2,520 |
| Year 4 | $375 | $3,180 | $2,520 |
| | | | |
| Total: | $3,120 | $15,900 | $12,180 |
                                 Save up to $12,780 over five years with Carlson Software
*Based on a rate of $265 per month and $2,100-$2,520 annually
** Based on Civil Suite trade-in special price of $1,995 with one year maintenance and continual 10% maintenance thereafter
The Carlson trade-in special price for Carlson Civil Suite is valid until May 31, 2016. Proof of AutoCAD® LTD® or Civil 3D® registration is required. For more information or to purchase contact your local sales representative or your local Carlson dealer, or call 606-564-5028 or 800-989-5028.
*The Carlson Civil Suite comes with IntelliCAD® built-in and works on many AutoCAD versions—no requirement to upgrade every year. Plus, free, personal technical support has been part of the Carlson credo since its beginnings.