New Carlson Software and Hardware to be Showcased at INTERGEO 2014
Carlson to feature new products and improvements at two information stands at upcoming INTERGEO trade fair, October 7-9. 
MAYSVILLE, Kentucky, U.S.A (October 2, 2014) –Learn more about Carlson Software's newest releases at one or both of its two stands at INTERGEO, the world's leading conference trade fair for geodesy, geoinformation, and land management, to be held in Berlin, Germany 7 to 9 October.
Carlson's indoor information stand will be located at B 1.037, Hall 1.1 and its outdoor stand, featuring its comprehensive line of positioning hardware, will be infront of Hall 2.2, stand FG.005 (reachable by the Entrance South).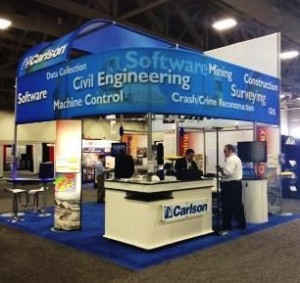 In addition to some exciting new hardware and software releases, Carlson will be also highlighting its Carlson BRx5 GNSS Receiver, released in August 2014, and the Carlson MINI2, a compact field Computer. Software such as Carlson's all-new TerraVision, a tool to enhance presentations, will also be demonstrated at the fair. 
Learn about current improvements in the most recent update of their popular data collection program, Carlson SurvCE 4.01 and Esri features on Carlson's SurvPC.
"Carlson SurvPC provides our surveyors with a seamless GIS work environment with no translation issues between field data collector and ArcGIS office solutions," says Morten Strand, Norway Land Consolidation Court (NLCC) Senior Adviser Geographic Information Technology. "The software is very user friendly and offers sophisticated functionality for data collection and field editing."
Carlson representatives from around the globe will be present at Carlson's booths including Bruce Carlson, president and founder of Carlson Software; Dave Carlson V.P. Of Development; Tomas Blaha, Carlson EMEA director; and Butch Herter, Carlson Director of Hardware.
For more information about Carlson Software products or as an exhibitor at INTERGEO, please visit www.carlsonemea.com.