Meet Jeroen Harbers, Carlson Software's new Director of GIS
First, Jeroen Harbers of Nijverdal, the Netherlands, is getting the Dutch Water Authorities up to speed with using Carlson SurvPC data collection software with Esri® for accuracy in GIS mapping. Then, he's going to show the world.
Two years ago, the Dutch Water Authority where Jeroen (pronounced Yer-roan) worked needed to find new surveying software as support of the software they were using was ending. Water authorities are very important in the Netherlands. In this small, but heavily populated country, more than one-quarter of the land is below sea level, large rivers flow through it, and much of the country is vulnerable to flooding. Therefore, accuracy in their extensive GIS mapping through Esri of water barriers and waterways, plus roads, bridges, buildings, dikes, windmills, and more in the various Water Authority regions is extremely important.
"The Water Authority 'Vechtstromen' was looking for a replacement and saw a post on LinkedIn about the Norway Land Court using SurvPC Esri OEM so I made a call to Carlson in the U.S.," said Jeroen, who had worked for water board authorities in the Netherlands for 16 years, as a surveyor for the first 13 and in the office with Esri ArcGIS for the past three. He has also had a "one-man" surveying business on his own for the past eight years.
Carlson SurvPC is data collection software with the same functionality as the popular Carlson SurvCE, but made to work in Windows on rugged PCs. It gives users the ability to load Esri maps and work native in the Esri GIS environment. Here it is described in the SurvPC manual:
"SurvPC Esri merges the worlds of Esri, CAD, and drivers all in one easy-to-use program. GIS professionals and surveyors are able to access and modify the same geodatabases with the standard import/export functionality from ArcGIS. There is no conversion needed in the field and in the office."
Jeroen was directed to contact the company's representative in the Netherlands, Rob Van Etten, and he invited Rob to do a SurvPC presentation at the Water Authority. Jeroen quickly learned about the capabilities of SurvPC. "Together with Rob, we did a pilot for the regional Water Authority 'Limburg,' so I got to work with it and learned more about SurvPC and about Carlson," said Jeroen. "I liked it, and they liked it.
"It was a great discovery because it's a very simple way to measure into the Esri database with precision surveying," he added. "It's for both surveyors who need to work with Esri, and for Esri users who want more accuracy."
Jeroen emphasizes that once the work of setting up the workflow and database in the office is done, there is then no extra work in the field. "It's very unique," he explained. "The surveyor won't notice he's working with the GIS database because it has the same look and feel as a survey – you can directly survey into the database."
Jeroen moved over to work for Carlson six months ago and has spent all of his time teaching the surveyors in the field and the Esri people in offices of the regional Water Authorities in the Netherlands about SurvPC. Currently, there are now six Dutch Water Authorities who have switched over to Carlson SurvPC, up from one when Jeroen started with Carlson, and he looks forward to convincing more to make the change. "Every day I work with surveyors and GIS experts and assist them in training and support for working with SurvPC Esri," he said.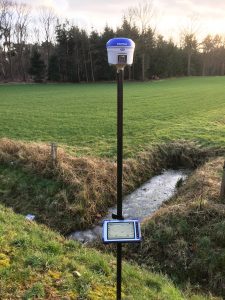 "I see huge opportunities with SurvPC Esri to develop a product specifically for asset management, like going out and verifying the locations of things like guardrails, utility poles, drainage structures and more for highway departments, counties, and cities," Jeroen added. "This is also GIS-related and would benefit from precision surveying."
He's also been helping other Carlson customers, having traveled to Dublin, Ireland, recently to train new SurvPC users and he looks forward to meeting and helping more people at the Esri User Conference, July 9 – 13, in San Diego, California.
Jeroen is very happy that by chance he discovered Carlson and SurvPC. "In Holland, no one knew about Carlson SurvPC," he said. "Now they know Carlson SurvPC and they like it."