Carlson MC Pro Vx6 3D Machine Control Sensor Upgraded
Carlson Machine Control upgrades its popular MC Pro Vx6, the small, powerful all-in-one 3D machine control sensor that simplifies operation.
MAYSVILLE, Kentucky, U.S.A.– One sensor is all you'll need with Carlson's popular MC Pro Vx6 3D machine control sensor. It offers six components integrated into one compact, rugged and easy-to-use unit that provides efficient machine guidance and control operations.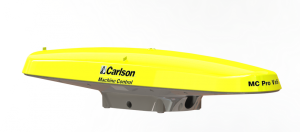 "This unit was developed to provide total simplicity of operation and installation, yet to have the most advanced features," says Randy Noland, V.P. of Carlson Machine Control. "It easily mounts to a dozer, compactor, excavator, drill, scraper shovel and more. The Vx6 connects with just one cable thus less points of failure. This increases its reliability and ease-of-use."
In addition to GPS and GLONASS, the Vx6 is Beidou ready and Omnistar compatible. The Carlson MC Pro Vx6 also has a newly integrated 4SFK RTK UHF radio. This means faster, more reliable RTK corrections while meeting all new FCC regulations. Additional World Radio options are available.
"The advanced integration of the MC Pro Vx6 ensures ease of installation making it ideal to move from machine to machine and for daily removal," adds Noland. "Advanced integration into a single sensor simplifies configuration and troubleshooting. Remote access simplifies all-around system performance."
The Carlson MC Pro Vx6 is built rugged for challenging environments and is backed by a three-year warranty, an industry exclusive. There is also an option to purchase an Advanced Component Replacement Option to guarantee continued operation.
"Our mining, landfill and dredging clients demand reliability," says Dave Jordan, Carlson Machine Control National Sales Manager. "The advanced, integrated design plus the three-year warranty and Advanced Component Replacement Option will provide a new level of support and system up-time."
For more information about the Carlson MC Pro Vx6 All-In-One machine control sensor and Carlson Machine Control, visit www.carlsonmachinecontrol.com, email machinecontrol@carlsonsw.com, or call 606-564-5028.