New Product Releases and How to Manage Them
With the release of the Carlson Survey and Takeoff OEM versions, the full Carlson 2018 product line is now available!
While that might excite a lot of users, it may bring apprehension to others. I won't reiterate the points I wrote in a blog last July entitled, "Why Upgrade Your Software," but please read it if you're on the fence about updating.
Here, I am focusing primarily on Carlson's survey products, but keep in mind that most of what I am writing about is applicable to the other Carlson products like Civil, Hydrology, Construction and Mining.
About the products:
Carlson Survey 2018 for AutoCAD
This version runs within AutoCAD, AutoMAP or Civil 3D either 64bit or 32bit and will read/write the new 2018 DWG file format. Although one of those products is required, Carlson Survey 2018 will run on previous releases back to 2010 and will save a DWG all the way back to R14. A network license is available. For companies that are currently using an AutoCAD product and prefer to continue to do so, this may be a good solution. Carlson Survey 2018 itself is a perpetual license with an option for an annual maintenance subscription.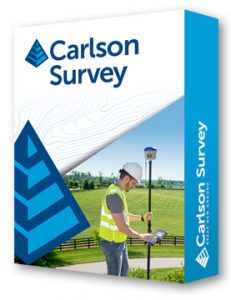 Carlson Survey 2018 for IntelliCAD
This version comes with and runs within IntelliCAD 8.3 64bit or 32bit, will convert an AutoCAD 2018 DWG to a readable version, and will direct read an AutoCAD 2013 DWG, (used in release 2017) or earlier. Carlson Survey 2018 is a perpetual license with an option for an annual maintenance subscription. This is a great cost savings option for users who would like to have a full CAD platform to work in without the annual expense.
Carlson Survey 2018 OEM with embedded AutoCAD
This version comes with an embedded version of the AutoCAD engine 64bit and will read/write the new 2018 DWG file format. Carlson Survey 2018 OEM is a perpetual license and is a great option for those who prefer to operate within an AutoCAD platform but without annual fees or annual upgrades. This version still contains all of the most commonly used 2D and 3D CAD commands and traditional AutoCAD users will be thrilled to know that it now has the legacy line and polyline commands
Carlson iCAD
This is a new product offered by Carlson that will be great for a lot of users. Carlson iCAD is a version of IntelliCAD 8.3 64bit or 32bit and contains some basic Carlson annotation, text, and import/export commands. This is a perfect, cost effective program for CAD drafters and managers who would like to be able to create, review, and edit drawings without the need to purchase a full version of engineering or land surveying software.
I have worked with several companies who are using a combination of all of the above products and do so quite effectively. Many firms purchase the network license version of the software so they can pick how many seats of each module they want to buy. For example, your firm may have five engineers, four surveyors and one CAD drafter. Hypothesizing one engineer's primary function is review; you could purchase four licenses of Civil, two licenses of Survey – because they are not in the office on a full time basis – and now purchase two licenses of iCAD, and all users are covered. If a user needs to work remotely, you can "check out" a license, but
in some cases, it might be preferable to purchase a standalone license for one or more of those seats. The key here is flexibility.
The headache seems to come with some basic functions and how to manage all of these different versions of software. In another previous blog entitled "Switching to IntelliCAD® – Line Types, Fonts and Printing," I discuss some of those issues and ways to deal with them. But for the engineers and surveyors in the office who are using a complete Carlson product, a fairly new and drastically underutilized feature is the Settings Server.
The Settings Server allows you to maintain and "push out" standard configuration files to all users not only ensuring consistency, but relieving the headaches of missing files between computers. Within the Settings Manager, you can select both Carlson default files and/or custom files that are to be shared throughout the company.
Each file can then be installed or updated automatically whenever a user opens their Carlson program.
Custom linetypes, hatch patterns, symbols, etc.. can be populated to the appropriate Support Folder while annotation defaults, configuration settings, triangulation settings, etc., will be populated to the appropriate Settings Folder. Likewise, user files such as DTA files can be shared in the User Folder. By default, each Carlson Program is installed in a differently named folder, but when that program is launched, it will automatically copy the files from the Settings Server to the correct location on each individual computer.
Not every user has the same level of experience and many tend to use Carlson "straight out of the box" and then modify settings as they go along. The software is very friendly in that regard as it does not seek to restrict a user to a particular set of defaults. However, often times users end up working in somewhat of a vacuum resulting in situations where data, layers, fonts, and plot styles all look different on each computer. Using the Settings Server can solve those problems while still allowing plenty of flexibility for job-specific settings. For many of the firms I work with, though, just eliminating the headaches of missing or different linetypes, fonts, and drawing templates is well worth the effort of setting up this server.
This is also a great way to deal with that new release of your software. After you install your upgrade, just open Carlson and let the Settings Server do the rest.
For more complete instructions on setting up and using the Settings Server, please read this document.
To download any of the new 2018 software releases follow this link: http://www.carlsonsw.com/support/software-downloads/
Doug
Let us help you get "up and running" and make your company more profitable.
Douglas L. Aaberg, PLS
Survey Product Manager
P)617-393-2300×419
daaberg@carlsonsw.com