Learning to Change
"The only person who likes change is a baby with a wet diaper" (Attributed to Mark Twain)
I write this blog on the heels of Grow With Us" User's Conference held May 7-9 in Maysville Kentucky. By all accounts, the conference was a great success. At least 150 Carlson Software users made their way to Maysville and participated in days of classes, social gatherings, and music. During the conference, users could from select a daily list of 90-minute classes that provided practical instructions on products they already use as well as exposure to new products, features and workflows that they were unfamiliar with. From the comments gathered post-conference, users overwhelmingly thought they had learned a lot and felt the conference was well worth attending. Even though I taught sever classes myself, I still made my way to others so I could see new or different perspectives. None of us completely approach a task exactly the same way.
The Carlson User's Conference is an annual event put on by Carlson for the benefit of their users alternating between being held in the East and in the West. Next year, it will be held in Portland Oregon, April 20-22. If you have never attended a Carlson user conference, consider marking your calendar now.
I have come to learn that a common challenge that runs through most individuals and firms is implementing their new found knowledge into their existing workflow or company environment. A quote I heard after one of my field-to-finish classes that summed this up was, "Now I just need to convince my company to use this."
Change is difficult. Knowing that any new process or procedure comes with a learning curve tends to be one of the greatest deterrents to implementing them in the first place. Learning comes with a certain amount of "down time" and that "downtime" often eats into profits and schedules which are the very things you are trying to improve. It's a tough balance, and far too often getting the job out the door supersedes spending the time necessary to learn new software or work procedures that will make your company more efficient and profitable.
Carlson can help…
Introducing Carlson Academy
Apart from putting on an annual user's conference, providing personal training and handling routine support calls, Carlson now offers its users a web-based learning platform. It is called Carlson Academy and is free for up-to-date users.
In this LMS, you will find a multitude of videos as well as written materials that are designed to help you learn Carlson software by yourself at your own pace. There are some comprehensive videos and pre-recorded webinars that cover multiple parts of the software. Most, however, are shorter (5-10 minutes) and targeted to cover specific programs and features to help you learn just the parts you need and control how much time you spend on learning.
To begin, access the Carlson Portal through the Carlson Account login at account.carlsonsw.com.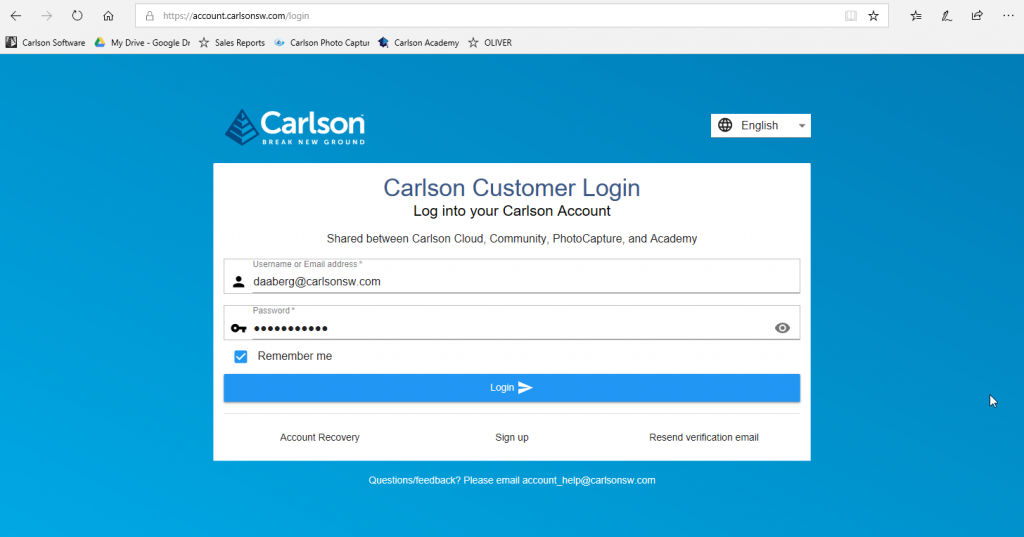 This is just simply your email address and a user defined password. This is the same login information included in other Carlson programs such as Carlson Cloud, Carlson Community, or Photo Capture. You will not need a library of user names and passwords going forward.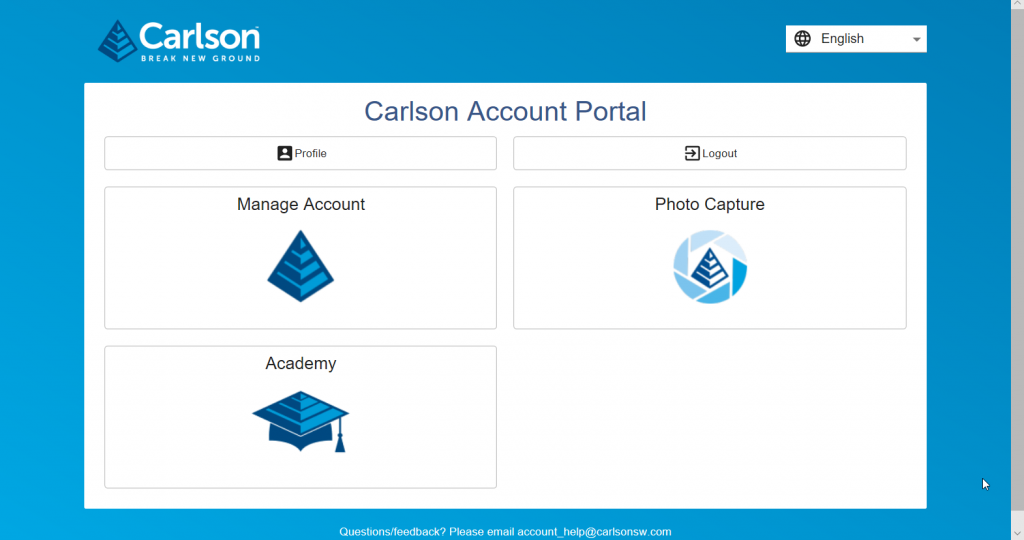 Once in the portal is open, you can launch Carlson Academy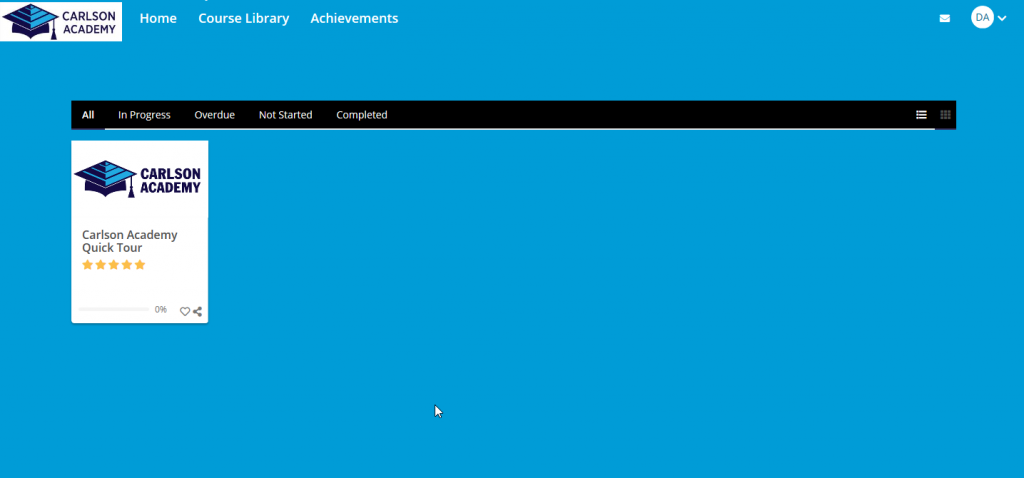 The first time you launch the program, you will see a short video that supplies an overview of the learning management system along with instructions on how to use. Once you have used it, you will begin to see your home page populated with recently viewed courses.
There are also tabs to continue courses already in Progress, Overdue, Not Started, and Completed.
By selecting the Course Library from the upper tabs, you will see a list of courses organized through the use of filters, categories, and topics.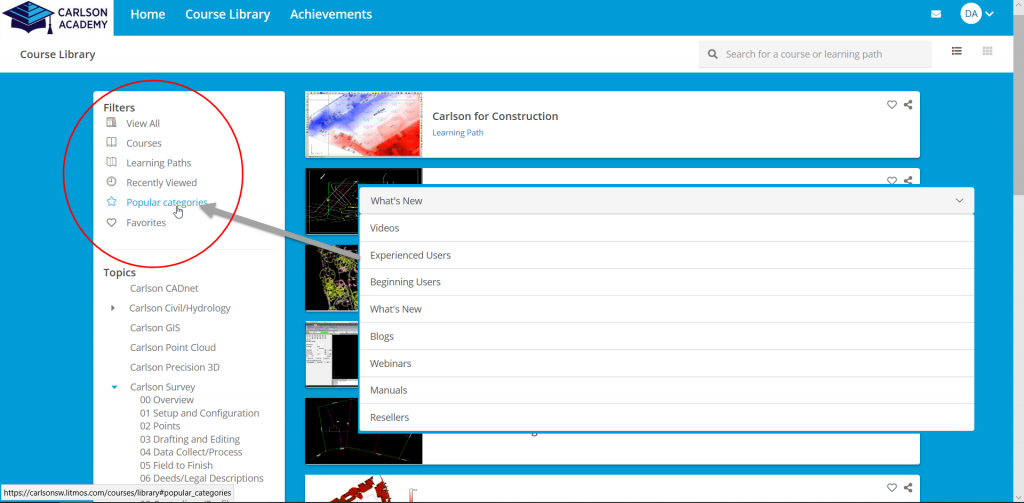 Example: If you select Popular Categories, you will see a list of different categories that contain courses therein.
The Topics section shows courses grouped by topic.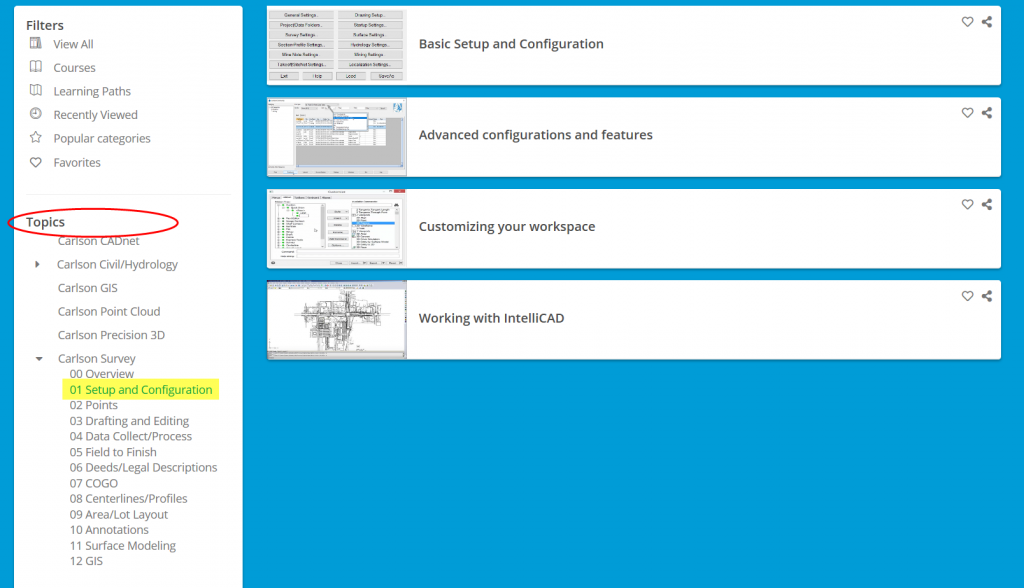 When you select a course, you will see a brief description of that course.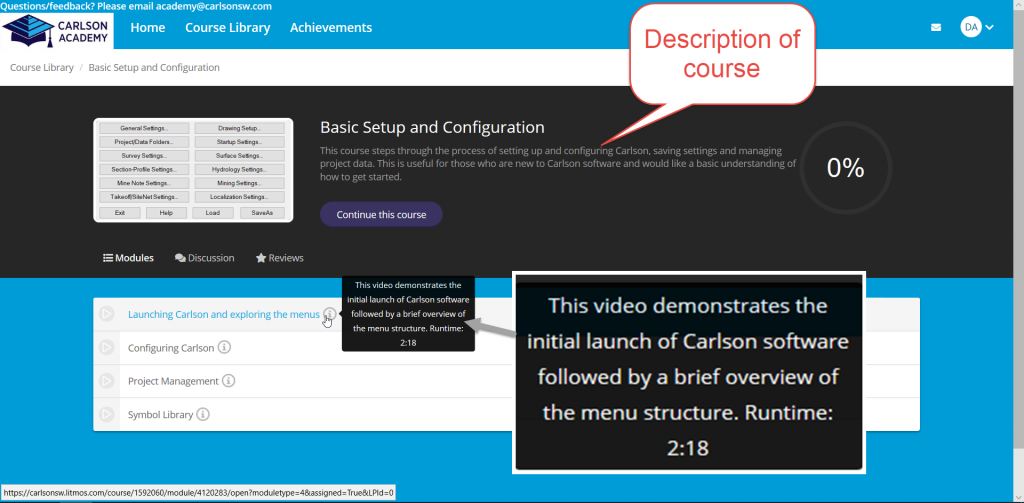 You will also see a list of modules contained in the selected course. Each module may contain videos and/or written material that can be downloaded or printed. The modules can be watched in any order and by hovering over the information button (i), you will see a display with a brief description along with a runtime so you can manage your own time before starting a course.
Once a module is selected, just click the Run button to the left and begin watching.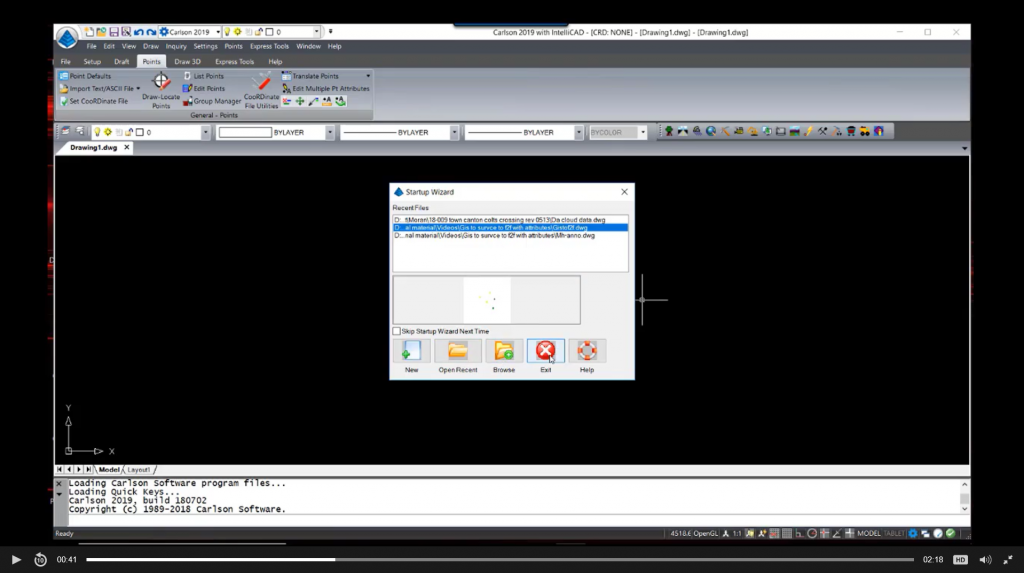 The videos will run in a separate window and can be expanded to a full-screen view.
Some courses include Additional Reference material such as sample data sets that can be downloaded for use in following along with the course or module.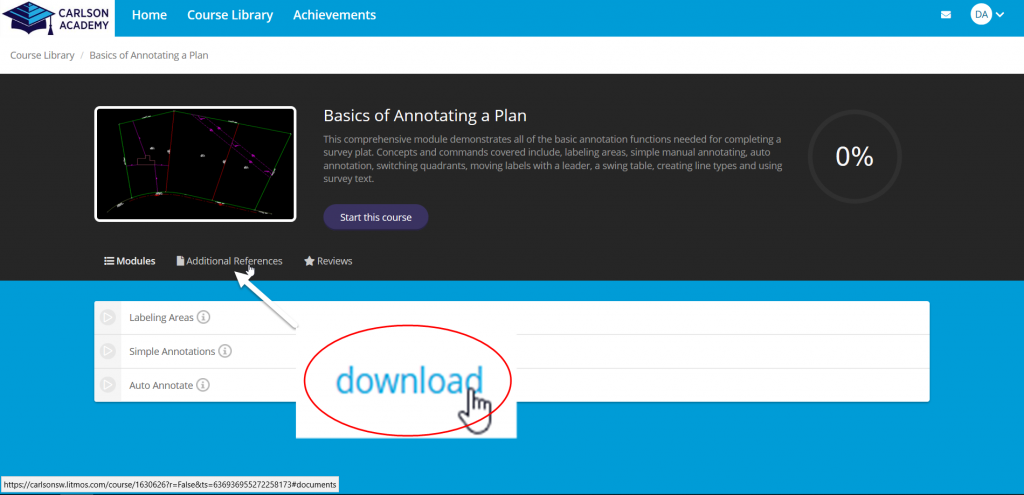 You will see the Additional References selection only if reference materials are available.
There are also Learning Paths available that tie several courses together for a more comprehensive learning experience.
There is a very robust search feature that will find courses and modules based on keywords.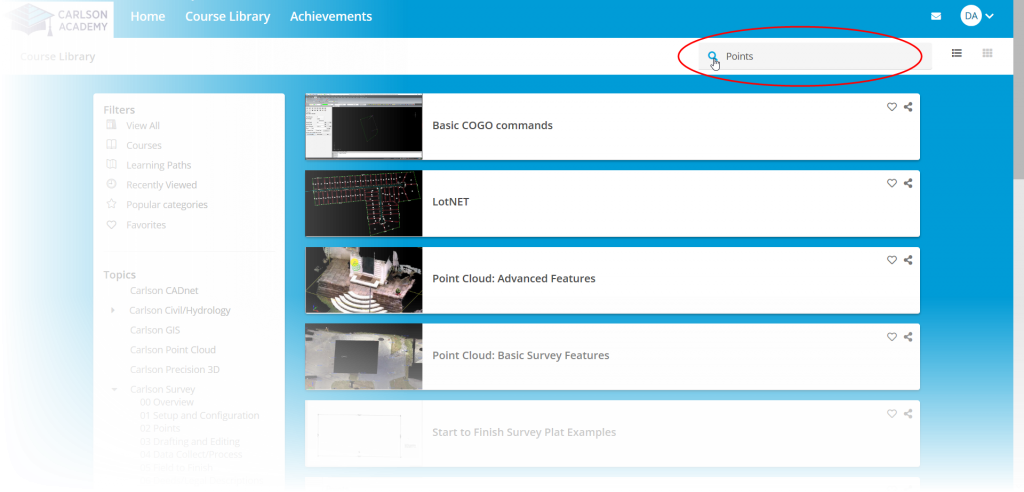 At the end of each course is an option to submit a review and, of course, as always, comments and suggestions are welcome.
The purpose of Carlson Academy is to assist users in learning and mastering the software on their own terms and time schedule. Currently, the courses available are suitable for any new user to get up and running with the software but there is also much material for more experienced users who would like to dig a little deeper and work toward making themselves and company more efficient.
How to Begin
To begin learning Carlson, go to account.carlsonsw.com. If you already have an account for Coordinate Cloud, Carlson Community, or PhotoCapture, you can simply use those login credentials. If not, create a new account.
The criteria for use are to have up-to-date software and to have your email address included in the Carlson database. It is also available for those who are demoing the software.
If you are not up-to-date with your software, you can get current at:
www.carlsonsw.com/where-to-purchase/maintenance
So…
Take the fear out of change by increasing your knowledge. Learn more about Carlson Software and get all of your employees up to speed through Carlson Academy.
Here's a quote from one of our first users of Carlson Academy:
Hi Doug,
Academy, just what I needed. Did half of Basic Field to Finish this morning. I can learn your software this way.
We do Boundary surveys, topos, and site plans… Most surveys we do are the same, over and over. Field to finish will automate the drawings.
Gotta say it, I like this Carlson stuff. Good price.
Paul
Doug
Let's Grow Together.
Douglas L. Aaberg, PLS
Survey Product Manager
P)617-393-2300×419
daaberg@carlsonsw.com