Early-Bird Rate for Carlson 'Go West' 2020 User Conference Now Available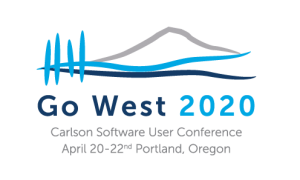 MAYSVILLE, Kentucky, U.S.A. (October 2019) — For those looking to improve their Carlson software and hardware skills, now is the time to sign up to attend Carlson's 'Go West' 2020 User Conference. Scheduled to be held April 20-22, 2020, in Portland, Oregon, at the Sheraton Portland Airport Hotel. The 2020 Go West offers more than 60 educational sessions to choose from — covering a wide variety of industries, products, and workflows.
The conference early-bird rate, which coincides with Carlson's wide range of End-of-Year Specials (http://www.carlsonsw.com/where-to-purchase/special/), is available for $995 until December 31. The rate will increase to $1,195 going into 2020.
Attendees to Carlson 'Go West' 2020 will find a variety of industry-focused tracks like: Survey, Civil, Mining, Photogrammetry, Field, and more. There are also blended tracks like Survey/Civil and Civil/Survey, which include sessions that could apply to either industry. Session selection is customizable so registrants will have the opportunity to select any courses in any industry that they wish.
Popular sessions like Basic and Advanced Field to Finish, Grading Multiple Lots with Basements, and Drill Holes for Mining have made a return while newer additions including What's New with Carlson 2020 & 2021, Blast Commander, and Stockpile Volumes with Drones Using Carlson PhotoCapture are available. A complete list of tracks and courses can be viewed on the event registration site. [https://web.cvent.com/event/8e3c5582-af6b-459a-915c-2853607b1748/summary]
"We host our user conference every year to give our users and those interested in Carlson a chance to see what's new, learn how they can optimize their current tools, and to network with our team," says Jim Reinbold, manager of the 'Go West' User Conference. "We're always excited to have the opportunity to connect with our users and hear what's been going on in their world, and learn what they need our products to do."
The conference will feature an opening night reception and dinner with Dave Lorenzo, President of the IntelliCAD Technology Consortium, as a special keynote speaker. Spousal packages are available for $350 and include admission to the event reception and meals for the event as well as access to local attractions and tours.
To find out more about the Carlson 'Go West' 2020 User Conference or to register, visit carlsonsw.com.
Founded in 1983, Carlson Software Inc. specializes in CAD design software, field data collection, laser measurement, and machine control products for the civil engineering, surveying, GIS, construction, and mining industries worldwide, providing one-source technology solutions for the entire project cycle. Carlson Software is headquartered in Maysville, Ky., U.S.A., with branch offices in Boston, Mass.; Almere, The Netherlands; Brisbane, Australia; Ottawa, Canada; and York, England.