Carlson Works for Alphatec Surveyors LTD
When asked if he would recommend Carlson to fellow surveyors, John Hill, president, CEO, and "chief bottlewasher" of Alphatec Surveyors LTD in Chesapeake, Virginia, answered a resounding, "Nope!"
He went on to qualify his answer a bit, saying, "I don't want them using it because they're going to be as productive as I am."
Hill, who has been in the surveying business for 45 years now, started using Carlson Software products more than 20 years ago when he saw an early topographic surveying program [Carlson Field] for use on a Toughbook being demoed at a show by Carlson sales representative Jim Carlson. "I took it from him and wrote him a check right there and said, 'You can't take your demo back,'" he recalled.
Now Hill and his eight-person staff at Alphatec Surveyors are using a wide range of Carlson Software products. These include Carlson Point Cloud, which they use with their UAV; one seat of Carlson Takeoff, three seats of Carlson Civil Suite, used to create automated machine guidance files; Carlson CADnet to convert paper files received from engineering firms; and "five or six seats" of Carlson Survey.
"Survey is on the laptops we carry in the field," Hill said. "All of the products are designed to work together so we're using Carlson to do a tremendous amount of work in the field and in the office."
As a full service land surveying company, Alphatec Surveyors use all of their Carlson products for a wide variety of projects including property lines, boundary lines, topographic, hydrographic, geodetic land surveying, ALTA surveys, Flood Elevation Certificates, and construction stake out, in addition to creating automated machine guidance files as mentioned above.
To better accomplish this diverse work, Hill and Alphatec Surveyors just updated their hardware to the Carlson CR5 robotic total station and the Surveyor2 data collector—three of the CR5 and four of the Surveyor2, on which they use Carlson SurvCE data collection software. The improvement they experienced with the update prompted this email message to Jim Carlson:
"The new instruments are outstanding, they 'hold' tracking of the prism vastly greater than the old Leica 1200s we had, and the new data collectors are much easier to read in the sun as opposed to the old Allegros.  When you combine all the new hardware with the latest SURVCE software it is truly a significant upgrade over what we were using just a month ago.  It has been worth every penny, and based solely on your recommendation we are a more profitable firm.  Thank you."
"Our other equipment was pro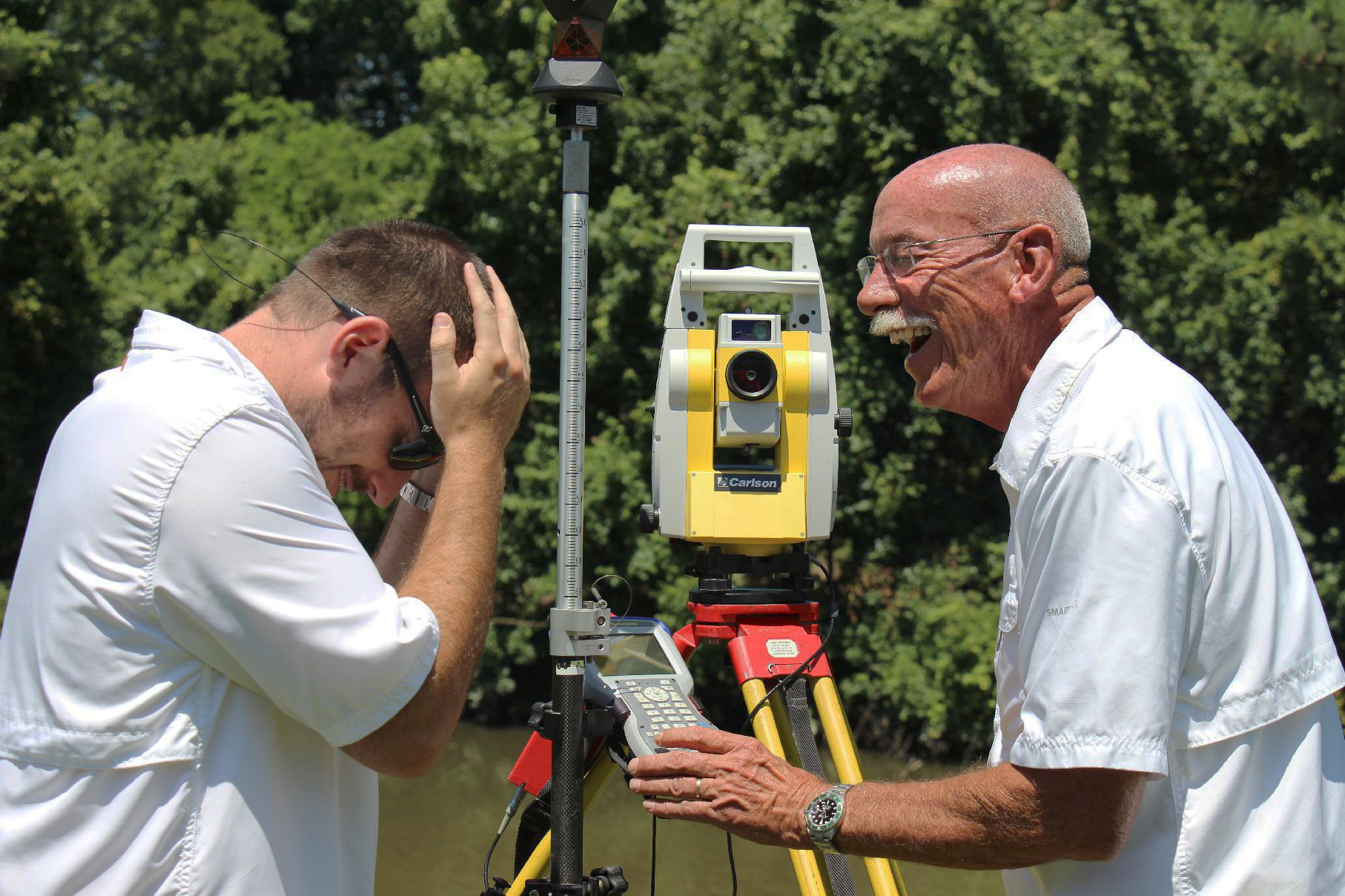 bably eight or so years old – it was still perfectly serviceable, but Jim told me the CR5 locks on better and it does," explained Hill. "It's vastly superior in the tracking. When it locks on with that prism, it stays locked all day long. It never goes anywhere. It's the cat's meow – everyone who uses it in the field just absolutely loves it."
Hill also notes that the new Surveyor2 data collector is "much, much easier to use," with one of his favorite things about it being that it works in dense vegetation.
"You don't have to worry about line of sight anymore," he said. "Just the other day I went out by myself and staked 7000 feet of clearing limits in a little under four hours. "I don't know what they've done, but they've got a real good algorithm in there," noted Hill.
"The GPS driven stuff is the big difference – that's what makes it worth every penny," he added.
And, Hill also mentions Carlson tech support. "You got a problem, you got a concern, you talk to someone who speaks English and the problem is fixed inside of 24 hours," he said, adding that he has had some problems with Carlson – "nobody's perfect" – but he appreciates how responsive Carlson is if he has a question or if something isn't functioning correctly for him. "If they can't answer it right away, someone always gets back to me with the answer," he notes.
And as for recommending Carlson to fellow surveyors.
"I was just joking – of course, I recommend it to everybody," he laughed. "Carlson, with their hardware and their software, as far as I'm concerned, they're number one in the market. You just can't beat them."