Carlson Takeoff training in Anaheim, CA, February 24-26th
Come improve your Takeoff skills in Southern California!
This February Carlson Software and Earthworks Calculation Services will host a Takeoff Training event in Anaheim, CA, for users wishing to improve their skills or those who simply want to learn more about this powerful site estimating and modeling software.
Those attending can sign up for one, two, or all three days with discounts for additional staff. Classes will cater to different levels of training with the first afternoon session geared towards beginners and the last two days for intermediate to advanced users.
Agenda
Tuesday, Feb 24th: CAD Fundamentals*
Afternoon only (12:30pm-4pm)
• CAD Basics for Estimators
• Importing & Working with DWGs
• On-Screen PDF Digitizing & Raster Trace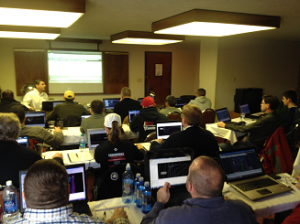 *Intended for first-time users of Carlson or CAD software
Wednesday, Feb 25th: Takeoff Fundamentals
All Day (8:30am-3:30pm)
• Importing & Working with PDFs
• Cut/Fill, Subgrade, Materials, Areas & Lengths Reports
• Topsoil & Strata Volumes
• Creating Field Data for Stakeout & Machine Control
Thursday, Feb 26th: Takeoff Advanced
All Day (8:30am-3:30pm)
• Over-Excavation and Removal Volumes
• Cross-Section Estimating from Paper or PDFs
• Road Modeling from Alignments, Profiles, & Templates
• Trench Cut, Backfill, & Pipe Quantities
Accommodations
Located in Orange County's entertainment epicenter, the Ayres Hotel Anaheim will provide continental breakfast and lunch the 25th & 26th and snacks during breaks all three days (lodging can be booked seperately). Area attractions include:

The Honda Center –  Across the street
Angel Stadium – Next door
The Grove of Anaheim – 1/2 mile
Downtown Disney® District – 2 miles
Disneyland® Park – 2 miles
Disney's California Adventure® Park – 2 miles
Bowers Museum of Cultural Art – 4 miles
Crystal Cathedral – 4 miles
Knott's Berry Farm – 10 miles
The Aquarium of the Pacific – 12 miles
Space is limited. Take advantage of our Early Bird Pricing by January 23rd, to reserve your spot. Pricing and registration can be found here:
https://events.r20.constantcontact.com/register/eventReg?llr=vguatwcab&oeidk=a07ea9t3uq5a9671810
NOTE: It is recommended that all attendees bring a laptop with the software preloaded (a demo version can be loaded at the event, but no laptops will be available).