Carlson Takeoff training to be held outside Chicago, December 3-5th
Winter is coming. Time to improve your Takeoff skills with Carlson Software!  This December, Carlson Software will host a Takeoff Training event in Rockland, IL, for users wishing to improve their skills or those who simply want to learn more about this powerful site estimating and modeling software.
Classes will cater to both beginners and advanced users and will take place over a period of three days. Those attending can sign up for one, two, or all three days with discounts for additional staff. Slated to be held Wednesday through Friday, December 3-5, at the Clock Tower Resort, this event will include continental breakfast, lunch, and snacks during the breaks.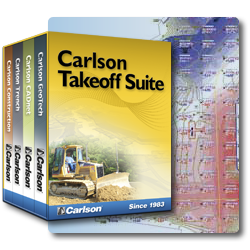 The agenda will unfold as follows:
December 3th: Takeoff & SiteNET Basics
Importing & Working with DWGs
Cut/Fill, Subgrade, & Topsoil Volumes
Strata Modeling & Reports
Creating Field Data for Stakeout & Machine Control
December 4th: Basics Continued 
CAD Basics for Estimators
Importing & Working with PDFs & Paper Plans
Quality Control Tools & Reports
Trench Cut, Backfill, & Pipe Quantities
December 5th: Takeoff Advanced 
Cross-Section Estimating from Paper or PDFs
Road Modeling from Alignments, Profiles, & Templates
Over-Excavation Volumes
Multi-Surface Workflows
Space is limited. Take advantage of our Early Bird Pricing shown below by September 30th, to reserve your spot. Reserve here: http://events.constantcontact.com/register/event?llr=vguatwcab&oeidk=a07e9n7k703748d3ae2