Carlson SurveyGNSS 2016 introduced at Intergeo
Featuring expanded networks & applicability plus improved performance
MAYSVILLE, Kentucky, U.S.A. (September 2015)— Carlson SurveyGNSS, Carlson Software's simple, yet powerful data post-processing software, just got better with the release of the 2016 version at Intergeo in Stuttgart, Germany, being held Sept. 15 to 17.
Designed for surveyors and positioning professionals, Carlson SurveyGNSS post-processing software achieves high accuracy results for computing quality vectors and resultant positions. SurveyGNSS conveniently and reliably works with Carlson SurvCE and SurvPC data collection software and with Carlson's office design software, utilizing an intuitive user interface.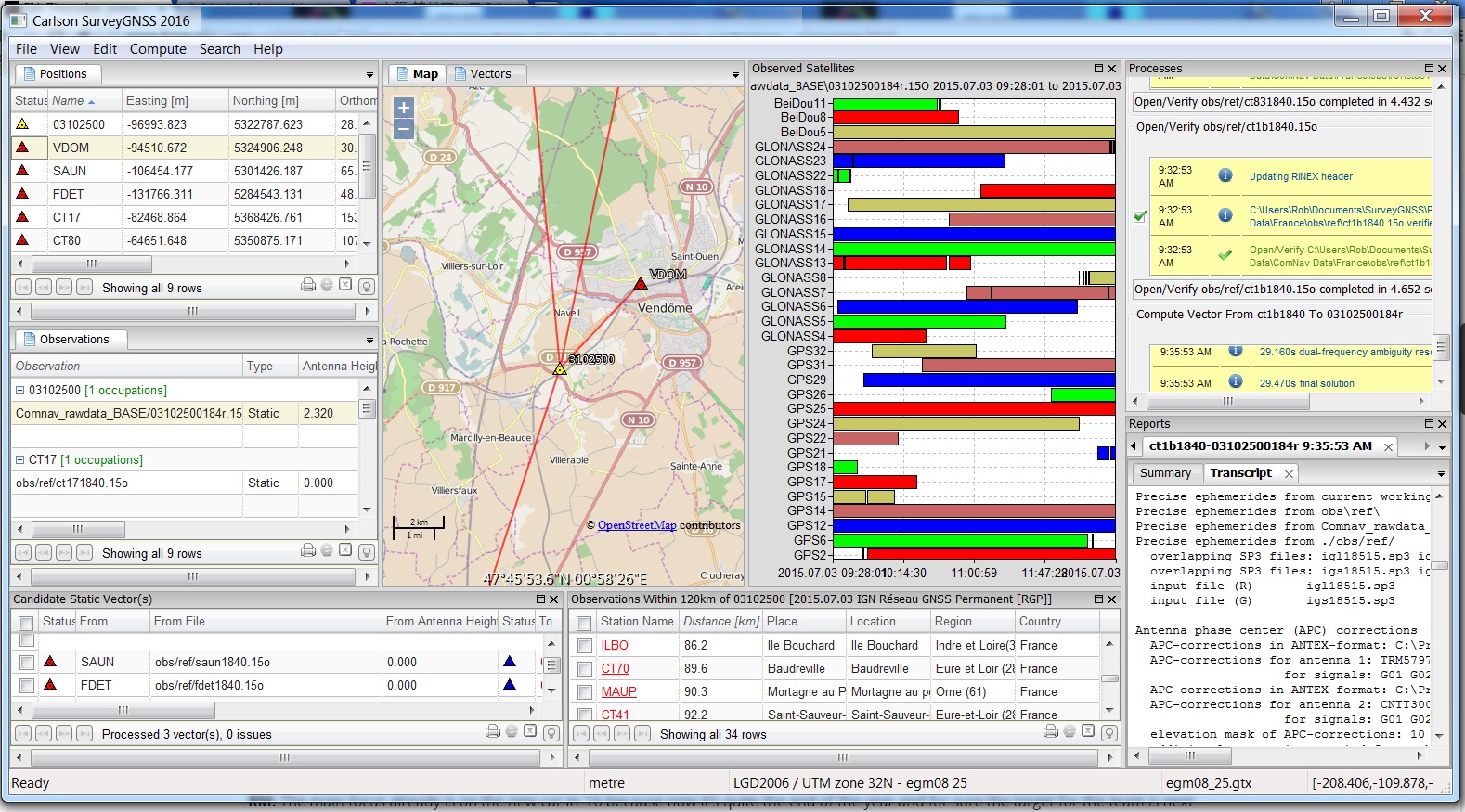 New in SurveyGNSS 2016 is a second-generation post-processing engine, which now accepts data in enhanced RINEX 3.x formats.
Users will also conveniently determine candidate vectors for simultaneous calculation whereas previously, vectors were calculated individually.
"Many processes in SurveyGNSS have been sped up or enhanced," says Rob Van Etten, SurveyGNSS product manager. "These include the ability to determine candidate vectors for simultaneous calculation instead of one-by-one and, with 'detached processing,' users will be able to start another task while SurveyGNSS is still working on a computation."
New constellation and more reference networks are another enhancement in Survey GNSS 2016. Observations from the Chinese Beidou and European Union Galileo join GPS and GLONASS, with future constellations in the works.
For supported "Active" (Online) Reference Networks, the International GNSS Service [IGS] and the governments of Australia [ARGN], Brazil [RBMC], Canada [CACS], Germany [GREF], Spain [ERGNSS], European Union [EPN], France [RGP], Great Britain [GBOS], Mexico [RGNA], and the Netherlands [DPGA] join the number of supported "Active" (Online) Reference Networks in addition to the US CORS system.
More key features and improvements to Carlson SurveyGNSS include:
Improved accuracy of longer baselines with the use of precise ephemeris (SP3 files);
Support of Ionospheric models published by the International GNSS Service [IGS] for enhanced vector calculations for longer baselines and/or periods of active ionospheric activity;
Ability to position the user base station and carry out a GNSS Resection with automatic selection of the three closest reference stations;
Elimination of the need for a local base receiver for Stop&Go surveys with the optional VRS module
Improved Observations View with Type-of-Survey display;
Ability to select the of amount of detail in output file; and
Improved selection of vectors for Least Squares Adjustment;
Carlson SurveyGNSS 2016 is now available from your local Carlson representative or dealer. Visit the Carlson SurveyGNSS webpage on  www.carlsonsw.com to learn more.
###
About Carlson Software: Founded in 1983, Carlson Software produces technically advanced software solutions for the civil engineering, land surveying, machine control/positioning, solid waste landfill, mining, and law enforcement investigative industries.