Carlson Point Cloud use featured in POB cover story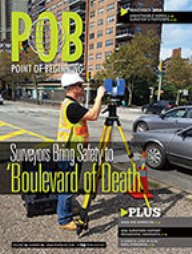 "Surveyors Bring Safety to the 'Boulevard of Death'," written by Greg Peterman, PLS, CPESC, of Nelson & Pope Engineers and Surveyors in Melville, New York, is the cover story in the November issue of POB magazine.
As part of his Vision Zero, New York City Mayor Bill de Blasio wanted Queens Boulevard, which had seen 185 deaths along a short stretch of road since 1985, made safe and he wanted it done right and done fast. Peterman's story of how his company and his collaborators brought their portion of the project — the mapping of every curb, crosswalk, manhole, valve, traffic control box, and all the underground utilities within 50 feet of the right-of-way — to fruition is a story of skill, determination, and risk taking.
Peterman, a longtime user of Carlson Software, acknowledged in the story that in order to complete the complicated project that "…every 'high-tech' tool, including software, in the arsenal of surveying tools was going to be necessary to complete this task in the time frame allotted."
Carlson Survey was used for traverse adjustment and conventional field-to-finish robotic total station surveying, while Carlson Point Cloud was the software used for extracting data — more than 10 billion points.
Read the story and for fun, take a trip through the 3D laser scan of Queens Boulevard, put together by DiCarlo Precision Instruments, Inc., who noted, "Road scanned with a road profile and road survey request. Done with static scanning techniques as opposed to mobile LiDAR. Accuracy of around 0.04ft across the 2,500ft road section. With survey control (10 traverse points calibrated). Scanned in the middle of the day. Traffic removed when processing."
---