Carlson Listen-Listen for easier, better base-to-rover connections
At this year's Intergeo conference and trade fair, Carlson Software is introducing its new Carlson Listen-Listen, a completely viable alternative to the traditional UHF radio link. Listen-Listen is a low latency, high performance solution.
HAMBURG, Germany (October 11, 2016) – Carlson customers have expressed frustration over the huge amount of configuration information and combinations required by traditional UHF radio base and rover systems, where if just one parameter is incorrect, performance degrades or the system does not work.  "Carlson has developed this unique product to combat that," says Louis Mullen, Carlson Software Regional Sales Director for the U.K. and Ireland who helped develop Listen-Listen.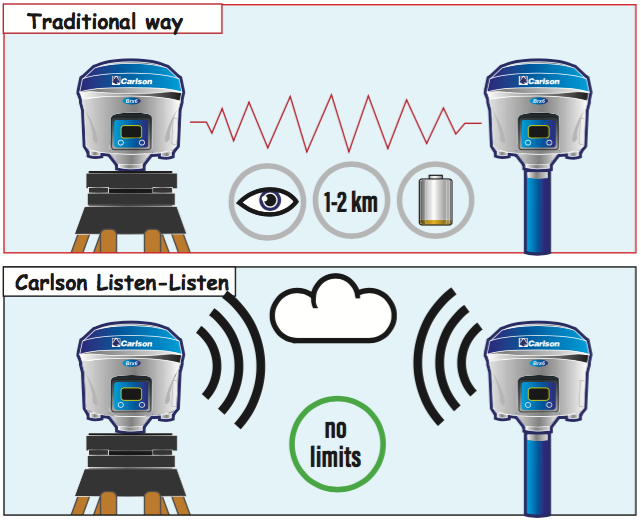 Carlson Listen-Listen just requires an internet connection at the base and rover. The internet connection can be from fixed-line broadband, gprs modems in the GNSS base and rover or data collectors, or Wifi and Mifi dongles. Fixed or static IP address sims are not required.  In addition, multiple rovers can simultaneously connect to a single base using Listen-Listen.
"Carlson Listen-Listen is a cloud-based data-over-IP product," explains Mullen. "It is fully hosted and computed on AWS-based processors and data center, which ensures almost 100 percent up-time."
Traditional UHF radios in most parts of the world are limited to half-watt or one-watt power output, which gives a one- to two-kilometer range at best. With no restriction on data format or communication range, Carlson Listen-Listen works at 5, 10, 20, and even 30 kilometer base lines.
Both easy-to-use and -configure with Carlson SurvCE or SurvPC data collection software, Listen-Listen requires inputting just one four-digit port number at the base station and a four-digit port number at the rover. "There are none of the large number of parameters required for UHF communication," adds Mullen.
Carlson Listen-Listen is now available by subscription. It works with Carlson's newly released BRx6 GNSS receiver as a base station and also with the Carlson  BRx6, BRx5 and other GNSS rovers that support RTK corrections by direct IP.
Visit Carlson Software at Intergeo through October 13 in hall A3, stand D3.051, to learn more. Or contact your local Carlson sales director for more information or a free 30-day license.