Carlson EMEA and Geomax Team Up for a Product Training in Almere
Almere, The Netherlands (June 2013) – In early June, representatives from Carlson EMEA teamed up with Switzerland based manufacturer Geomax for two days of product training on Geomax's new GNSS product Zenith 25, as well as the new Zoom80 with Long Range Bluetooth & Zoom35 Pro. The products are driven by Carlson Software using SurvCE/SurvPC for the field and then they are reviewed on Carlson office applications.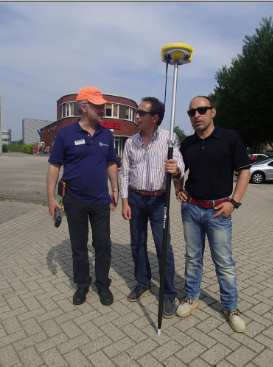 The training was conducted in Almere, the Netherlands, and was attended by more than 20 people from countries throughout Europe including Finland, the Netherlands, United Kingdom, Germany, France, Spain, Portugal, Italy, and the Czech Republic. Training presentations were broken up by sessions in the field and in the office where attendees were able to test the software first hand and ask questions directly to Carlson trainers.
Regional Sales Manager for Geomax, Marcel Goyvaerts, who attended the training, notes that it's the local support of Carlson EMEA that often makes the difference for Geomax dealers and their customers. "Having six to seven technically skilled and very dedicated Carlson guys on the road within EMEA is not something that any of our other valued software partners can match up with," he says. "Our dealers appreciate it – we are real partners – and our dealers working with Carlson feel confident and supported offering the professional Geomax-Carlson solution to their customers."
Left and below: outdoor training on the Zenith 25