Carlson and Road Construction Go Together
Big highway anniversaries this year – a look back and ahead
The past 100 years have been the golden age of highway construction in the U.S. From individual road entrepreneurs to massive government highway projects, the creation of our highway network has been dramatic, linking our country with ribbons of gravel, concrete, macadam, and now, asphalt.
April 30th was the 90th anniversary of Route 66, the iconic U.S. highway that connected Chicago and Los Angeles. Today, we are approaching the 60th anniversary (June 29, 2016) of the signing by President Dwight D. Eisenhower of the Federal-Aid Highway Act of 1956, which created our country's interstate highway system.
Having good roads and highways to connect cities and towns and rural and urban areas may seem commonplace or expected now (despite our ASCE Infrastructure Report Card), but less than 100 years ago, that was not the case.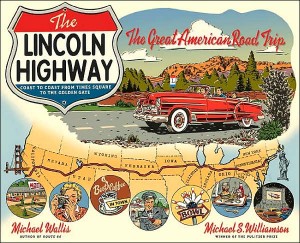 This in-depth story on the Ozarks Alive web page about the opening of Route 66 notes, "In those days, road trips were epic in both desirability and difficulty."
In the early part of the 20th century, it was not the government, local or federal, but local people who built (and paid for) the roads. Bill Bryson in his book Made in America  provides an interesting look at a private citizen, entrepreneur Carl G. Fisher. He brought our country together, so to speak, by proposing a graveled two-lane road from New York to San Francisco, and to pay for it all through donations.
Bryson notes that, while people were enthusiastic and contributed—President Woodrow Wilson even gave $5–there wasn't near enough to build the entire 3,389 miles of highway. Fisher's solution: building little sections of road virtually in the middle of nowhere that eventually "came to be known as 'seedling miles.'"
"…once people got a taste of smooth highway they would want the whole concrete banquet," Bryson writes. "Soon towns all along the route were enthusiastically raising funds to connect themselves to that tantalizing seedling mile."
Fisher's road, which officially opened in 1923, was dubbed the Lincoln Highway and laid out from New York City to San Francisco.  Even before it was "finished" it was widely used and its popularity, combined with the increase in commerce along the route, prompted the federal government to decide to make money available for road building, ultimately leading to the famous Route 66.
In addition, in 1919 the U.S. Army took the Lincoln Highway route in its first transcontinental motor convoy, which actually helped bring about the U.S. Interstate Highway System. According to the U.S. Department of Transportation's Highway History, "One participant in the convoy was a bored young Army officer, Lt. Colonel Dwight David Eisenhower… That experience plus his observations of the German auto-bahn network during World War II convinced him to support construction of the Interstate System when he became President."
Road building and maintenance is as important as ever
While the original Lincoln Highway and Route 66 are now hard to find, nostalgia for their heyday remains.
As it approaches its 60th anniversary, Eisenhower's Interstate Highway System remains "… a part of our culture as construction projects, as transportation in our daily lives, and as an integral part of the American way of life," as noted by the U.S. Department of Transportation.
While the legacy of the original creators of our highways was connecting a far-flung country, the U.S. is now in a new era. An era of repair, reengineering, and renewal of the system that supports the country's economy.
Learn more through these videos — Quick Intro and Road Design — and posts — Carlson minimizes cut/fill and linking Carlson Civil to SurvCE — for just a few of the wealth of information about how Carlson's software solutions can bring your roads up to par.
With new capabilities and new goals, now is the time to use all of our engineering expertise, the ever improving CAD and GIS software, UAVs, and modern, state-of-the-art machines at our disposal together with our imagination to determine the best way to improve and strengthen our often crumbling road, bridge, and transit systems. It's time to bring the life-changing improvement to our transportation options in the 21st century that Fisher's Lincoln Highway brought to the 20th. Download a Carlson Civil Suite demo now and get started.