Boulevard of Death is Now the Boulevard of Life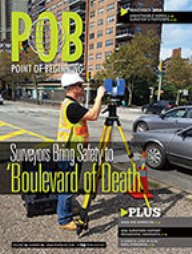 The use of Carlson Software, specifically Carlson Point Cloud, was highlighted in a story in the November 2016 issue of POB Magazine, titled "Surveyors Bring Safety to the Boulevard of Death" about Queens Boulevard in New York City and written by Greg Peterman, PLS, CPESC, of Nelson & Pope Engineers and Surveyors in Melville, New York.
Well, now the New York Times is writing about the results of the work by Nelson and Pope (although not named) and others in their November 4th article, "No Longer New York City's 'Boulevard of Death.'"
"But today, the Boulevard of Death is no more. Not a single pedestrian or cyclist has been killed on the seven-mile long thoroughfare that slices through Queens since 2014. 'The Boulevard of Death has become the Boulevard of Life,' declared Mayor Bill de Blasio in an interview. 'We've turned the corner.'"
–New York Times, November 4, 2017
It's rewarding to know the difference that surveyors and engineers have made to Queens Boulevard and how the use of Carlson Software aided in that effort.
"None of the mayor's many goals could be achieved until every curb, crosswalk, manhole, valve, traffic control box and all the underground utilities within 50 feet of the right-of-way were mapped and their condition described."
–Greg Peterman, POB, November 2016