A Note from the President's Desk
The fundamental measurement technologies today are lasers, GNSS, and photo. These technologies are augmented by various MEMS devices like inclinometers and gyros that detect tilt and direction. Carlson Software is deeply involved in all these technologies. Software drives these technologies and the newest frontier in measurement, photogrammetry. We are very pleased to announce that we have partnered closely with PixElement of Columbus, Ohio to develop Carlson PhotoCapture. Carlson Software is in the photo mapping business.
PhotoCapture was released in May 2018. It is a very important development for Carlson not just for the photo to pointcloud technology but also because it is our first 100% SAAS, "software-as-a-service" product. It is subscription-based. It taps into all the advantages of the Cloud. We all hear about "the Cloud". In the case of PhotoCapture, the Cloud optimizes the power of the software. Send one job, two jobs or as many as you like and queue them up in PhotoCapture. Then get back to work. Your local computer is not tied up—"the Cloud" does the processing.
The procedure is as follows: You use a drone to take georeferenced, near vertical photographs of the ground. The photos are taken on a flight path and the photos must overlap. You survey in ground control that can be detected in the photos. You drop the photo file set (100, 200, 500, even 1000 photos) into PhotoCapture, add the control file (3, 4, 5 or more control points in a single x,y,z coordinate file in LandXML format), and you click Go. You assign control to known visual points in the photos. All the data is then sent to the Amazon Cloud and is processed while you do other things. You get back a pointcloud (.las file, usually color) and a TIN surface (Carlson format or LandXML), and you can use PhotoCapture to do quick volumes or process entirely within Carlson Pointcloud or P3D Topo.
You can typically hire specialists to do the drone flight and deliver the photos to you, or you can purchase your own drone with a camera. The camera must have the ability to georeference the photos, providing their exact Lat/Long and height with each photo taken, connecting to GNSS in the drone itself. The next step would be to measure ground control points that can be seen in the photo. Here at "Limestone Landing" in Maysville, Kentucky, Carlson Software set a monument commemorating the Lewis & Clark Expedition on their 200th anniversary. These monuments were set at every location where the expedition stopped, and one of those was Maysville. That monument, with known coordinates, becomes one of the control points and is easily detectable on the photos.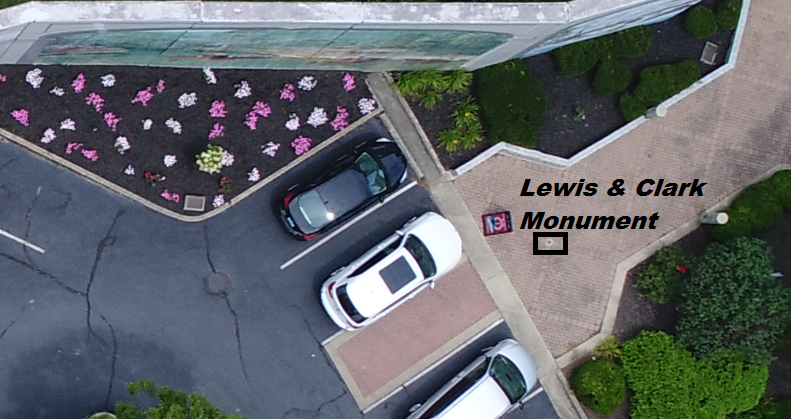 PhotoCapture has a particularly easy interface when launched from Carlson Precision 3D (P3D) Topo. Select "Create" to name your job, as prompted. You then do your "Data Inputs". You copy or "drag and drop" your photos in PhotoCapture. Next, you copy your Control File, a LandXML file of your Carlson CRD control points that is made within P3D Topo itself as a convenience.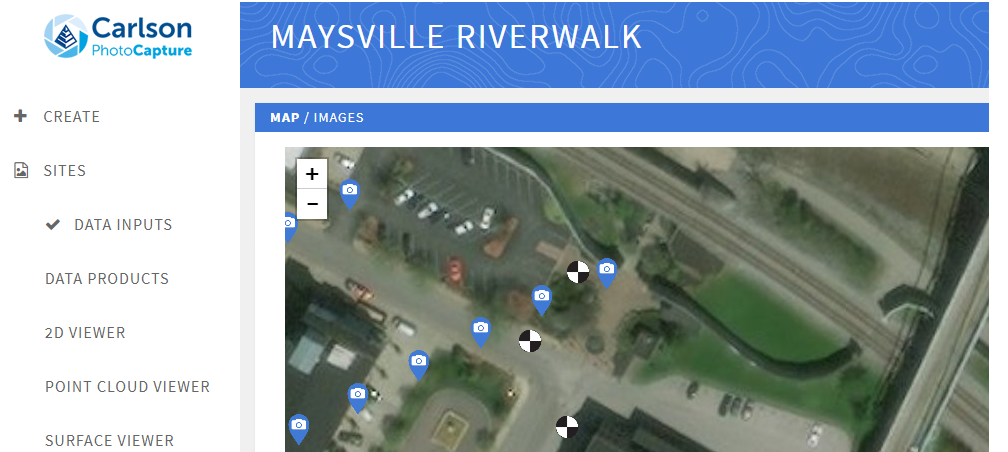 The program goes to each control point, presents the photos that include the control points, and allows you to shift the pointer right onto the exact position with the interface below:

With control in the correct place, you launch the calculation and "the Cloud" takes over. You can let it run and do other things. No resources are taken up on your computer. You can even load multiple photo mapping jobs in sequence and get back to work. The supercomputers on the Amazon Cloud do the work.
The output is a classic pointcloud, in ".las" format. Those who you provide access to can download the ".las" file and the entire enterprise can make use of it. Within P3D Topo, you can make a TIN surface of the pointcloud and contour any portion as shown below: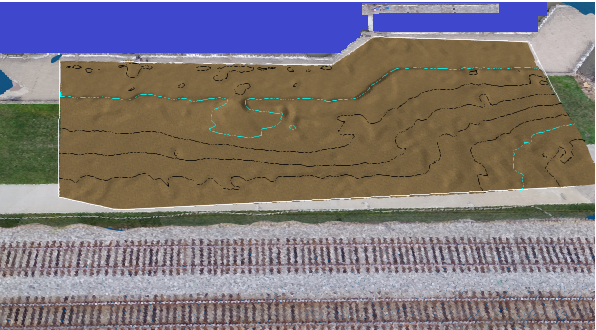 You can also use the Carlson Pointcloud module to extract features like curb lines, trees, and light poles, draw lines and symbols in CAD, and field-to-finish by applying coding. You can contour, pull profiles and sections along alignments and make TIN surfaces.
PhotoCapture is here. One no-limit license on file size or usage allows unlimited mapping. Don't worry, you won't overrun the Amazon Cloud. It can take it. Photomapping has arrived.
Bruce Carlson, PE
President, Carlson Software