Jobs at Carlson
Employment Opportunities at Carlson Software
About Carlson Software.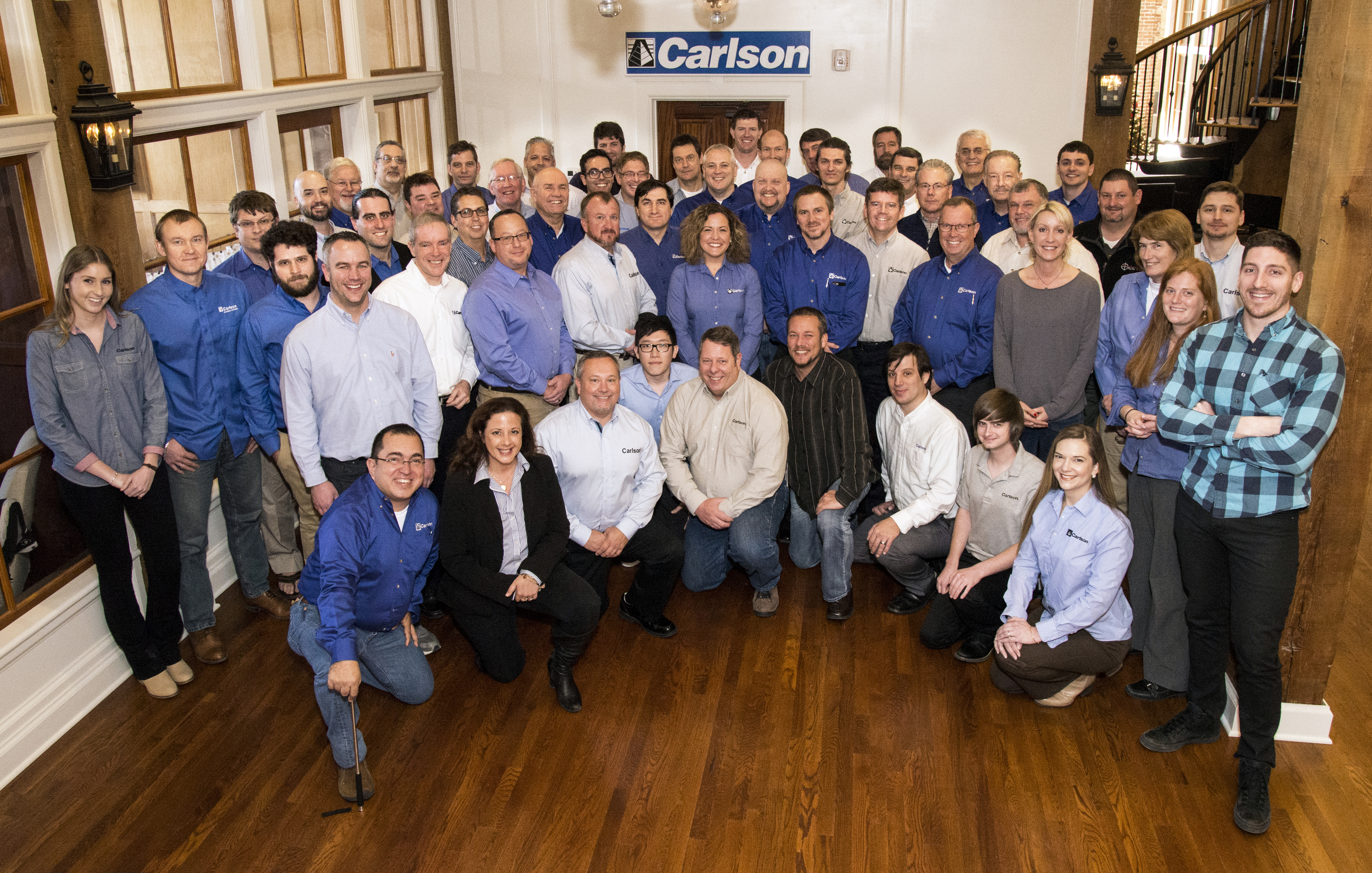 Founded in 1983, Carlson Software is a privately owned and operated company specializing in CAD design software, field data collection, and machine control products for the surveying, civil engineering, construction, and mining industries worldwide.
All sales positions at Carlson include a variety of incentive programs based on weekly, yearly and targeted market sales performance on top of a very competitive base pay package. Successful applicants receive health coverage (Blue Cross/Blue Shield) with an HSA option, and are eligible for the 401K retirement program.  Top sales people at Carlson are among the highest wage earners in our industry.
Programmers at Carlson all participate in bonus plans and the 401K retirement plan and have health coverage (Blue Cross/Blue Shield) with an HSA option.  Successful applicants can choose between location in Maysville, Kentucky  (corporate office), Boston, Massachusetts (principal programming office), Zurich, Switzerland, or Almere, Netherlands (European offices).
Carlson Software's solutions across industries are praised for their ease of use combined with state-of-the-art technological innovation. Carlson Software is especially proud of its excellent and personal customer service, which is renowned throughout the industry.
NEW Job Listings!
Senior Game Designer
Description
Carlson Software is looking for a Senior Game Designer to join our new Educational Technology division! The Senior Game Designer will be the stakeholder for design and will work closely and collaboratively on a cross-functional team to create world-class educational experiences.
Responsibilities
Develop and maintain clear and concise design documentation
Plan, Design, and Implement gameplay
Collect and analyze user feedback and play data
Create fun learning experiences
Be a champion of quality for the product
Requirements
5+ Years Games Industry Experience
Bachelor's Degree in Game Development or higher
Working proficiency with Unreal Engine 4
Develop and maintain clear and concise design documentation
Experience in an Agile/SCRUM environment
Strong work ethic and drive for excellence with ability to thrive in a small team setting
Prior experience with educational games is preferred
Experience developing for multiple platforms, including mobile is preferred
To apply, email career@carlsonsw.com
---
Gameplay Engineer

Description
Carlson Software has an exciting opportunity for a talented Gameplay Engineer to join our team! You will make key components of the game vision into a reality. If you're looking for an opportunity to stretch your creative legs, while blending education with gaming, this is the place for you.
Responsibilities
Develop game play features in C++ in Unreal Engine 4
Work with game designers, artists, and other engineers to create compelling experiences
Break-down design goals into smaller technical tasks
Provide feedback on game play and offer suggestions for improvement
Evaluate and communicate the potential impact of code changes to stakeholders
Learn and adopt the coding standards and development philosophies that are embraced by the team
Requirements
Bachelor's degree in CS, Math, Engineering, etc. or equivalent ability or experience
Demonstrated proficiency in C++
Experience with implementing networked gameplay features
Solid understanding of basic Linear Algebra
Ability to prioritize, plan, and organize work
Must be an effective communicator, both verbally and written
Positive attitude, strong work ethic, and the desire to work in a highly collaborative team environment
Passion and enthusiasm for video games and education
Experience working with visual scripting environments (e.g. Blueprints)
To apply, email career@carlsonsw.com
---
Software Support and Test Analyst
Location: Carlson Software, Maysville, KY
Reports to: Product Manager, Maysville KY
Education: Bachelor's Degree or equivalent work experience
Purpose: Support dealer network, and develop and execute software test plans in order to identify software problems and their causes
Skills:
–Problem Solving
–Troubleshooting
–Coordination
–Communication
–Computer skills – Microsoft Windows, Spreadsheets, Word Processing, Presentations, Databases
Additional Knowledge (not required):
–Networking
–SQL
–Linux
–Software Development
–VM Ware
–Bug Tracking Software (such as Fogbugz or Bugzilla)
Work Requirements:
–Communication
–Requires contact with others (face-to-face, by telephone, or otherwise)
–Requires face-to-face discussions with individuals or teams
–Requires writing letters and memos
–Requires telephone conversations
–Requires use of electronic mail
Level of Challenge:
–Freedom to determine tasks, priorities, and goals
–Requires being exact or highly accurate
–Requires self motivation
Tasks:
–Answer user inquiries regarding computer software or hardware operation to resolve problems.
–Design test plans, scenarios, scripts, or procedures.
–Document software defects, using a bug tracking system, and report defects to software developers.
–Identify, analyze, and document problems with program function, output, online screen, or content.
–Monitor bug resolution efforts and track successes.
–Participate in product design reviews to provide input on functional requirements, product designs, schedules, or potential problems.
–Document test procedures to ensure replicability and compliance with standards.
–Investigate customer problems
–Provide feedback and recommendations to developers on software usability and functionality.
–Install, maintain, or use software testing programs.
–Monitor program performance to ensure efficient and problem-free operations.
–Install and configure recreations of software production environments to allow testing of software performance.
–Collaborate with field staff or customers to evaluate or diagnose problems and recommend possible solutions.
–Enter commands and observe system functioning to verify correct operations and detect errors.
–Set up equipment for employee use, performing or ensuring proper installation of cables, operating systems, or appropriate software.
–Install and perform minor repairs to hardware, software, or peripheral equipment, following design or installation specifications.
–Maintain records of daily data communication transactions, problems and remedial actions taken, or installation activities.
–Read technical manuals, confer with users, or conduct computer diagnostics to investigate and resolve problems or to provide technical assistance and support.
–Refer major hardware or software problems or defective products to vendors or technicians for service.
–Develop training materials and procedures, or train users in the proper use of hardware or software.
–Confer with staff, users, and management to establish requirements for new systems or modifications.
–Prepare evaluations of software or hardware, and recommend improvements or upgrades.
–Read trade magazines and technical manuals, or attend conferences and seminars to maintain knowledge of hardware and software.
To apply, email career@carlsonsw.com
---
Database Administrator/Data Analyst
Location: Maysville, KY
The primary responsibilities would include maintaining, correcting, analyzing and reporting of data from Company's customer and accounting databases. Additional occasional responsibilities will include network infrastructure troubleshooting and setup, Windows Help Desk responsibilities to assist local and remote users, VOIP telephony troubleshooting and setup, backup management.
Skills required:
— Strong working knowledge of SQL (MSSql and MySQL)
— Database server administration, both MSSql and MySQL
— Knowledge of PHP programming
— Good knowledge of networking. This includes wireless configuration, network hardware, DNS, DHCP. Knowledge of VPN technologies is a plus.
— Help Desk related experience, both hardware and Windows software
Strong preference is given to candidates with the following skills:
— Previous experience with Crystal Reports
— Knowledge of accounting and related software. In particular, the knowledge of Sage products (MAS90 or Sage 100) is a plus
— System Administrator experience with Windows and Linux server
— Knowledge of and experience in LDAP/Active Directory administration
— System Administrator experience with VMware
To apply, email career@carlsonsw.com
---
Software Engineer
Requires strong knowledge of C/C++ programming and strong communication skills. Some exposure to Lisp, AutoCAD or civil
engineering is preferable but not necessary.
The position involves application software development with C/C++. Projects include programming for civil engineering inside AutoCAD, construction Takeoff inside AutoCAD and field survey data collection inside Windows CE. The civil engineering programs
involve design of subdivisions, roads and hydrology. Construction Takeoff involves surface modeling and trench networks. Survey data collection requires interfacing to GPS receivers and total stations from various manufacturers.
To apply, email career@carlsonsw.com
---
No phone calls please.
Carlson Software is an Equal Opportunity Employer.