Carlson EMEA
Carlson Software established a wholly owned subsidiary, Carlson EMEA BV, in 2010 in The Netherlands to support and expand the business in Europe, Middle East and Africa. With the recent acquisition of Geozone AG, based in Rumlang, Switzerland, Carlson EMEA BV has expanded its solutions for land surveying, GIS, civil engineering, construction and mining industries.  Its staff is ready to better serve all from the growing and important geographic territory of EMEA.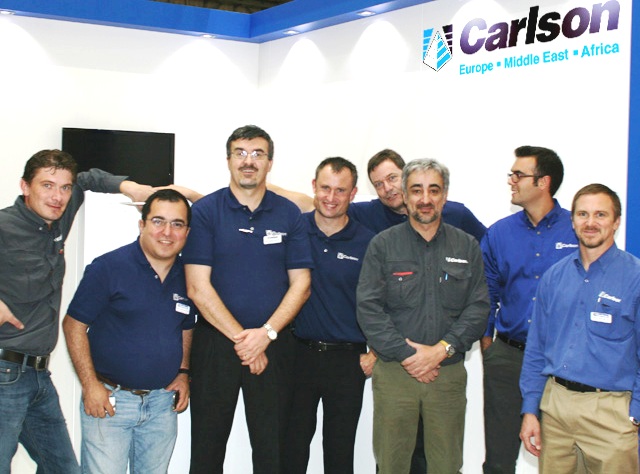 Zdenko Kurtovic, from Geozone and based in Switzerland, has joined the EMEA team as its director.  He joins Jesus Latova, Carlson's director of Data Collection Product Design who works in Spain. In addition, EMEA team members include Rob van Etten and Floris van den Hoeven, two industry experts who formerly worked for the European Topcon Sokkia group. They both bring a high level of technical support expertise and years of field experience. Van Etten has a track record as GNSS hardware and software expert and Van den Hoeven is a specialist in optical survey solutions and software.
Also part of the team is Nuno Fernandes, who resides in the U.S. at the Carlson Headquarters in Maysville, Kentucky and is sales director for Portugal and Africa. Tomas Blaha is the sales manager for Eastern Europe and brings more than 14 years experience with Sokkia as well as Ashtech to his position.
Carlson Software works closely with European and Chinese business partners, providing versions of its popular data collection software SurvCE (also well known as TRITON in Spain and Fast Survey sold via Ashtech). Carlson also works with Leica Geosystems, MOBA Mobile Automation, Prolec Ltd., Ongrade Ltd., and Transtronic on advanced Machine Control Solutions. Carlson EMEA will serve these partners and also work to set up a distribution network of dedicated local dealers and strengthen "the local touch" in each market. EMEA Dealer inquiries are welcome!
Carlson EMEA Contact Info:
Oberdorfstrasse 8 • 8153 Rumlang • Switzerland • Tel: +41 44 817 01 21
Markerkant 1338 • 1314 AN Almere • The Netherlands • Tel: +31 36 750 1781
emea@carlsonsw.com